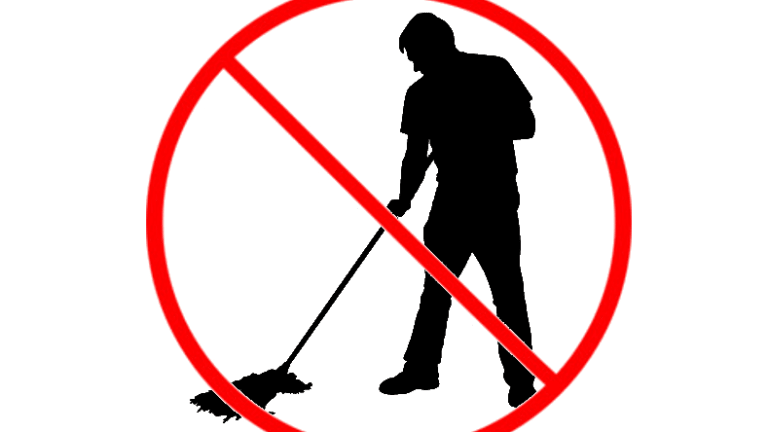 Man Arrested and Charged For "Aggressively Mopping" Floor
Bristol, Conn. - Last Monday, John Thornton, 30, was arrested for "aggressively mopping," and charged with second-degree breach of peace, according to the New Haven Register.
The incident began when Thornton noticed a hotel employee doing a poor job of cleaning, according to police.
Bristol, Connecticut police claim it was at this point Thornton grabbed the employee's mop and became "unruly."
"[Thornton] then began to mop the floor but became more aggressive and mopped over the employee's shoes several times," said police spokesman Lt. Donn Watson.
The employee told Thornton to stop, according to the release.
According to police, "(He then) turned his back to the employee and forcibly backed into her pushing her into a corner."
When police arrived the employee they claim the employee was "shaken and crying." The employee said she would like to press charges.
In addition to the initial charge of second-degree breach of peace, Thornton was also charged with second-degree threatening, as police claim he "shouted insults and expletives at officers and threatened them with bodily harm," as he was transported to the police station.
While feeling sorry for the employee that was shaken up in the incident, does this really rise to the level of criminal activity? Do we really need police to stop "aggressive mopping?"
Perhaps we should all consider ourselves lucky that Thornton didn't get really out of control and start violently vacuuming or angrily washing windows!
Jay Syrmopoulos is an investigative journalist, freethinker, researcher, and ardent opponent of authoritarianism. He is currently a graduate student at University of Denver pursuing a masters in Global Affairs. Jay's work has previously been published on BenSwann.com and WeAreChange.org. You can follow him on Twitter @sirmetropolis and on Facebook at Sir Metropolis.