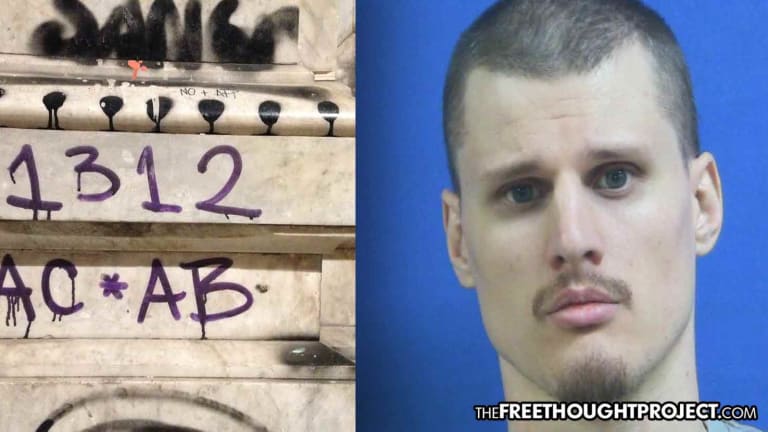 Man Arrested for Legal 'Anti-Police Meme' as ACAB Declared Felony Gang Lingo
Law enforcement in America are taking ominous steps to silence police critics, going so far as to arrest people over their free speech.
Two rather insidious moves by law enforcement recently have gone relatively unreported in the mainstream. Because the implications for attacking free speech associated with them are extremely important, we feel compelled to bring them to our readers. It appears that criticizing or speaking out against law enforcement is putting targets on the backs of police critics.
The first worrisome move by anti-free speech law enforcement has to do with the statement "All Cops Are Bastards" or ACAB. This phrase dates back over a century to 1920s England and has been used by those critical of police ever since, becoming the popular abbreviation ACAB in 1940s by striking workers who clashed with the police.
ACAB banners, shirts, posters, graffiti, and signs are frequent staples at police brutality protests worldwide. While the Free Thought Project doesn't believe in blanket statements that insult vast swaths of people, we stand by everyone's right to make them — and so does the constitution.
However, that constitutional right to say ACAB is under attack and could soon land people on watch lists or even years in jail. During a police brutality protest in Arizona in October, law enforcement made multiple arrests, which is quite common. However, after the arrests, prosecutors made an insidious move to criminalize the speech used by the protesters as felonious.
The protesters were hit with felony street gang charges because they used the abbreviation ACAB.
"Make no mistake, these are political prosecutions," said Jared Keenan, an attorney with ACLU Arizona. "Filing trumped up charges of gang affiliation against those who the office views as their political rival has absolutely no place in a free society."
The street gang charges, according to prosecutors, are based on the group's common use of the phrase "all cops are bastards," the fact they all dress in black, and carry umbrellas.
Prosecutors and police are essentially claiming anyone who uses the term ACAB, is a member of a gang. Using the term while protesting police brutality can add up to ten years in prison on top of whatever other charges protesters are hit with while attempting to express their outrage at police violence.
Months later and these folks still have the potential for spending a decade or more in prison hanging over their heads. According to a recent article on TechDirt, prosecutors are offering plea deals but the "deals" involve pleading guilty to something that simply isn't true:
According to an attorney familiar with the case, the plea requires the defendants to plead guilty to two felony offenses, including the street gang charge.
This move seems retaliatory in nature. Instead of simply realizing that these people are in the streets protesting because they feel that law enforcement has become too powerful and violent in America, prosecutors and police have moved to overly punish those who dare speak out, ensuring future conflict and no positive change.
As Tim Cushing writes,
There's nothing in here that's going to close the divide between these public servants and the people they serve. This is Maricopa law enforcement showing residents they're exactly who the residents thought they were: petty, vindictive people with far too much power.
While cops in Arizona are criminalizing abbreviations that are protected under the First Amendment, cops in Tennessee are arresting people for memes, also protected under the First Amendment.
On Friday, Special Agents from the Tennessee Bureau of Investigation (TBI) and Dickson Police Department raided a man's home and arrested him for posting an entirely legal meme to Twitter.
To be clear, the meme is in poor taste and extremely insensitive as it depicts two men urinating on a grave with the photo of a local cop who was killed on duty in 2018. The photo of two men urinating was an album cover for a band named The Rites, and the officer's photo was photoshopped onto the grave. No crime was committed in making or posting the meme and in fact, the meme still remains on Twitter because it doesn't violate their terms.
Tennessee attorney Daniel A. Horwitz, who specializes in First Amendment litigation noted, the specific conduct the TBI arrested Garton for is simply "not a crime," according to Law And Crime. 
"The First Amendment clearly and unmistakably protects this man's right to post an offensive photo about a police officer," Horwitz told Law&Crime. "The only people who broke the law here were the police officers and TBI agents who participated in this flagrantly unconstitutional arrest."
"This is the photo that our constitutionally illiterate law enforcement officers think is a crime to share," Horwitz tweeted, attaching a screenshot of the picture that resulted in Garton's arrest.
And he's right. Nevertheless, the TBI and police claim that the photo is harassment and Garton was arrested and is being held on a massive $76,000 bond — for a meme.
"This morning, District Attorney General Ray Crouch requested the TBI to investigate the origin of a troubling photograph, getting considerable attention on social media, that seemed to depict individuals desecrating the grave of a deceased local law enforcement officer," the TBI tweeted Friday, thinking that it was the actual grave of the officer.
"Agents visited the gravesite and quickly determined the photograph is not authentic. The TBI's work, however, continues and, to that end, the Bureau would encourage anyone with information about who may be responsible for manufacturing the image to call at 1-800-TBI-FIND."
When Law and Crime asked Horwitz how a meme could be considered harassment to a dead person, he said the TBI and Dickinson Police Department likely "set out to arrest [Garton] for one thing, quickly realize they can't, and make up something else in frustration."
"He did a meme," Horwitz said in summation, adding, "They arrested him for posting an anti-police meme."