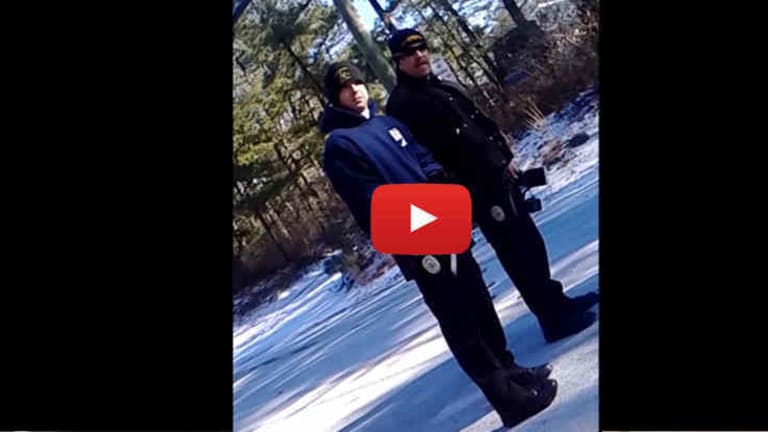 Man Arrested for Refusing to Let Police Illegally Confiscate His Camera
"I'm not gonna negotiate with you. I am explaining to you that this camera is gonna be collected."
Ocean County, NJ -- Andrew Flinchbaugh, 23, was filming a single car accident in Lacey Township when he was illegally arrested by police.
Not that he was legally required to obtain permission to film, however, Flinchbaugh says he was given permission by the first officers on the scene.
In a 10-minute video which Flinchbaugh posted to YouTube, he is heard and seen cooperating with police, while politely refusing to be bullied into illegally having his camera taken.
NBC 10 reports, the police officer in question was a detective from the Ocean County prosecutor's office. Though Flinchbaugh offered to give him a copy of the video, for reasons that are still unclear, the detective wanted the camera.
When Flinchbaugh refused to hand over the camera, the detective arrested him for allegedly obstructing administration of law.
"I refused because I believe that that's our First Amendment right," Flinchbaugh told NBC 10.
When this power-tripping and dangerously uninformed police officer threatened him with arrest if he didn't submit to having his rights violated, Flinchbaugh responded by calmly stating, "Then you're going to have to place me under arrest."
The detective then responded, "Don't push me like that."
Why this officer was on a quest to get this man's camera was unknown. What is known, however, is the fact that it was illegal.
Flinchbaugh even offered to allow officers to view the footage right there on the spot, which he was not obligated in any way to do. But he was still harassed and arrested.
NBC 10 conducted a phone interview with Ocean County prosecutor Joseph Coronato, who said, "We never would have looked at the video without getting a search warrant, and based on our information, we didn't have the legal right to get the search warrant at that point and time."
"It would be my opinion that we'll probably be dismissing the charge," Coronato said.
In his YouTube video, Flinchbaugh names the arresting officer as detective Margentino.
Apparently Margentino didn't get the memo that arresting people for filming in public is a good way to get yourself famous on the internet; for all the wrong reasons.
Well detective Margentino, here are your 10 minutes of fame.