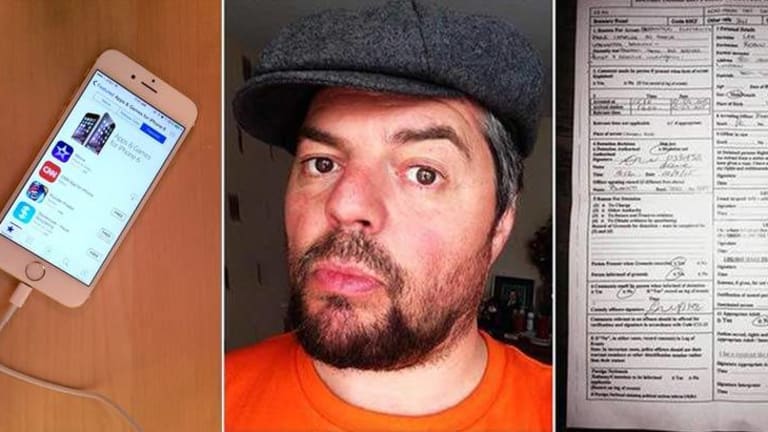 Man Arrested for Stealing Electricity because he Charged His iPhone on a Train Ride
'This guy's been abstracting electricity, he needs to be arrested,' said the officer on an apparent power trip.
London, UK - A London artist, Robin Lee, was arrested on suspicion of "abstracting electricity" for charging his iPhone while on a London Overground train on July 10.
During a ride from Hackney Wick to Camden Road, Lee, 45, was confronted by a police community support officer (PSCO) who accused him of stealing electricity.
"She said I'm abstracting electricity," Lee told the London Evening Standard.
"She kept saying it's a crime. We were just coming into the station, and there happened to be about four police officers on the platform. She called to them and said 'This guy's been abstracting electricity, he needs to be arrested'."
After exiting the train Lee attempted to continue unabated to his destination, but officers arrested him as he attempted to make his way past them. Lee was then put into handcuffs and loaded into a police van before being taken to the local British Transport Police (BTP) base.
After realizing the absolute absurdity of the charge, and as a possible attempt at covering for their overzealous actions in arresting Lee, police de-arrested him for "abstracting energy" and replaced it with a charge of "unacceptable behavior."
According to a BTP spokesman:
"We were called to Camden Road London Overground station on Friday, July 10, to a report of a man becoming aggressive when challenged by a PCSO about his use of a plug socket on board an Overground train. Shortly after 3.30pm, a 45-year-old man from Islington was arrested on suspicion of abstracting electricity, for which he was de-arrested shortly after. He was further arrested for unacceptable behaviour and has been reported for this offence."
Crown Prosecution Service will determine whether charges will be filed against Lee after BTP completes their review of the incident.
A spokeswoman for the Transport of London said that signs near the plug in points clearly state that they are for "cleaners use only and not for public use."
But according to Lee, the entire episode was unnecessary.
"I was just incredulous," Lee said.
"It was an overzealous community support officer. They should never have arrested me, they knew it was ridiculous. The whole thing was just ridiculous."
Had this happened in the United States, Lee could have been tasered, pepper sprayed, or shot.