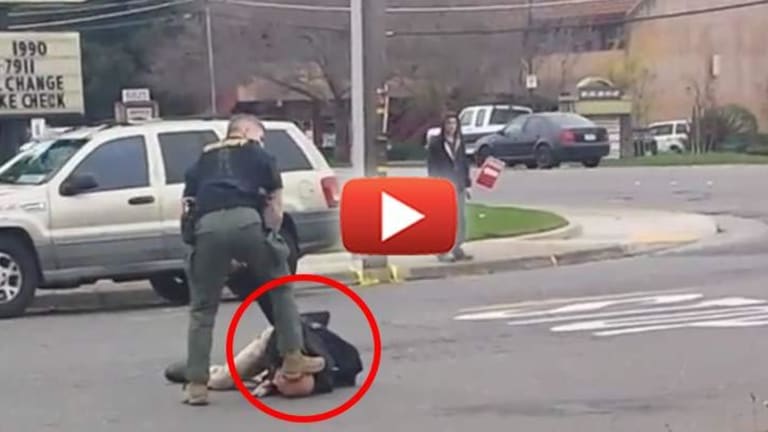 Innocent Man Asks Cop Nicely to Stop Blocking Traffic, So the Cop Beat Him and Stomped his Head
A Sacramento Cop is being sued a third time for beating people with his flashlight. He's still a cop despite being caught on video 2 of the three times.
Sacramento, CA -- In December of 2014, 51-year-old John Madison Reyes, was attempting to cross the street when he crossed paths with "hero cop," Sacramento County sheriff's Deputy Paul "Scotte" Pfeifer.
Deputy Pfeifer has been hailed by the department for his heroism in the past. He's received several awards, including the department's highest honor, the Sheriff's Gold Medal of Valor.
However, along with this sheriff's heroism comes a dark history of violence and abuse -- specifically using his flashlight as a means of doling out street justice.
Reyes happened to be the most recent person to fall victim to Pfeifer's wrath. As Reyes attempted to cross the street, he noticed Pfeifer's patrol unit blocking the road, which made him have to carry his groceries into dangerous traffic. So, according to Reyes, he politely asked the officer to stop blocking the road.
The suit claims Reyes twice asked the officer – politely – to move his car, then when he was ignored, escalated his request by saying, "Move your f------ car," and extended his middle finger in a sign of disrespect.
Pfeifer reacted by pepper spraying Reyes. He then tasered him, threw him to the ground and began stomping on his head and waylaying him with his flashlight.
Reyes suffered a broken nose, broken ribs, a concussion and a large gash above his left eye, according to the complaint.
Most of the interaction was caught on cellphone video by Michael White, a nearby resident.
"You could hear the thuds," said White. "He was hitting him pretty hard."
"I think he should be arrested," White said of Pfeifer in an interview. "I think he should spend some time in jail."
But jail would not be anywhere in this violent cop's future.
Despite Reyes not being charged with any crime and despite Pfeifer being caught on video severely brutalizing an innocent man, he was cleared of wrongdoing. Pfeifer has returned to full duty, and this time he's been promoted to detective.
Reyes filed a federal lawsuit against the department this month.
"On the day in question, for no reason other than an apparent reaction to 'contempt of cop' conduct, Deputy Pfeifer tasered, pepper-sprayed and beat plaintiff in the middle of the street, in broad daylight, with his department-issued flashlight," according to the suit filed by Sacramento attorney Stewart Katz. "The wrongful attack was witnessed by many citizens who were appalled by the conduct, some of whom recorded the deputy's illegal conduct."
Reyes is the third person to sue after Pfeifer after being beaten by this flashlight-wielding madman.
Mickey Donohue, 49, was brutally beaten by Pfeifer in 2009 after a short car chase. That incident was caught on dashcam. 
Prior to these two suits, Pfeifer was successfully sued by a 25-year-old woman who claimed he beat her with his flashlight after pepper spraying and hogtying her. The woman, Solomia Treshchuk, had taken a picture during the assault, which she says Pfeifer deleted after beating her.
How can a cop be caught on video twice, severely beating people, and be successfully sued for it, and remain a police officer?
This complete lack of accountability is what people are upset about. As long as police are able to dole out beatings without facing any repercussions, we can expect this animosity toward law enforcement to grow.
It is high time that police be prevented from passing the liability of their abusive actions onto the backs of the taxpayers. If officers were held individually liable for their actions, you could rest assured that "problem officers" would be weeded out and removed.
Requiring police officers in large cities to carry professional liability insurance coverage would be an excellent risk management strategy and provide accountability for officers in ways that city administrations cannot or will not provide.
Similarly to how other professionals, such as doctors who are sued too many times become uninsurable, the demands of professional liability insurance will ensure risk reduction takes place. Meaning basically that if city officials won't hold police accountable for their actions an insurance company on the hook for large police misconduct payouts certainly will.
Problem officers would find their rates up until eventually they would become uninsurable, a wonderful way to have problem officers forced out of policing entirely.
To avoid running into problems with union contracts, the strategy would allow cities to fund the base rate of the coverage, and officers funding any additional costs that would be associated with their claims history.