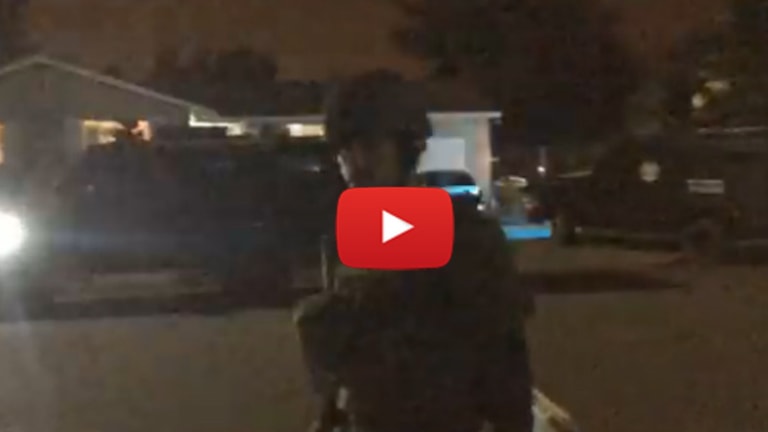 Man Assaulted and Arrested for Filming Militarized Police Raid, From Across the Street
You go inside right now...it's a lawful order...go inside right now"

In Gresham, Oregon, a man was filming a heavily militarized SWAT raid on his iPad from across the street, when he was assaulted by 1st Amendment violating thugs dressed in Kevlar.

According to the man who uploaded the video to YouTube, who goes by the name Skylow Production, he woke up at 4:00 am after hearing a loud disturbance, so he came outside to investigate.
I was laying in my apartment sleeping and I heard multiple bombs blasting and glass breaking and my entire apartment shook repeatedly. I grabbed my Ipad and ran outside as fast as I could to see what was going on. There were 5 or more Tank/Military Trucks just cruising through my neighborhood.
In the video we see two soldiers police officers approach the man filming. They quickly threaten to arrest him for 'interfering' despite the fact that he is clearly across the street. We can see one of the officers try to grab his iPad, and then they turn to walk away.

When the man filming says, "this is going to iCloud," that is when he was assaulted and arrested.

According to his description, the man was charged with two crimes.
I was assaulted multiple times and I feel like it was Gresham Police Abuse and my rights were violated. I now owe $5000 and I am charged with 2 crimes. 2 CRIMES! At first I was scared to post this video but now I don't care because the Gresham Police Department has already made a copy of it as proof of my crimes. I feel more like this is proof of their crimes or am i crazy?
What do you think? Was this man interfering or was he simply practicing his 1st Amendment right and holding police accountable? Let us know in the comments section.