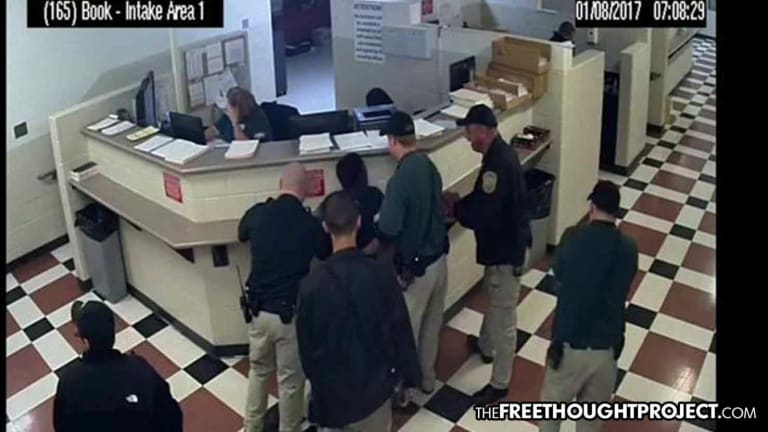 WATCH: Cops Stand Around and Laugh as Fellow Cop Tortures Handcuffed Man with a Taser
Disturbing surveillance footage has been released showing a cop torment a young man with a taser as other cops stood around and laughed.
Floyd County, GA – A Georgia man and his mother are planning to sue the Floyd County Sheriff's Department after her son was tased and tortured while in police custody, and the disturbing incident was captured on video.
In 2017, Juan Porter asked a motorist to call the police and claimed he had been attacked by four men. Upon arrival, instead of hunting for the perpetrators, the officers arrested the man, who was 21 at the time, for being drunk.
When he was taken to the Floyd County jail, Porter reportedly became belligerent and was subsequently tased while inside his holding cell. But that wasn't what caused Porter's mother, Felicia Curry, to become upset so much as what happened after Porter was removed from his jail cell.
One of the deputies stood behind Porter as he was signing some paperwork for his release and dry-fired his taser in an attempt to scare and intimidate Porter. Sgt. Matthew Battle—who had just tasered Porter in his cell—triggered the taser multiple times in an effort to incite fear.
The not-so-funny incident caused the other deputies to laugh with delight. But Curry isn't laughing. She says her son has been traumatized by the whole experience.
"It's outrageous," said Curry.
Porter filed an official complaint shortly after the incident, which prompted the jailer to call for an immediate investigation. The Georgia State Bureau of Investigations (GBI) opened an official misconduct investigation into the alleged torturous incident, which was no laughing matter for the family.
In the end, one officer, Sgt. Battle, was fired. Battle was a 14-year veteran of the police department and was the one behind the crude treatment of Porter, pulling the trigger on the taser. Cpl. Carrie Edge issued the following statement in February 2017, upon the release of the GBI findings. She said:
Our administration continues to keep assurance of public trust as a prime concern of our office...Whether it involves a 14-year veteran like Mr. Battle or a new deputy just beginning his career, misconduct of any kind will not be tolerated. The sheriff's office will continue to do the right thing even when it means exposing our shortcomings.
Curry claims her son has suffered permanent mental injuries, not only from the tasing but also from being taunted by police with additional torture. Now, over a full year later, the jailhouse video of the incident has been made public.
While the video does not show Battle tasing Porter (because it happened inside the jail cell), the video does reveal how Battle dry-fired his taser while standing behind Porter as he was at the administrative desk. The sound of the taser can be heard along with the laughter brought about by the insensitive humor some might say resembles mental and emotional torture.
Curry told reporters:
That's not enough (Battle's firing presumably) All of the people that participated in that video ... I need something done about all of them...I'm going after each one of them for doing this to my son.
She says he was not a threat to anyone:
They didn't have to, after he passed out, go in there, and just laugh with him, hurt him, tase him and not follow protocol...they did some damage to my son mentally.
TFTP attempted to obtain a press release of the GBI investigation but it was not available. Also, curiously absent from all the available published reports on the incident was any mention of officers attempts to ascertain the identities of the four men Porter claims attacked him, an assault which reportedly prompted him to call police in the first place.
The entire incident serves to illustrate what can happen to a citizen after they dial 911 for help. Sometimes the people who show up do as much damage as the people who just left.