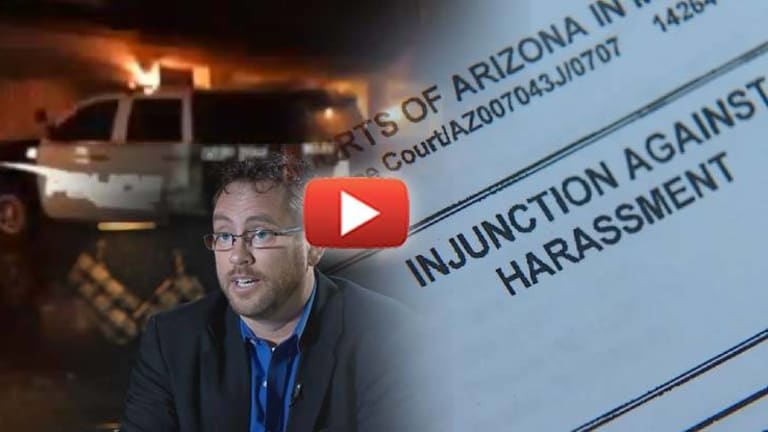 After Man Filed a Complaint Against a Reckless Cop, the Cop Had Him Charged with Harassment
In a police state, filing a complaint against an officer can be a criminal act.
Surprise, AZ - Last Month, in a large town just outside of Phoenix, a man named Casey Hagon witnessed an off-duty police officer driving recklessly without his lights on. Hagon followed the officer to check if maybe the officer was responding to a call, or if he was returning to the station for something important. However, Hagon followed the officer back to his residence, where he then parked his car and went inside.
Hagon took a picture of the vehicle because that was the best confirmation that he could get at the time, and then immediately filed a complaint with the Surprise Police Department
"He had already gone in. But I had snapped photos of the vehicle so that I kind of had validation, and of the address, and went further down, hung a U-turn and then parked," Hagon said.
While he was on the phone with the police department making the complaint, the officer came charging back out of his house, pulled his vehicle down the street, and then parked behind Hagon with his lights on to pull him over
Hagon explained,"He wanted to know why I was snapping photos of his house. So, then now I've got validation at that moment that it's his home. I don't remember exactly how he said it, 'Who you on the phone with?' or 'Why are you on the phone?' or 'Get off the phone' - something to that effect - and I said, 'I'm on the phone with the Surprise Police Department now reporting this incident.'"
Hagon went on to express his concern with how the officer was driving, meanwhile, two other officers arrived on the scene.
Hagon was then told by a supervisor that he was wrong to follow the police officer home because it could make the officer feel threatened.
"I told him I'd like to have a complaint and I'd like for him to get a ticket, no different from anybody else. He explained to me that it was at the discretion of the officer whether a ticket would be written or not, and he said that he's not had any other complaints ever, so at this point he doesn't see that happening," Hagon said.
Hagon thought the issue was over when he was sent home from the scene, however, a month later he was taking an evening walk and noticed the same officer speeding down the street yet again, without his emergency lights on.
Hagon again snapped photos of the vehicle and called the police department to file a report.
However, instead of doing something about their officer's reckless driving, they allowed the officer to file a harassment charge against Hagon.
"The next day, my son calls me at work to let me know that there was an El Mirage police officer at my house," Hagon said.
"That had me completely perplexed. For what reason? So, I called the city of El Mirage to ask what had happened or what was going on. He said he had an injunction against harassment to serve on me on behalf of Officer Drew Persha. I cannot believe that the result of filing a complaint on an officer for not following the law was that I'm going to get an injunction against harassment filed against me," he added.
In a later statement, the Surprise police department said,
"The Surprise Police Department had no role in the officer obtaining the court order. I would like to reiterate that the Surprise Police Department is dedicated to objectively and thoroughly resolving all citizen's complaints. Our Professional Standards Unit is currently processing Mr. Hagon's complaint and we once again ask the public to remain patient as we complete this active on-going administrative investigation."
The harassment charge comes along with a legal order for Hagon to cease contact with Persha and stay away from his home. The order went on to state that Hagon was a danger to Persha and his family.
However, Hagon says that he does not mean anyone any harm, he just wants to see the officer held to the same standards of safety that everyone else is.
"I'm not out for this officer at all. I would just appreciate him to follow the laws that he's set to enforce. I have an 8-year-old that's out in the neighborhood," Hagon said.
John Vibes is an author and researcher who organizes a number of large events including the Free Your Mind Conference. He also has a publishing company where he offers a censorship free platform for both fiction and non-fiction writers. You can contact him and stay connected to his work at his Facebook page. You can purchase his books, or get your own book published at his website www.JohnVibes.com.