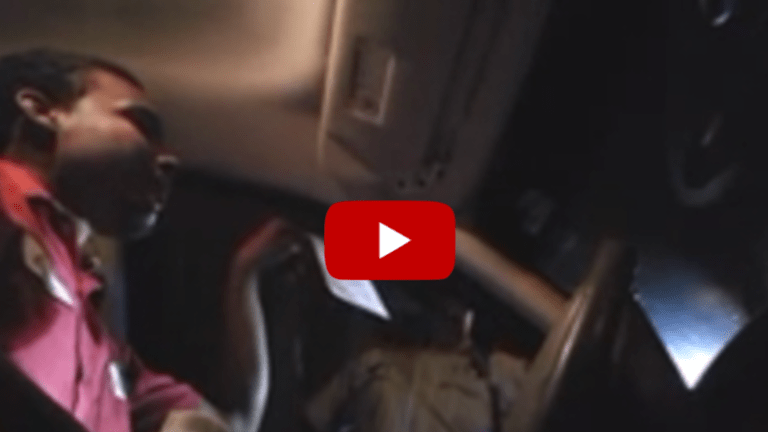 Man Films Himself Being Attacked By Cops After Not Rolling Down His Window All the Way
"Why did you pull me over, officer?" "Because I wanted to, now step out of the vehicle!"
Curtis Shannon was driving home from work on the night of Dec 26, 2013 when he was stopped and assaulted by St. Petersburg, FL police.
According to Shannon's description on South Florida Cop Block's website, just before he got home, a police cruiser pulled behind his car and was following him very closely. Both him and the cruiser stopped at a red light. When it turned green, and just after he started making the last turn before he got home, lights started flashing.
Being less than a half, block from home, he put his hazard lights on and slowly backed into his parking space. He then turned off his car, and headlights, turned on the interior lights and waited to see what the issue was.
When the officer approached his vehicle he asked to see his papers and Shannon told him that he was looking for them.
When Shannon found his paperwork, he offered it to the officer, but the officer did not take them. Instead he told Shannon to roll down his window all the way. According to Shannon, the window was a quarter of the way down and from the video, it was clearly down enough to hear the belligerent officer barking at him.
Shannon then asked the officer, "Why did you pull me over, officer?"
He responded with "Because I wanted to, now step out of the vehicle!"
Shannon then responded "'Because I want to' isn't a legal reason to pull someone over, let alone ask them out of a car. Can you tell me why you pulled me over?"
The officer then walked around to the back of his car to check his license plates and call for back-up. The rest of the story can be seen in the video below.

According to the police report the officer claimed that he feared for his life during the stop.
I exited my marked patrol cruiser and walked towards the vehicle and I noticed the driver staring at me with a blank stare as he continued revving the engine louder and louder. I thought by his actions the subject was going to attempt to hit me with his car.
From the video, we can clearly see that Shannon was courteous and respectful during the entire stop and hardly a threat to this officer. In fact, it could be argued that the only threat to anyone in this situation was the officer.
Shannon was arrested and charged with RESISTING/OBSTRUCTING WITH VIOLENCE, a felony. The charges were later reduced to RESISTING/OBSRUCTING WITHOUT VIOLENCE, a misdemeanor.
Shannon has since setup a go fund me page to help cover the attorneys fees in fighting these charges.