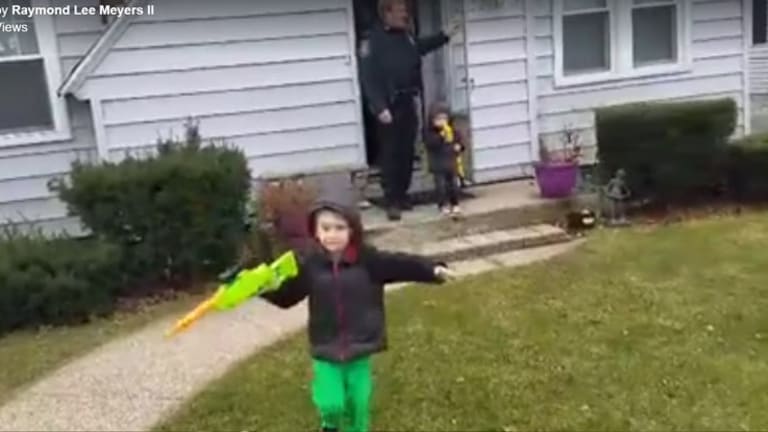 WATCH: Man Films as Police Enter His Home Without a Warrant, Kidnap His Children
A Michigan man is claiming police entered his home without a warrant and kidnapped his children under orders from CPS, which resulted in him becoming homeless.
Kidnapping occurs when a person is taken against his/her will. Often, when the mainstream media reports on children who have been kidnapped, it will name the perpetrator as a criminal.
How then does society view the forceful removal of one's own children bypolice? According to Raymond Lee Meyers II, police and Child Protective Services in Muskegon, Michigan kidnapped his children and forced him to become homeless.
Meyers said all his problems started in March when he and his girlfriend, Kayla, were having an argument. Police were called to his home, and he claims that although no charges were filed against him, CPS became involved.
CPS opened a case against him after the altercation with police—an interaction that Meyers said resulted in him getting "beaten up." The agency made repeated attempts to gain entry into his home, but because the two parents worked third shift, Meyers said they did not answer the door.
One social worker claimed Meyers was insane and moved to have the children—a two-year-old and a four-year-old—removed from the home.When CPS arrived to seize the children, the distraught father decided to document the removal by filming it.
The police officer addressed Meyers by saying, "I'm not going to discuss this with you, I'm just going to tell you what's going to happen."
The officer then claimed that not only did they not have a court order, but they did not have a warrant to enter his premises. Nevertheless, they moved to enter his property and take away his children.
Meyers told the police they were not welcome on his property, and yet, without a search warrant, they proceeded to enter the home. The officers then informed the children that they were being taken.
It should be noted that the same man CPS said was crazy, comported himself much better than many others who have gone through similar kidnappings. He was relatively calm, albeit angry, and kept his composure through the entire ordeal.
Meyers contacted The Free Thought Project and asked for his story to be shared with the public. He said his children were removed, but were eventually returned to the home. However, while they were allowed to stay with his girlfriend, Kayla, Meyers said he was not allowed to return home, or to have any interaction with Kayla or the children.
In essence, the state used the police to kidnap a man's kids and give them to someone else, who was not their biological parent, all because one social worker believed him to be an unfit parent.
Meyers said that while he is not allowed to return to his own home, he is still forced to support his family while he is homeless. After spending around $11,000 during the ordeal, Meyers said he is now out of money.
Despite claims from CPS that questioned his sanity, Meyers said he was evaluated by a psychiatrist and was deemed to be as normal as anyone could be given the circumstances.
We have not been able to verify any of Meyers' claims, but we feel the video speaks for itself. It shows police officers, under threat of force, demand a man not enter his own home while they—complete strangers to the children—go into his home, in violation of his Fourth Amendment rights, and take his children. If that's not kidnapping, what is?
Worse yet, the man was forced to leave his own home or risk losing his children to the care of complete strangers. While the whole ordeal makes no sense, it serves to demonstrate the power the state has over families and their children.
A quick check of arrest records appears to show Meyers was charged in 1998 with "assault with a deadly weapon." No other details of his criminal record were found. Meyers' Facebook page shows he's a fisherman, an artist who carves wood, and has uploaded many photos of happier times with his children. He's set up a GoFundMe page in an attempt to have his parental rights restored which a judge has taken away.
"I'm fighting MPD,CPS,and Muskegon family court system. NOT a custody battle. Muskegon family court has allowed CPS to order me out of my own home and away from my children for months now. I have two baby mothers involved and both of them are on my side and want me there 100%."
Cooperating with CPS is a very dangerous thing to do, especially when the unelected organization has the power to take away your children. As a courtesy to our readers, we are providing the following link so that you know what to do when and if, the day ever comes when CPS, along with the police, knock on your door. For more information, click here.