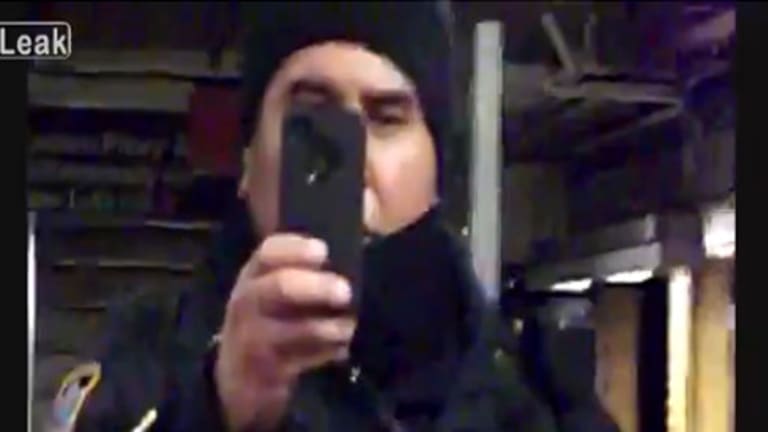 A Man is Harrassed and Assaulted by Thug NYPD Cop For Filming Another Arrest 30 Feet Away
Activist Shawn Randall Thomas was doing absolutely nothing wrong when he was harassed and assaulted NYPD Officer Rojas.
He was standing 30 feet away, he even goes out of his way to show that he is 30 feet away, and filming another officer making an arrest.
Enter thug cop…
Officer Rojas, drunk on power, pulled out his iphone, began filming, and walked over to Thomas. He then proceeded to get uncomfortably close to Thomas, violating his personal space.
After about 30-seconds of silence, Thomas eventually tells the officer, "You're violating my personal space."
"You're violating my personal space too," Rojas replies in the video.
Thomas then requested the officer's name and shield number, citing the NYPD's "patrol guide" that states an officer is required to provide the information to citizens.
"What's your name?" the officer says, declining to provide an answer.
Rojas is also heard asking Thomas why he is invading the officers' personal space, to which he replied: "You walked 30 feet to me."
The tense exchange continues for several minutes with neither man backing down. Rojas also tells Thomas that "maybe" he should just arrest him. Eventually, Thomas tells the officer to "back the f*** up" and get out of his personal space.
Then Rojas makes the assertion that he owns the subway station, "This is my station, right here," he says in typical jackboot fashion.
Thomas claims Rojas then grabbed his arm, twisted it behind his back, took his camera batteries and put them in his pocket. The officer allegedly told him to leave, knowing he couldn't record any more video without batteries.
However, Thomas says he then pulled out his Blackberry and attempted to document how he was kicked out of the subway station for video recording. He says this infuriated Rojas.
"He then knocked the phone out of my hand and slams me to the ground. Then he grabbed the back of my head and slammed it into the pavement," Thomas said, according to Photography Is Not a Crime.
The next footage seen in the video, reportedly taken by a bystander, shows Rojas arresting Thomas in the snow. The bystander apparently tracked Thomas down on Facebook later and provided him with the video.
Thomas claims he downloaded Rucuva, a free video recovery program, after he was released from jail and was able to recover the video footage, which he claims was deleted.
Thomas reportedly faces charges of resisting arrest, trespassing, disorderly conduct and obstructing government, though we are still trying to confirm the charges through the NYPD. He was also arrested last year for video recording in front an NYPD station, though the charges were later dropped.
Photography Is Not a Crime has published the arrest report from the incident, which it claims was provided by Thomas.
In the arrest report, Rojas claims Thomas was in "very close proximity" to his partner while he was issuing the summons and he refused to "step back" when asked "repeatedly" to do so. The report also alleges that after being "escorted" out of the subway station, Thomas "continued to film deponent and closely follow deponent back into said train station."
The arrest report concludes: "False statements in this documents are punishable asa class A misdemeanor pursuant to Section 210.45 of the penal law."
Read the entire thing below:


Source: Photography Is Not a Crime