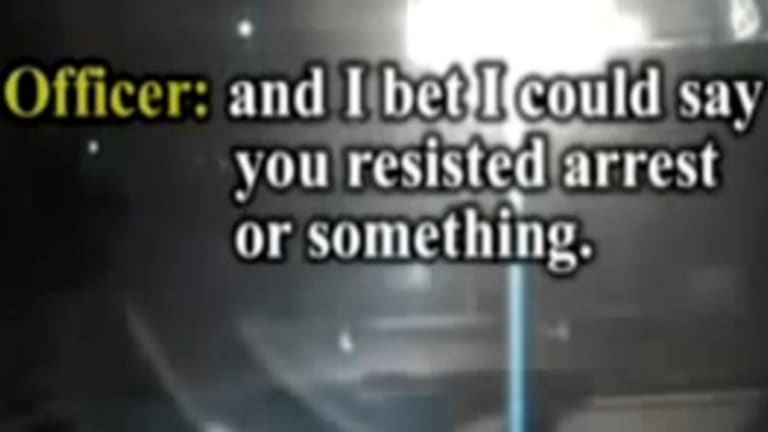 Man Illustrates the Need to Film Police, Catches the 'Cop From Hell' on a Hidden Camera
"You wanna go to f*****g jail for some reason I come up with?....You wanna try me boy!" "Try and talk back to me again, I bet I could say you resisted arrest, or something!"
If ever you needed a reason to own one of the many varieties of hidden cameras, here is a huge one.
Brett Darrow had a run in with the cops before in which there was a disagreement but he had no evidence to support his claims, so he bought a dashcam. This would be the last time that Darrow got screwed over by police.
Darrow left his phone at a friends house and asked them to meet him in a public commuter lot so he could get it back. At this point the officer from hell pulled up, Sgt. James Kuehnlein.
Darrow captured this power tripping tyrant in his true form. Kuehnlein was fired from the St. George Police Department after the video surfaced. In it, you hear Kuehnline berating the driver, Brett Darrow: "You want to try me? You want to try me tonight? You think you've had a bad night? I will ruin your ****ing night."

However, charges were never filed, and Kuehnlein went to work for the Velda City Police Department. During his time as a cop at the VCPD, he was later charged with kidnapping and domestic assault.

Just how many other people has this monster harassed?
As if that wasn't bad enough, a few years later, Brett Darrow would catch cops harassing him AGAIN!
Darrow was with his girlfriend one evening when he came upon a drunk driving (DUI) roadblock. Because he was not in his Maxima, Darrow's only recording tool was his cell phone which captured 50 seconds worth of the interaction with Officer Kevin Lane before the phone was seized and Darrow ordered out of his car. Darrow complied, locking the door while his girlfriend waited in the passenger seat. Officer Lane then took the keys out of Darrow's pocket, entered the car without permission, and proceeded to move it down the street.
With the phone turned off and no longer recording, Darrow says Officer Lane began yelling at him in a profanity-laced style "very similar to Sergeant Kuehnlein's rant from the St. George video." Sergeant David Stuckmeyer, supervisor for the highway safety unit, intervened. He recognized Darrow.
"I want to leave now," Darrow told the sergeant. "Do you think I'm drunk? You don't smell any alcohol do you? I'm not slurring my words. You know I'm not drunk. Why am I not on my way?"
Stuckmeyer did not answer. Darrow complained that his car had been searched and that he was being detained without warrant or probable cause. Stuckmeyer insisted that the roadblocks were set up to check for drunk drivers. In the last fiscal year, however, Stuckmeyer's unit was responsible for generating 2864 seat belt tickets which has helped to land at least $275,000 in state and federal grants. After finally being told he could leave, Darrow asked for his driver's license and cell phone.
"Still, as I sit here a few days later, I cannot believe the brazen attitude of all of them towards someone who hasn't done anything wrong," Darrow told TheNewspaper. "Apparently they just won't learn."
Get a camera, always film, and if you can, get an app that streams the video to another location so even, if your phone is seized, you will still have the evidence.
You can listen to the first 50 seconds of this interaction in the link below.