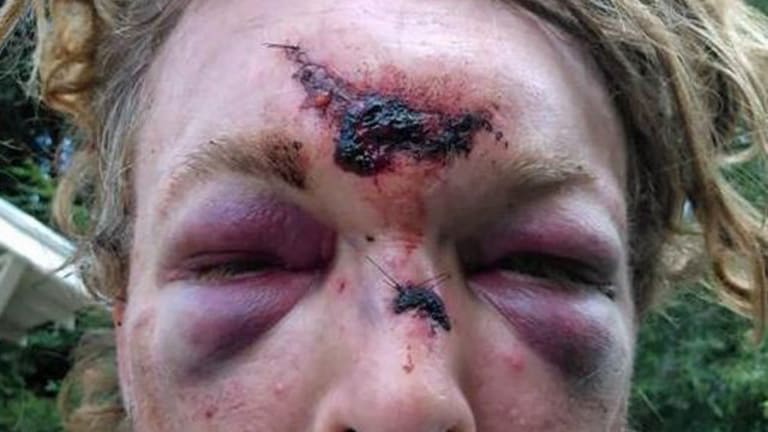 Man Goes to Jail for Public Intoxication, Comes Out Looking Like He Went Through a Meat Grinder
One night in a jail cell left a Denton, TX man gruesomely wounded.
Matt Agorist
July 26, 2014



Jason Bishop, 38, is claiming that he was a victim of police brutality after spending a night in the Denton City Jail for public intoxication.
Bishop is a street vendor that was hanging out as his normal spot when officer Clint Webb approached.
"When the officer approached me, I told him I had a couple of sips of vodka, but I was drinking raspberry Sprite from a Pita Pit cup at the time," Bishop said. "He asked if anything was in the cup and I told him just soda. He did find a water bottle on top of my pack with vodka inside."
"I was just on the ground blindsided after that," he said of his arrest by Webb. "He really jerked me around."
Bishop was taken into custody early Saturday morning on suspicion of public intoxication, a misdemeanor. Police say that Bishop refused to sign the paperwork once he was brought into jail.
That is the last thing that Bishop says he remembers.
What happened next was caught on the jail's surveillance video, which has not yet been released to the public, but has led to Denton cop, Darius Porter, being placed on paid administrative leave.
"I have been arrested before but never treated like this, and that's the stone-cold truth," Bishop said Wednesday afternoon. "I want someone to pay; justice needs to be served."
Bishop was brought to the Denton Regional Medical Center where he was treated for a severe facial contusion, a broken nose, an upper lip abrasion, and wrist injuries. He received 17 stitches in his forehead and 2 more in his nose.
Officials said that the take down by officer Porter is what caused the severe injuries to Bishop. Bishop alleges that he was slammed to the ground and then punched in the face numerous times.
"I don't remember anything but seeing white lines and some medics in the distance. ... I was taken out on a stretcher," he recalled. "They told me at the hospital I did not show any signs of brain damage, but I do have vision damage that might last a long time."
Bishop finally signed the ticket while in the hospital to avoid going back to jail. He says that he plans on filing "more than just a complaint."