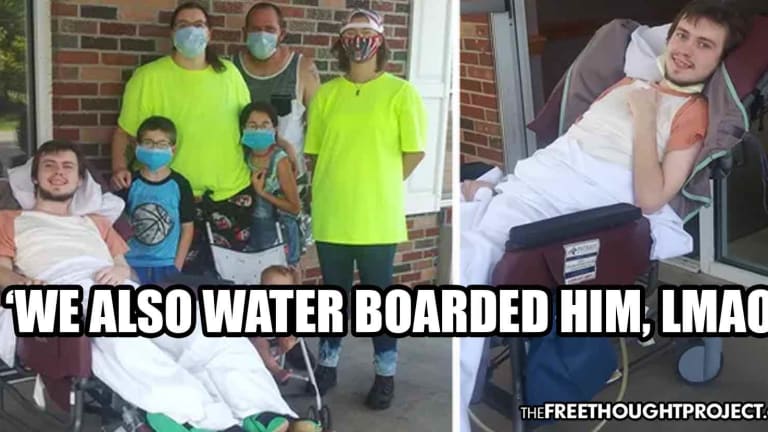 'I'm Glad I Paralyzed Him': Officers Brag About Making Man a Quadriplegic, Torturing Him
An 18-year-old was beating by officers who broke his spine and then tortured in a cell for nearly two days as he lie paralyzed behind bars.
The taxpayers of Ohio were put on notice this week that they will be shelling out a massive $17.5 million settlement as part of a lawsuit brought against the Chillicothe Correctional Institution. Seth Fletcher will be receiving the settlement, although no amount of money will ever let him walk or feel anything from below his neck again. Fletcher was paralyzed by officers at the institution who would later go on to brag about it and face no liability.
Fletcher's nightmare began last year when he was knocked to the ground by officers so hard that he lost feeling in his legs.
According to the Ohio state patrol's report, during their investigation into the incident, they found that Officer Christopher Coy claimed Fletcher tried to pull away from him. When Coy failed to take Fletcher down with a leg sweep, he tackled the 5-foot-9-inch handcuffed man to the ground.
It was this attack which caused the original paralysis. However, his complaints of no feelings in his legs were ignored and instead of getting him the help that may have saved his ability to walk, officers proceeded to further brutalize him.
After the initial injury, officers continued to pick Fletcher up and drop him, repeatedly. The problem became so severe that Fletcher was unable to move even to drink water. Instead of realizing this was a problem, officers poured water into his face, getting it up his nose in a form of waterboarding.
Fletcher was left in this situation for two days without any help. It wasn't until psychologist Eric Anderson visited Fletcher in his cell that anything was done and medical help was finally called in. Fletcher was taken to Ohio State Wexner Medical Center where he underwent emergency spinal surgery that was entirely unsuccessful.
"It is probably the most horrific case I've seen and I've been litigating police misconduct cases for 20 years," said Fletcher's attorney, James J. Harrington IV of Fieger Law in Michigan.
On top of brutalizing a man and leaving him paralyzed, officers actually bragged about it. As part of the lawsuit, Fletcher's attorney was able to retrieve the text messages from the officers that night. Garrett Osbon was proud that he played a role in making a man a quadriplegic — even going to Facebook to brag.
On Facebook Osbon wrote, "we also water boarded him LMAO" and "I broke a dudes nose today, yeah this was not reported, there was way too much blood so I mopped it up."
As the Columbus Dispatch reported, Osbon's bragging in text messages continued after Fletcher was taken to Ohio State Medical Center: "the dude I broke his nose is now paralyzed with a broken neck, and they say his face looks like he had been dropped and dragged through concrete, LMAO" and "It feels good to know that I played a small part in paralyzing a cho, LMAO."
A "cho" or "chillimo" or "cho mo" is slang for pedophiles or child molesters in prison and, while many of us wouldn't mind if a child rapist gets a little street justice, there are laws in place to prevent such cruel and unusual punishment as the state is fallible and innocent people go to jail, a lot. What's more, Fletcher was no "cho mo."
According to his case, as detailed in the lawsuit, Fletcher was sentenced to two years for "pandering sexually-oriented material involving minors." Fletcher was 18 at the time of the incident and the video in question was made consensually with his girlfriend who was just two years younger. Hardly a child molester.
Nevertheless, he is paralyzed for life and not a single one of the officers who caused it have been held criminally accountable. According to the Dispatch, a year after Fletcher was injured, the state prisons department fired three people and gave a one-day working suspension to two staff members involved. Additionally, six others resigned and one lieutenant took medical retirement. No one went to jail.