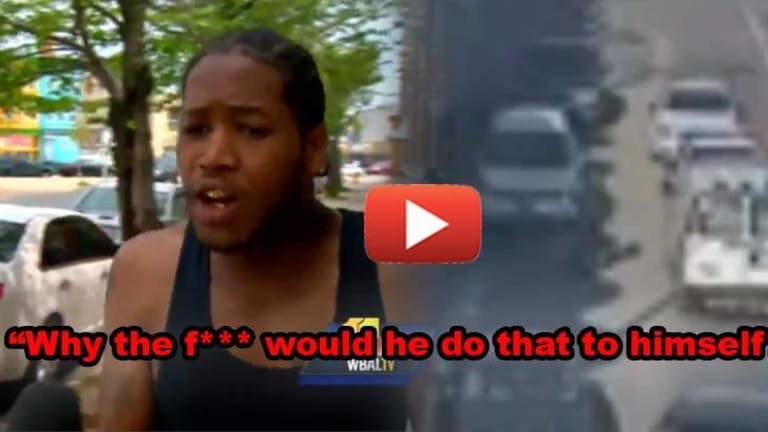 Man in Police Van With Freddie Gray Speaks Out: Freddie Gray did not Injure Himself
The man in the police van with Freddie Gray on his death ride speaks out, saying cops leaked false statements in order to corroborate their narrative.
"They trying to make it seem like I told them that, you know what I mean, that Freddie Gray did that to himself," Allen said. "Why the f*** would he do that to himself?"
Baltimore, Md. – In a bombshell revelation, Donta Allen, the man that was in the police transport van at the same time as Freddie Gray, spoke out for the first time publicly and directly refuted information leaked by police.
Allen came forward after an internal investigative memo was leaked by police and subsequently published by the Washington Post on Wednesday. The document claimed that Allen had told police Gray "was intentionally trying to injure himself," which according to Allen was an attempt to spin his words to make it seem as if Gray may have injured himself.
"They trying to make it seem like I told them that, you know what I mean, that Freddie Gray did that to himself," Allen said. "Why the f*** would he do that to himself?"
Allen's words are being intentionally distorted in an effort to exonerate the police of any culpability or wrongdoing while seemingly laying the blame on the victim.
When asked whether he heard Gray banging his head while in the van, Allen said,
"When I got in the van, I didn't hear nothing. It was a smooth ride. We went straight to the police station. All I heard was a little banging for about four seconds. I just heard little banging, just little banging."
Allen went on to say,
"I told homicide that I don't work for the police. I did not tell the police nothing."
This contradicts police assertions, as claimed in a search warrant affidavit, that Allen claimed Gray was "banging against the walls" of the van.
Allen claims that authorities are using him as a scapegoat to provide cover for their actions relating to the incident.
"They waited 30 to 35 minutes to get [Gray] some medical attention because they want to cover their ass," Allen told WBAL-TV. "So now, since they can't cover their ass on that, they're trying to use me to cover their ass."
Numerous law enforcement sources have told WJLA-TV that Gray suffered a "catastrophic injury" when he smashed his own back into the van and broke his neck. Additionally, a bolt in the van matched his head injury, according to the sources.
The autopsy of Gray showed no evidence that there were any self-inflicted wounds, and that the fatal spinal and neck injuries were consistent with the force and energy presented in a car accident.
What is clear is that the Baltimore Police Department thought they could use the police spin machine to lay the blame for Gray's death somewhere other than themselves as a means of escaping accountability.
Please share this important information to help others become aware of the propaganda being disseminated by the Baltimore PD in an effort to obscure the truth from public view!
Jay Syrmopoulos is an investigative journalist, freethinker, researcher, and ardent opponent of authoritarianism. He is currently a graduate student at University of Denver pursuing a masters in Global Affairs. Jay's work has previously been published on BenSwann.com and WeAreChange.org. You can follow him on Twitter @sirmetropolis, on Facebook at Sir Metropolis and now on tsu.