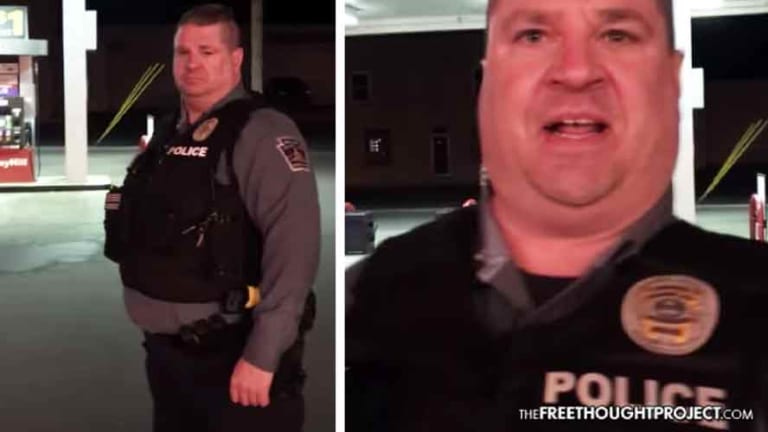 WATCH: Cop Punches Innocent Man in the Face for Questioning His Authority
For filming an aggressive cop, an innocent man was punched in the face by a peace officer, and the entire assault was captured on video.
Mount Joy Borough, PA — Lebanon resident and city council candidate Royal Marti said he was verbally abused and assaulted by a Mount Joy Borough officer between 2 and 3 a.m. on March 31 when he and his boyfriend stopped at a local convenience store.
The two-wheeled gas powered scooter in the video used to be called a "liquor cycle," as they were the only personal transportation option for those who'd been convicted of Driving Under the Influence (DUI). Now, with many states requiring insurance, license plates and registration, liquor cycles are now just an economical way to get around.
But for two gay men who stopped at a local gas station for slushies, the night took a turn for the worse when they ran into a police officer, some have said was on a power trip and didn't want his ego challenged. The video begins after the officer allegedly called Marti a "dick wad."
Officer Jason Smith can be heard proclaiming, "If you want to go out there and start putting out things, why don't you start trying to tell the truth for once. I didn't call you a dick wad, you just called me a douchebag."
"If you want to start up shit I'll take you in for disorderly conduct," Smith promised. "Yep, this is how you act," the man replied. "No, this is how you act!" Smith said.
Tired of being harassed, Marti's boyfriend Christopher Eugene Hostetter, the owner and driver of the scooter said he'd "just push it" home, but pleaded his case with the officer.
"I don't have a key for it, and it's insured, and I'm not driving it," he said describing the moment the officer began running his plates.
"As soon as I verify that, you can be on your way," replied the officer.
"He has no legal right. In the State of Pennsylvania, you have to be violating a law to be pulled over," Marti replied as his Hostetter told him he would be contacting a lawyer to sue.
Marti continued narrating the perceived harassment by police, but it seems Smith was ready to take it to the next level.
"I don't really care what you say I'm allowed to do," officer Smith said — and then he punched the kid in the face.
"You stick that camera in my face again...," Smith said as the two ran into the store to tell the clerk they'd just been assaulted by the cop.
The video doesn't show Marti sticking the phone in the officer's face, but it does show the officer walking towards him and punching the camera, in what appears to be a clear violation of public policy.
The city council candidate ran inside the 7 Eleven and told the store clerk to call State Police and said he'd just been hit in the face by Smith.
Marti, still carrying the camera, ran all the way back into the storeroom, where he found an emergency exit and exited the building.
According to Lancaster Online, the incident took place in March and the police department is aware they're being sued. Mount Joy Borough Police Chief Maurice Williams Jr. would not comment on the case but said Officer Smith had been disciplined. Marti attempted to settle with the city out of court but was denied such a request. Now he's suing.
The Mount Joy Borough Police Department issued a statement which reads in part, "That video, taken nearly two months ago, resulted in the department taking immediate action to investigate the matter and it took appropriate steps to comprehensively address the situation."
Mount Joy Borough Manager Samuel Sulkosky said the "multifaceted disciplinary action" taken against Smith included some stipulation that needed to be completed before Smith could return to full duty. He said the mayor, borough council and the police department were all aware of the action taken, and it was discussed during an executive session at a borough council meeting.
It's not the first time Smith has been in trouble with his own department. In February of 2013, he was suspended for two days without pay for a "personal" matter which violated departmental policy. The incident, like the one in the video below, happened while he was on duty.