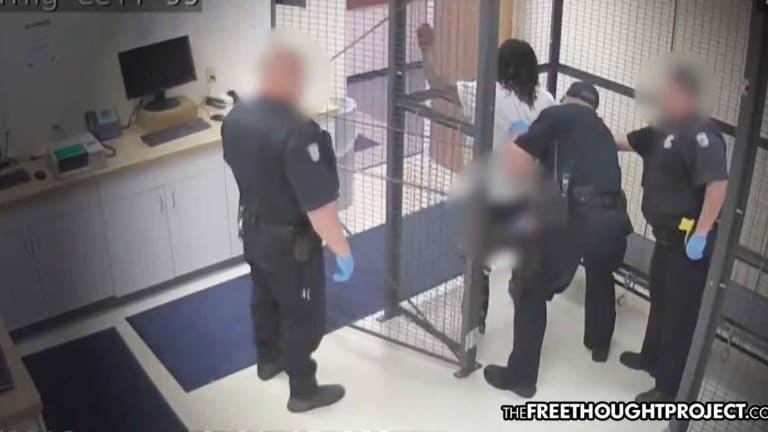 Sicko Cop Sodomizes Man on Video Over Paper License Plate—Taxpayers to Be Held Liable
A man was stopped because a police officer couldn't see his paper license plate, the man was then kidnapped, thrown in a cage and sodomized for no reason.
Allen Park, MI — Police accountability activists received a rare victory this week when the 6th U.S. Circuit Court of Appeals denied a police officer qualified immunity for kidnapping a man and shoving his fingers into the man's anus to look for non-existent drugs.
For those who may be unfamiliar, qualified immunity is a legal doctrine in United States federal law that shields cops and other government officials from being sued for discretionary actions performed within their official capacity—unless their actions violated "clearly established" federal law or constitutional rights. Ramming your fingers into an otherwise entirely innocent man's anus over a traffic stop is most assuredly a violation of the victim, Kevin Campbell's constitutional rights.
As TFTP reported at the time, Campbell was driving his wife's new minivan home in June of 2016 when he was targeted for revenue collection by Allen Park Police Officer Daniel Mack. The resultant stop would end with Mack kidnapping Campbell, throwing him in a cage, and forcefully penetrating his anus with his hand -- all over a paper license plate.
The nightmare unfolded on June 7, 2016, when Campbell was stopped because Mack claimed his wife's new minivan's temporary license plate wasn't visible through the back glass.
"He said he couldn't see the license plate. I thought that was very weird and odd that he couldn't see a license plate by it being 7:00 in the afternoon," said Campbell.
Campbell was driving on a suspended license as he was unable to afford the fees needed to reinstate it. For his suspended license, officer Mack arrested Campbell, placed him in handcuffs and patted him down.
What began as a routine revenue collection stop, quickly morphed into a nightmare as Mack accused Campbell of having drugs on him.
"He ran my name, he then got the K9 dog out; him and the K9 dog went searching through the car – didn't find anything," said Campbell. The entire search was conducted without probable cause and without a warrant.
Illegally searching Campbell and not finding anything in the car wasn't enough for Mack. He just knew, like the countless other tyrants with a desire to sodomize innocent people, that Campbell must have put this illegal substance inside his body.
So, this public servant kidnapped Campbell and threw the 32-year-old father in a cage -- before sexually assaulting him.
"Your pants [are] unzipped. I'm gonna find it one way or another, alright? So we can do this the easy way or the hard way," said Mack on the video. "What you got in your drawers," said Mack.
In the disturbing and infuriating video, Mack then horrifyingly sodomizes Campbell.
"Drop 'em," demanded the sicko cop.
"Drop what," asked Campbell.
"Your drawers," said his abuser.
"You want me to get naked," asked Campbell.
"Yeah, you're getting naked. You're in a holding cell, you're getting naked," said Mack.
As Campbell verbally protests, officer Mack unzips his pants and looks into his underwear — a move that would land a non-cop in prison.
After he didn't see anything in his underwear, Mack again demanded Campbell take his pants off so he could sodomize him.
"Drop your drawers," said the cop.
"I'm not taking my underwear off," said Campbell.
Just then, two other officers come into the room and act as intimidation muscle for their fellow cop. Officer Mack then proceeds to violate the sanctity of this man's most private of orifices.
"The other officers were being aggressive with their voices telling me 'don't move,' and be still, but it's kind of hard to be still when you know you have someone grabbing your testicles through your underwear, and putting their fingers in places that another man shouldn't be," said Campbell.
"Why you putting your fingers in my a**?? Why you feeling my a**hole," says Campbell in the video.
"Cause you got [something] tucked into your a**hole," said Mack.
"No!" yelled Campbell as he's sodomized by a man who society thinks 'protects' them.
Despite the forced sodomy, Mack found nothing and says, "You can keep it," to which Campbell replies, "Ain't nothing to keep."
"It was very dehumanizing," Campbell told 7 Investigator Heather Catallo at the time. "What he did was unconstitutional, violated my civil rights and violated me as a man period."
According to Michigan law, police need a search warrant to conduct a body cavity search — they did not have one. Also, according to Michigan law, any body cavity searches cleared by a warrant must be performed by a licensed medical professional. Mack is a sicko cop — not a medical professional.
"It is a body cavity search; it is the worst intrusion by any public officer anywhere on the face of the planet," said Attorney David Robinson.
Campbell filed a lawsuit against the department and officer Mack for this disgusting act of sodomy in the name of the drug war. He has been fighting it for years as police continued to attempt to get Mack qualified immunity. Even if Campbell had drugs on him, this response by police turns a victimless crime into forced sodomy by law enforcement. Who in their right mind thinks this is justified?
On Tuesday, the court said, "[a]ssuming the veracity of Campbell's facts, as the Court must at this stage, Mack lacked any objective basis for believing that Campbell had committed a civil offense."
"Therefore, Mack did not have probable cause or reasonable suspicion to stop Campbell's automobile," the filing said. "Mack is not entitled to qualified immunity on Campbell's Fourth Amendment claims. When the traffic stop occurred, it was clearly-established that an officer needs either probable cause or reasonable suspicion to conduct a traffic stop."
During the stop, Mack also punitively tightened Campbell's handcuffs after Campbell complained of them being too tight. In response to Campbell's verbal protest, Mack then tightened the cuffs even more, causing injury for which Campbell had to be treated at the hospital.
"Because a reasonable jury could find that Mack tightened Campbell's handcuffs to the point of injury, subjected him to strip and/or body cavity searches, and conducted these searches in an overly aggressive manner in retaliation for Campbell's protected conduct, and because Campbell's First Amendment rights were clearly established, Mack is not entitled to qualified immunity on Campbell's First Amendment retaliation claim," the court said.
Officer Mack is no stranger to violating the rights of others either. He was also a subject of another lawsuit in which he mistook an innocent man and upstanding member of the community for a criminal, and arrested him. In spite of lying about it on the police report, he never lost his job.
Even after this video showed him sodomize an innocent man, officer Mack appears to still be a member of the Allen Park Police Department.
How many more fathers, mothers, sons, and daughters will be legally raped by state agents in search of illegal substances before Americans wake up to the horrors of the War on Drugs?