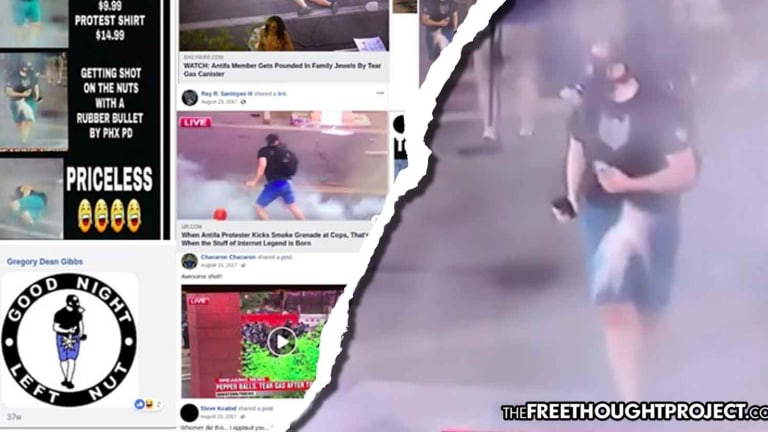 Man Sues After Cops Shoot Him in the Testicles, Tease Him About It On Facebook
A Scottsdale man was shot in the groin with a pepperball by police during a protest and subsequently became the target of a police-led online harassment campaign.
Phoenix, AZ -- A Phoenix man who was shot in his genitals by Phoenix police during a 2017 anti-Trump rally has decided to sue. Following a recent national investigation into the social media accounts of police officers, Scottsdale resident Josh Cobin discovered not only were his genitals targeted by police pepperballs (projectile containing pepper spray) but he was the hapless brunt of police jokes as well.
President Donald Trump visited Phoenix August 22, 2017. A subsequent rally decrying his presence in the city took place on the streets of Downtown Phoenix. Instead of peacefully protecting the protesters' constitutional right to assemble and protest, Phoenix PD fired tear gas, and projectiles such as the pepperball which struck Cobin. The young man was struck in his private parts after he decided to kick a canister of tear gas back in the direction of the police.
It was a projectile the size of a golf ball that was shot at 220 miles an hour from a distance of 20 yards... at my groin.
Cobin had been struck in the back by Phoenix PD pepperballs prior to kicking the canister of tear gas and getting assaulted in his genitals. But what really has Cobin incensed is how the officers then bragged about how they'd allegedly hurt Cobin during the protests.
[I] Found three current officers who had posted in the aftermath of the event about me...Honestly, that really was the final straw.
The entire incident was recorded on video in the summer of 2017 and went viral. But Corbin only decided to sue once he learned his ordeal was made into a meme and he became the subject of locker room banter among the officers. The horrific night for Corbin began immediately after he was struck with the pepperball deterrent. It covered him with the pepper spray and he drove himself to the hospital.
I was literally screaming in my car as I was driving because I was covered in pepper gas spray from having shorts.
He said he was struck an inch above his genitals and the pain was more intense than other ball strikes he had experienced before.
It's twice as painful as getting hit by a baseball in the groin, so it was humiliating! And then to see officers posting about it and mocking me was even worse.
Corbin has secured Elizabeth Tate as his civil rights attorney. She told the Phoenix New Times she will file an amended complaint by August 2, which will detail allegations Phoenix PD allegedly violated Cobin's constitutionally protected rights and caused serious injuries.
There were clear Fourth and Eighth Amendment violations when the officer shot him with the pepper bullet in the groin. It is cruel and unusual punishment, and it's excessive force...We believe it was done purposefully...We also plan on including one count of unlawful dispersement of the crowd. Phoenix police dispersed the crowd when they shouldn't have.
Following his painful assault Phoenix PD later charged Cobin with aggravated assault on a police officer but was dismissed following a plea deal where Cobin pleaded guilty to the much lesser charge of disorderly conduct. In what appeared at the time to be further attempts to humiliate Cobin, Tate says Phoenix police purposefully arrested Cobin at his place of work, even though he had previously notified the police he would be turning himself in. Tate said:
The police were set on arresting him at his place of work. It shows the vindictive spirit the police had toward him...Josh was acting in self defense when he threw that can back. He was defending himself and the crowd.
Phoenix PD claim they were being pummeled with glass bottles and rocks when they began to disperse the crowd with tear gas and pepperballs. The following video shows Cobin and some of his actions that night in September 2017 and shows the exact moment when he was struck by a pepperball in the groin.