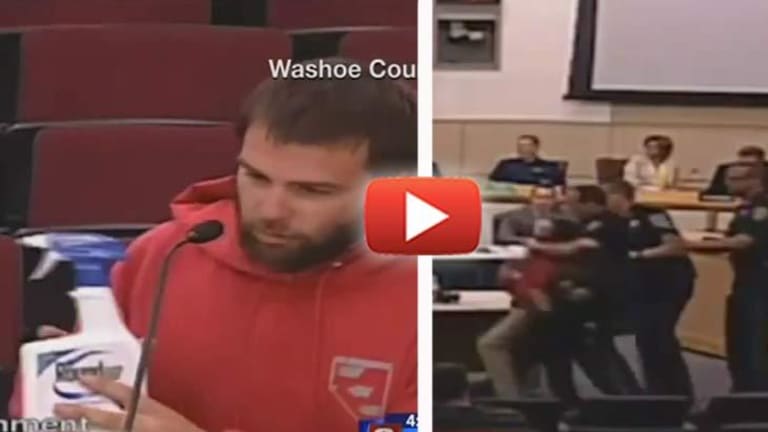 Activist Tackled by Cops & Arrested for Pointing Out Dangers of Round-Up at County Meeting
Despite being arrested, his actions actually made council members do their research and it could lead to positive change.
Reno, NV - 28-year-old activist Ross Tisevich was tackled by police and arrested when attempting to speak about the dangers of the herbicide Round-Up at a local town meeting.
Just before being tackled, Tisevich pulled a container of Round-Up out of his waistband and said that he was going to drink it. As he began to follow through on his promise and drink the liquid inside, he was immediately surrounded by police officers who tackled and cuffed him. The container actually didn't have Round-Up in it, it was actually just sugar and water mixed with green Jello.
"It's a joke! It's a joke," he yelled as he was being taken down.
The container fell as he was being tackled, spilling the liquid all over himself and the ground, which resulted in an evacuation of the building. After the evacuation, a Hazmat crew was called to the scene and it took them four hours to figure out that the bottle contained exactly what he said it contained, water, sugar, and Jello.
"It appeared to be predominantly water with sugar dissolved in it. It does not appear at this time to pose a threat," a police representative said after the substance was tested.
The council members actually seem to be somewhat sympathetic to his cause.
"I did some research on this, and I did discover we are spraying chemicals, not just along the river, but along the roads to deal with weeds. It's probably a bigger problem than pesticides in the parks. I've already explained to Ross that it's going to take some time, but we are going to research to find out if there are alternatives. It's not just a City of Reno problem; it's a universal problem," Councilmember Noami Duerr said.
Tisevich is now facing multiple charges, including disturbing a meeting, destruction of property and a felony charge of dispersing a hoax substance. As of Monday, he was still being held on a $50,000 cash only bail.
Ironically, it was the police who "dispersed the hoax substance, destroyed property," and caused the largest "disturbance in a meeting" when they tackled Tisevich as he attempted to make his point.
In a statement released earlier this year, the World Health Organization's International Agency for Research on Cancer (IARC) announced that glyphosate, the main ingredient in RoundUp, is "probably carcinogenic."
The latest research on Round-Up has also led to California mandating that it be labeled as a carcinogen. 
According to a U.S. Geological Survey (USGS), glyphosate use in the U.S. increased from about 20 million pounds in 1992 to 110 million pounds in 2002 to more than 280 million pounds in 2012.
" width="790" height="444" frameborder="0" allowfullscreen="allowfullscreen">
John Vibes is an author, researcher and investigative journalist who takes a special interest in the counter-culture and the drug war. In addition to his writing and activist work, he organizes a number of large events including the Free Your Mind Conference, which features top caliber speakers and whistle-blowers from all over the world. You can contact him and stay connected to his work at his Facebook page. You can find his 65 chapter Book entitled "Alchemy of the Timeless Renaissance" at bookpatch.com.