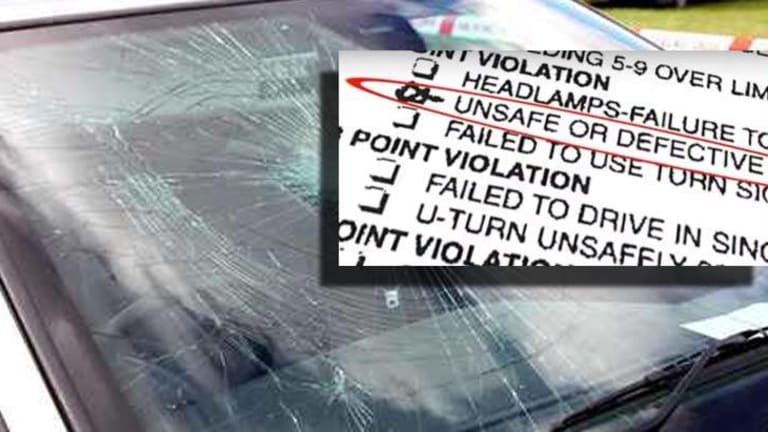 Citation Nation: Cop Writes Man a Ticket for Broken Windshield as He's Getting it Fixed
There is no protection or service in this cop's actions -- only theft.
Denver, CO - Nick Berlin was recently pulled over by police and ticketed for having a broken window, This was in spite of the fact that he was in the parking lot of an auto-glass workshop and had an appointment to get the window fixed at the same moment he was getting the ticket.
Berlin, who was the victim of vandalism just a day before, had quickly made an appointment to get his window fixed after someone threw a rock at it and cracked it.
The whole staff was waiting in the parking lot to fix his car when they saw the officer writing him a ticket, and the officer apparently did not want to hear any excuses.
"I got a ticket for something that I was close as I could be to resolving," Nick Berlin said. "I don't know if he's a no-nonsense kind of cop, it was definitely a bummer," he added.
Local news team ABC13 was able to confirm his story by pulling up the records from the auto glass shop and comparing those records with the time and date found on the ticket. They discovered that as Berlin explained to the officer, he had made the appointment moments before and was on his way to get the problem fixed.
Shop owner David Sprague and his crew were astonished by the actions of this overzealous officer and said that there was no reason to pull Berlin over in the first place.
"We were just standing here in our door and were ready for his appointment and all of the sudden we see a cop out there writing the guy a ticket, We were pretty astounded to think that was what happened," Sprague said.
"He had plenty of visibility on the driver side," he added.
While the Sheriff's Department has refused to comment on the issue, the American Civil Liberties Union of Colorado pointed out that this is an illustration of how police are more concerned with enforcing codes and writing tickets than actually protecting people.
"The more and more police officers see their role as ticketing as opposed to protecting public safety, that has a tendency to erode the public trust," Denise Maes of the ACLU said.
Shop owner David Sprague has offered to cover Berlin's $46 fine if he is not able to beat it in court.
" width="790" height="444" frameborder="0" allowfullscreen="allowfullscreen">
John Vibes is an author, researcher and investigative journalist who takes a special interest in the counter-culture and the drug war. In addition to his writing and activist work, he organizes a number of large events including the Free Your Mind Conference, which features top caliber speakers and whistle-blowers from all over the world. You can contact him and stay connected to his work at his Facebook page. You can find his 65 chapter Book entitled "Alchemy of the Timeless Renaissance" at bookpatch.com.