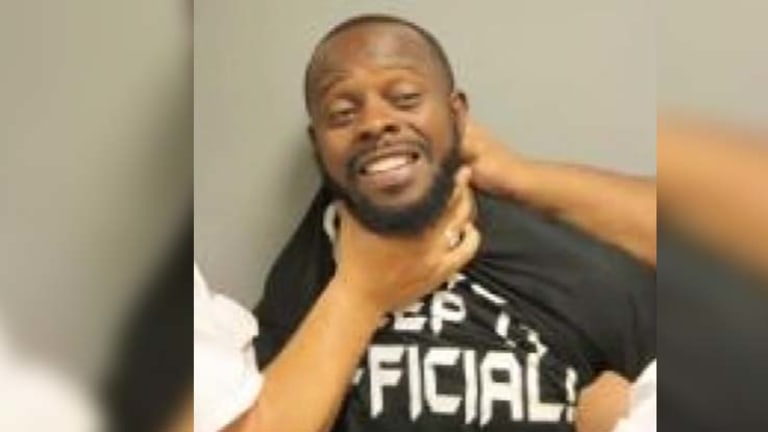 Man's Mugshot Captures Cops Choking Him for the Alleged 'Crime' of Smiling
A man is suing after being choked by multiple cops for allegedly smiling during his mugshot.
Houston, TX – On July 25, 2015, Christopher Johnson was booked into Harris County jail on suspicion of driving under the influence. He is now suing after he says police choked him for smiling during his mugshot.
"He was choked, in front of a room full of people, for smiling. That's very humiliating," said attorney Andre Evans, who is representing Johnson in a civil rights lawsuit filed in Federal Court.
According to Johnson, he was merely smiling for the picture which agitated the deputies.
Johnson accused a deputy of saying, "Man, stop smiling!" just before he and another deputy moved in for the assault.
"This is how I always take my pictures," Johnson stated in the lawsuit.
The subsequent alleged assault was captured in the actual mugshot. However, police are claiming they did nothing wrong, according to ABC 13.
The Harris County Sheriff's Department says, in general, jailers often have to hold up heads of uncooperative defendants. It also points out that plenty of people have smiled or made other faces while getting booked. The department released the following statement:

"The Harris County Sheriff's Office believes that proper procedure was followed during the course of Mr. Johnson's booking. Should any evidence arise to the contrary, proper administrative actions will be taken. At this time, evidence suggests that Mr. Johnson's pleading does not hold merit."
According to Johnson's attorney, however, that is not what happened.
"What took place at the Harris County jail that night was a clear violation of my client's first amendment free speech rights as well as a childish show of excessive force," said Evans.
Also, as we've seen time and again, if suspects are combative during the booking process, police are more than willing to pull out their batons and pepper spray. It seems that choking a man for smiling was just enough excessive force considering Johnson's 'offense.'
According to ABC 13, well-known local attorney Dan Cogdell, who is not involved in this case, says even if the allegations are true, they will be difficult to prove in court.
"Even if it's true, I wouldn't be calling Ferrari of Houston this afternoon to order me a yellow one based on the expectation of a huge verdict in this type of case, because they're very, very difficult cases to prove," said Cogdell.
If Harris County police didn't have the horrid reputation that they do, then perhaps their story would be more believable. However, their track record is less than stellar.
Kenneth Caplan, a reserve deputy constable with Harris County Precinct 6, was charged last year with aggravated assault with a deadly weapon after shooting a woman in the head during a fit of road rage. The department knew he had anger issues, yet he was never taken off the force.
Last month, Jason Miller, communications director for the Houston chapter of NORML, was walking back to his vehicle after doing some shopping. When he returned to his SUV, which has decals that say "Houston NORML" and depicts the state of Texas formed out of marijuana leaves, he noticed two public servants with the Harris County Sheriff's department snooping around.
He was then unlawfully detained, harassed, and his vehicle illegally searched because the incompetent cops thought chex mix was pot.
Charnesia Corley was on her way to the store to get medicine for her sick mother last June when she was detained by police for allegedly running a stop sign. Within minutes, this routine traffic stop turned into a waking nightmare as Harris County cops thought they smelled weed. They proceeded to publicly rape her in a gas station parking lot as they searched for a plant.