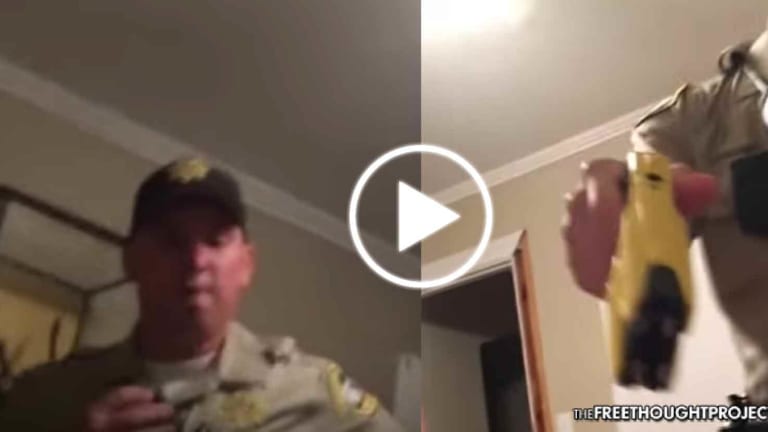 WATCH: Cops Raid Innocent Marine Vet's Home as He Slept, Beat Him in Bed
A cop has been fired and a lawsuit filed after police kicked the door to a couple's bedroom, tasered, and beat a marine veteran to a pulp in his own bed.
Boyes Hot Springs, CA -- Only in police state USA could an argument over a husband failing to notice his wife's haircut end with police tasering and severely beating a man as he lays in bed. That is exactly what happened to Marine Corps veteran Fernando Del Valle -- and he's got the video to prove it.
Although the incident occurred last September, the video was just released. It shows the horrifying nature of a problem cop who's overly prone to violence.
On the night of September 24, Del Valle, 38, and his wife had some drinks and got into an argument after he failed to notice her haircut. The argument became heated but never once turned physical.
As Del Valle retreated into the bedroom and locked himself in, the couple's screaming got the attention of the neighbors, who, in turn, called the police.
Just as the argument begins to calm down, cops burst into the couple's home. Del Valle, who is trying to go to sleep in bed is then woken up by the sound of Sonoma County sheriff's deputies breaking down his bedroom door.
Before the video begins, the deputies allegedly order Del Valle to stand up.
That's when Del Valle turns on his camera and warns the deputies, "I got you on video. Go ahead. Tase me."
Remember, Del Valle had committed no crime and had harmed no one. Yet, here he is with three armed men in his bedroom threatening to inflict bodily harm on him. And, within seconds, that just what Deputy Scott Thorne, 40, did.
"Sir, I'm just laying here trying to sleep and you're ...," Del Valle said. "I'm not standing up. I'm in my house. I'm sleeping."
As Thorne steps forward, he's seen on the video aiming his taser at the bare chest of Del Valle who is wearing only gym shorts. He then fires.
When the taser hits him, Del Valle can be heard screaming. At this point, the baton comes out, according to Del Valle's attorney, and Thorne begins laying into the defenseless man in his own bed.
"He's not doing anything!" his wife screams as the deputy continously beats her husband over and over with his baton and taser.
The video then ends as Del Valle shouts repeatedly, "Call my lawyer!"
Del Valle was not able to record the entire encounter, but the beating continued well after it stopped.
According to the Press Democrat, a spokesman for Sheriff Steve Freitas could not comment on the cellphone video but agreed the deputies' three videos raised concerns from the start about excessive force. After watching them, department brass immediately turned the case over to Santa Rosa police for criminal investigation, Sgt. Spencer Crum said.
"We acted very swiftly and Scott Thorne was no longer employed by us," Crum said. "We are very concerned this is an excessive force case. We acknowledged it from Day One."
As the Press Democrat revealed in their investigation, Thorne should've never been a cop as he'd been fired from previous jobs over his track record of excessive force.
However, none of that matters to Thorne's attorney who is naturally defending the actions of this brutal cop.
"His position is he followed procedure," Thorne's lawyer Chris Andrian said, noting that he acted in accordance with his training.
As for Del Valle, after he was severely beaten by Thorne -- for no reason -- he was then arrested and brought to jail. However, once police attempted to charge him with something, they realized they had no evidence of him committing a crime, so he was let go.
Del Valle's lawyer, Izaak Schwaiger, said, in all, Del Valle was tasered 2 to 3 times and suffered at least 15 baton blows, causing neurological damage and a separated shoulder.
Del Valle has since filed a lawsuit against the department, seeking damages above $25,000.