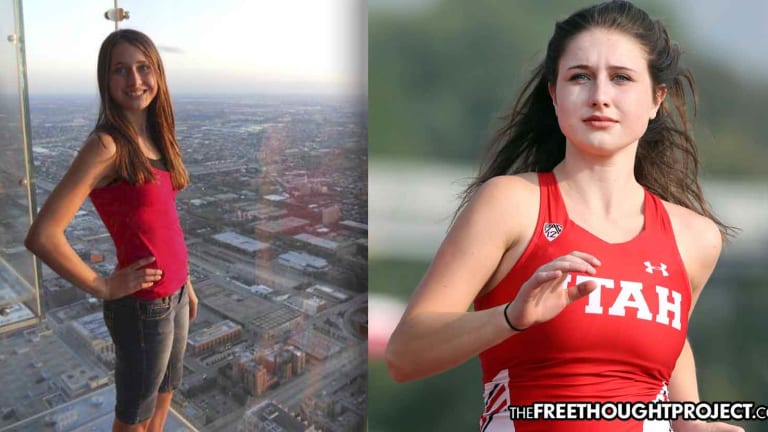 Instead of Helping Student, Cops Shared Her Nude Photos, Ignored 911 Calls Until She Was Murdered
A cop broke multiple laws by sharing nude photos of a victim — instead of helping her — and she was murdered as a result. He will face no charges.
Salt Lake City, UT -- An aspiring young college student in salt Lake City was murdered in 2018 after a system that ostensibly protects her -- chose to ignore her instead. Lauren McCluskey was murdered by a deranged stalker despite multiple calls to 911 to report him. Now, two years later, we found out that one of the officers involved in ignoring McCluskey's pleas for help, kept explicit photos of her on his cellphone and bragged about them to his coworkers and he will face no charges.
Citing the lack of statute to charge the officer, Salt Lake County District Attorney Sim Gill said Thursday that his office has declined to prosecute Miguel Deras. While he believes the officer's actions were "definitely reckless," Gill said there is no Utah law for addressing this type of police misconduct, the Salt Lake Tribune reports.
"We realized there was no real statute we could use for this case," Gill said. "We're incensed like everyone else by the behavior. It was inappropriate. But if there's not a statute, there's nothing we can do."
But there is not a lack of statutes. Conveniently, the DA's office waited exactly one day after the state could have filed misdemeanor charges against Deras for abusing evidence. Now, it's too late as the statute of limitations has expired.
"We just got it so late and were limited in what options we had," Gill said. But this rings hollow considering the office had months to figure out charges.
"Instead of helping her, Deras showed her images to other male officers and bragged about it," Jill and Matt McCluskey, Lauren's parents said. "A consequence of Gill's decision is that women will hesitate to report extortion and harassment for fear that the private information they provide will be compromised, or even leered at, by officers for reasons unrelated to her case."
Jill McCluskey even tweeted out the actual crimes committed by Deras.
According to a scathing report in the Salt Lake Tribune in May, when Deras, who one of the officers assigned to McClusky's case, received the photos, he saved them on his personal phone. And days before McCluskey was killed by the man who was blackmailing her, Deras showed off at least one of the images to a male co-worker and bragged about getting to look at them whenever he wanted, according to two fellow officers.
The university has only now confirmed that display occurred — a year and a half after McCluskey first brought her concerns to the department — as part of a continued push by The Salt Lake Tribune to obtain public records on how the case was handled. The U. spoke to the officer who was shown the pictures by Deras and verified the action with him. The Tribune also substantiated it with another officer, who overheard Deras talking to that co-worker.

Neither officer reported the incident at the time, and Deras was never disciplined for it.

In fact, the university says it didn't know about the inappropriate behavior and abuse of evidence until after Deras left the department in September 2019, though it occurred before McCluskey's murder on Oct. 22, 2018. The only reason officials looked into it, said U. police Lt. Jason Hinojosa, was because The Tribune's records request first brought it to their attention.
"He was long gone before we had any inkling that that incident with the photo being shown had occurred," the university said.
Deras left the university police department in September of 2019 and began working for Logan City Police who fired him when the case came to light.
Keeping nude photos on your phone while bragging about them to your coworkers just days before the victim is murdered is a crime that does not deserve to go unpunished. It not only further victimized McCluskey and her family, and showed just how unconcerned the police were with her case, but it will undoubtedly lead to other victims fear of coming forward. Deras does not need to be a cop any longer and needs to be criminally charged.
Jim McConkie, the family's attorney agrees, saying that McCluskey was harmed while she was alive by the officer choosing to show off her photos and in the time he could have been investigating her concerns. And McConkie believes her reputation should be considered a part of her that lives on now.
"What Gill is saying to women with this decision," McConkie added, "is 'We can't help you. Don't come to us.'"
As TFTP reported at the time, McCluskey, 21, met 37-year-old Melvin Rowland in a campus bar in September of 2018 and dated him for about a month. McCluskey called off the relationship after finding out that Rowland had lied to her about his age and learning that he had a criminal past.
Rowland was a convicted sex offender who would go on to clearly violate his terms of release by stalking and even extorting McCluskey but police chose not to act. Instead, they continuously passed the buck.
Again, McCluskey chose to call 911 to reach the Salt Lake City Police Department on Octorber 19 after she'd been dealing with the University of Utah campus police unsuccessfully for days.
"I'm worried because I've been working with the campus police at the U, and last Saturday I reported and I haven't gotten an update," she told Salt Lake City Police dispatch.
"They haven't updated or done anything," she added, according to the 911 transcripts.
The SLC police would act in a similar manner to the campus police and they too, did nothing. Instead they referred her back to the campus police, claiming that this situation was under their jurisdiction.
After ending their relationship on October 9, McCluskey tried for nearly two weeks to get the police to help her. She informed both the campus police and the SLC police -- on multiple occasions -- that she was being harassed by a convicted sex offender as well as being extorted.
McCluskey told police that Rowland forced her to pay him $1,000 or he would release compromising photos of her. This activity was ignored.
"I've contacted them already, I just wanted to talk to you as well," McCluskey said. "Yeah, I was just concerned because I wasn't sure how long they were gonna take."
Sadly, they would never act, and on Oct 22, McCluskey was murdered by Rowland. Her multiple 911 calls to police fell on deaf ears and her entirely preventable murder allowed to happen thanks to incredible police incompetence. Now, it appears it was not only incompetence, but criminal theft of evidence as the officers seemed more concerned with looking at her explicit photos than helping her. But no one will be held accountable for it.