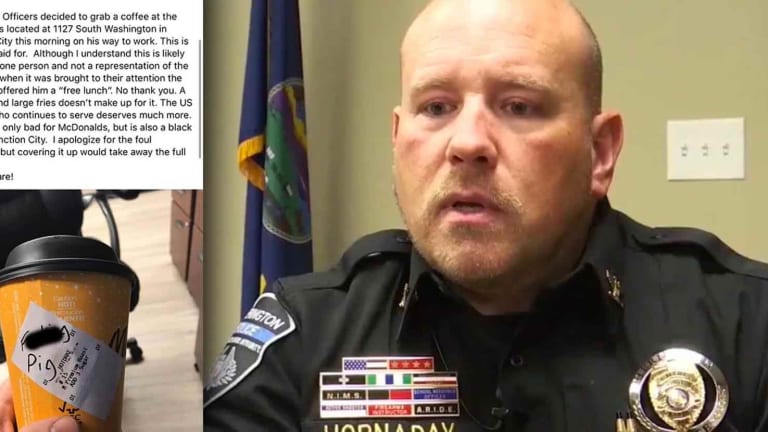 Chief Says Cop Wrote 'F**king Pig' on His Own Coffee, Sparking Nat'l Outrage — 'As a Joke'
The police chief said a former police officer fabricated an incident with a McDonald's coffee cup involving an expletive and a pejorative "as a joke."
Junction City, KS — Another story of another cop getting insulted by a store employee created yet another internet outrage. This time, however, it is a little different, as it appears the police manufactured the entire ordeal — and were caught. A police department's Facebook post went viral last year with Herington Police Chief Brian Hornaday's rant about one of his officers receiving a coffee with "f**king pig" inscribed on it. That expletive is now the subject of embarrassment and controversy for the department who is attempting to write it off as a joke.
Before continuing with the rest of the story it is important to point out that had anyone else besides a member of the protected class like police officers gotten a "f**k you" written on their cup, we would not have heard about it at all. Only when it allegedly happens to cops does the nation collectively lose its mind.
"This behavior has been, is and always will be wrong," Hornaday wrote in a now-deleted Facebook post. After the McDonald's owner proved their employee didn't do it, the post was immediately removed. But before all that happened, Hornady went on to claim that the McDonald's restaurant manager offered that officer a "free lunch" but was quick to note that "A Big Mac and large fries doesn't make up for it."
He wrote, "the U.S. veteran that continues to serve deserves much more than this. We deal with enough frustration in our daily duties every day. To have something like this to start off your workday while you're driving to the place where you are going to serve its citizens, is just very frustrating," said Hornaday.
"This police officer has never met the McDonald's employee," Hornaday said. "He has spent the last two months serving the citizens of Herington, visiting patients at Herington Municipal Hospital during Christmas who couldn't be home for the holidays, participating in a Christmas give away at Herington Elementary School and many other positive things geared towards providing a positive future for the City of Herington."
Now, however, the chief is backtracking and according to the Wichita Eagle, Hornady said the cop did this "as a joke."
At the time of the incident, despite no threat on the coffee, Hornady reportedly spent all day at McDonald's, looking over surveillance video to find his pig-writing culprit. He never found it.
Now, however, these folks are backtracking after the owner of the McDonald's reviewed the surveillance footage and found proof that the employee never wrote pig on the cup.
The owner of the Junction City McDonald's, Dana Cook sent KSNT News this message:
"My McDonald's have the utmost respect for all members of law enforcement and the military and were troubled by the accusation made. We thoroughly reviewed our security video from every angle, which clearly shows the words were not written by one of our employees. We look forward to working with Chief Hornaday as he continues his investigation."
After finding out that video did not show the employee write "f**king pig," the chief responded by saying he just wants to get to the bottom of it. He retracted none of his original comments.
"Acknowledgment that something was done wrong is kind of what we always want," Hornaday said. "Whether it's something like this that happened at McDonald's or in the criminal justice system."
In other words, I can no longer pull on heart strings to play the victim card as it was likely one of our own who fabricated this entire debacle. His fears were proven right and the officer actually confessed to fabricating the story and he was fired. Hornady referred to the incident as a "black-eye on the law enforcement community." Indeed.
"In the investigation (by Herington police and McDonald's), we have found that McDoanld's and its employees did not have anything whatsoever to do with this incident," Hornaday said. "This was completely and solely fabricated by a Herington police officer who is no longer employed with our agency."
"The investigation that I conducted showed that this was meant to be a joke," Hornaday said. "However, we can see that how something so serious can get so out of control very, very quickly. The most important thing that could have been done and should have been done in this scenario would be to come forward immediately … however, unfortunately that was not done."
Hornady then went on to point out that he had to believe the cop was telling the truth — well, because he's a cop.
"My reaction based on the initial incident was just my reaction based on what I believe, and that's a police officer who is sworn to protect, their integrity is of the highest order, and it would be foolish of any law enforcement agency or professional to not take the word of their police officer until they can be proven otherwise," Hornaday said.
Sadly, he was mistaken and embarrassed himself and the entire department.