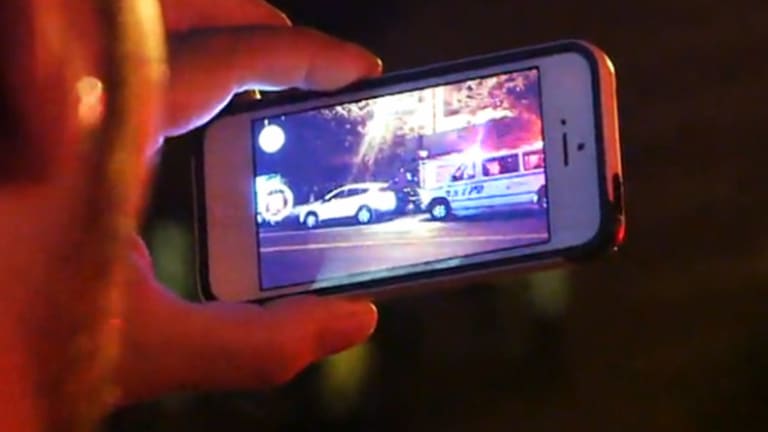 Meet a New Kind of Neighborhood Watch, the Ones Who Police the Police
Eric Garner's chokehold death put a spotlight on efforts to reform the NYPD from inside and outside the department
by Christof Putzel@ChristofPutzel&Ranjani Chakraborty@ranjchak | Aljazeera America
STATEN ISLAND, N.Y. – The guest of honor wasn't at his own birthday party.
On Saturday, Eric Garner's family and friends gathered at the spot where he last lay to honor what would have been his 44th birthday. They shared stories, ate and danced – celebrating and mourning a life cut short.
Cellphone videos showing Garner gasping for breath as NYPD officer Daniel Pantaleo grabbed him by the neck and back circulated widely and fueled protests across New York City. The city's medical examiner ruled his July death a homicide caused by a chokehold and compression on his chest during his arrest. Enraged residents hold Garner up as one more name in a long list of victims of police brutality.
Two months later, as they await the results of the city's grand jury investigation into Garner's death, residents here say they're left with little trust in the NYPD.
For Jose LaSalle, it was all too familiar.
Back in 2011, his 16-year-old stepson Alvin, who lived in Harlem, was stopped by NYPD officers and recorded audio of the interaction. Officers can be heard threatening to break Alvin's arm, punch him in the face and arrest him "for being a f***ing mutt." It was one of the first public documentations of stop-and-frisk in action. And after LaSalle gave the recording to to a filmmaker, it quickly went viral.
LaSalle said it was traumatizing for him and his wife to hear that audio. Not sure what to do, they went to the police station and filed a complaint with NYPD Internal Affairs, but say they got no relief. Weeks later, while he waited for an investigation, his wife died of a heart attack. Investigators eventually reached out about his complaint but Jose says he was only able to follow up after dealing with his wife's death. By then, he says, it was too late to reopen his case.