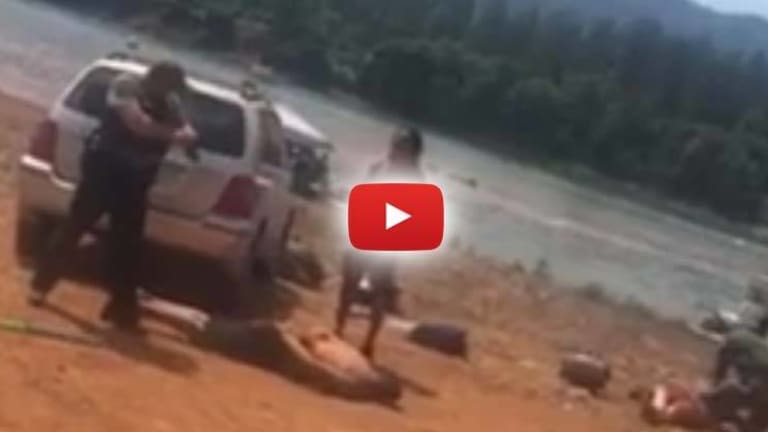 Video: Memorial Day Celebration Turns into a Nightmare After Cops See a Weed Pipe
Police had no problem with the dozens of college students binge drinking, but when they saw a plant, all hell broke loose.
Shasta Lake, CA -- In a testament to the insanity of the war on drugs, a video from a memorial day weekend party shows all hell break loose after cops see a marijuana pipe.
On Sunday, officers were patrolling Gregory Beach to make sure the students from the Oregon Institute of Technology, who were partying in the area, were picking up their trash. However, after one of the officers found a small marijuana pipe, the partying turned to chaos and four students were arrested.
According to the person who submitted the video to us, the officers were actually thanking the group for picking up their trash and everything was fine -- until the discovery of a plant.
When officers saw the dangerous marijuana pipe, they attempted to search the vehicle. However, the person who owned the vehicle refused to allow a search.
After the officers were denied a search of the vehicle, they immediately began assaulting the two men to which it belonged. Not wanting to be assaulted and kidnapped, the men pulled away from the officers -- this set them off even more.
"Put your hands behind your back, stay down, don't move," an officer yells as he points his taser at one man.
Medical marijuana is legal in California and there are close to 1 million patients. Also, if a person is found with less than 28.5 grams, no arrest is necessary and police can only issue a citation for an infraction, punishable by a $100 fine. The police officers in the video below, however, begin to arrest the two men, only after they saw the pipe.
In spite of the pipe being the reason for the entire violent escalation, neither of the two men would be charged with marijuana possession.
For the police officers to react in the manner that they did shows just how ridiculous the state's war on drugs can get.
Up until the officers arrived, no one was being violent, no one was causing harm, and everyone was getting along. However, as the video below shows, when the peace officers showed up, the peace was lost.
The two men, one 21-years-old and the other 24, were arrested for obstruction and public intoxication. The 21-year-old is also facing charges for a pistol that was found in his vehicle. Their bonds are $15,000 each -- all of this over a marijuana pipe.