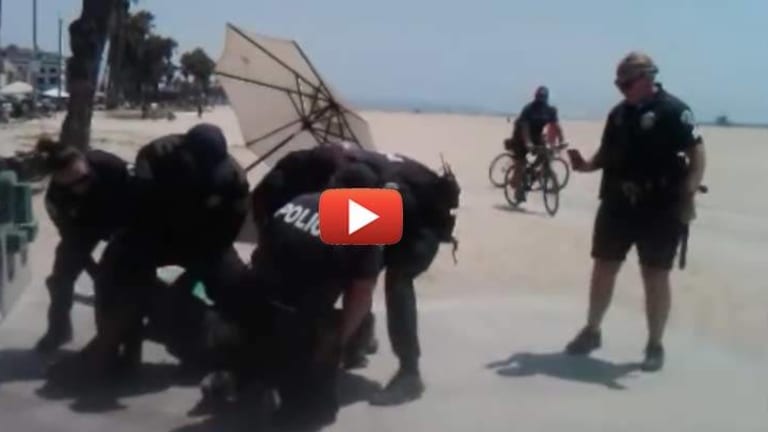 Mentally Ill Homeless Man Severely Beaten By Police Because His Beach Umbrella was Too Big
In Police State USA, cops behave like a pack of wolves as they prey on a homeless man trying to enjoy a day at the beach.
Venice Beach, CA-- A video released on Wednesday captured eight Los Angeles police officers beating, tasing, and hogtying a mentally ill homeless man as he tried to enjoy the simple pleasure of a day at the beach.
The man and his lawyer say that this abuse at the hands of the LAPD has been a pattern over the past year, and his hospital records show it. They are now calling for a federal investigation of the violations of his civil rights.
" width="790" height="444" frameborder="0" allowfullscreen="allowfullscreen">
In the video taken on August 7, 2014, eight officers are seen brutalizing Samuel Calhoun Arrington, 52, who suffers from bipolar disorder. The incident began when he reportedly refused to sign a citation for "items placed on (the) city beach" and "property outside of designated space."
What horrible items could have had on the beach, you ask? A chair and umbrella, which everyone else brings to the beach all summer long without being targeted for assault.
"To me, what they did in full view of every person on Venice Beach was to strip a homeless man, someone mentally ill, of their last shred of humanity," Cleo Battle, Arrington's sister told local news outlet KTLA.
According to the police report, Arrington had lunged at officers and attempted to grab one of their belts. Nazareth Haysbert, the attorney representing Arrington, told KTLA that the report stated his client "immediately broke the officer's hold by aggressively moving his arms forward and then pulling his arms toward his body." 
In the video, we see the unarmed Arrington lounging in his chair, entirely non-aggressive, and doing nothing like what is described from the report as the gang of officers begin to assault him. The officers also wrote in the report that there was no video taken of the incident. This is in spite of the witness video that was released which clearly shows LAPD's Sgt. Skinner recording the assault on what appears to be her cell phone in a red case.
The woman filming the video can be heard saying, "they know that he's not going to sign it because he didn't do anything, but that's what they're hoping so that they can take him." She begins to explain to other witnesses that the man was being cited for the umbrella and asserts it was just because they wanted to get rid of him. As the officers begin to tase the defenseless man, she screams at the officers repeatedly that they do not need to tase him.
"NO, YOU NEED TO STOP! I'M ALREADY HERE, DON'T YOU DARE PUSH ON ME!" she screams at an officer who attempts to push her away from filming their abuse.
Another woman in the background can be heard screaming that the officers are evil. The woman filming berates the officers for being in the wrong by putting their hands on her as well as on the man that they are assaulting in front of her.
A large crowd gathers to watch the assault and shame the officers for their disgusting behavior.
"The man is bleeding from head to toe, this is what our police do, in the United States. Instead of getting the criminals, they're harassing-" she begins, "now they've got him like a slave back in the 30's and 40's and 50's and they've got him- they're carrying him like an animal!"
The crowd can be heard yelling obscenities at the police, as Sgt. Skinner, who is still filming, attempts to get the brave and bold woman who is filming to give up her information. At this point, others jump in with their cameras filming Skinner, and she gives up on her attempts at getting the witness to identify herself. Eventually, the disgraceful police walk away from the screams of angry witnesses.
Arrington was ultimately charged with resisting arrest despite there being no lawful cause to arrest him in the first place.
"He was hospitalized and later charged with felony resisting arrestand remained in county jail for over one month on the charges," Haysbert wrote in a letter to the FBI.
To throw salt on wounds, the callous officers also left the man's few personal possessions on the beach and never recovered them,including his clothing, bicycle, bookbag, and medical card.
Haysbert has also stated that Arrington was brutalized by the officers on two other occasions that year.
On January 5, Arrington was tased and beaten by LAPD officers. Several months later, on July 29, less than two weeks before the incident seen in this video, he was hospitalized with neck, back, and shoulder injuries. His lawyer claims these were the very same officers seen on video in the August assault.
"Arrington was beaten by LAPD officers so badly that he needed 18 staples to close a large wound on his head," Haysbert told KTLA regarding a third incident which occured on June 27, 2011. "He was hospitalized and then jailed for over 18 months where he suffered repeated episodes of fainting, severe headaches and syncope."
His lawyer Haysbert believes that collectively, these assaults show a pattern of deprivation of his client's civil rights. His family asserts that this pattern of abuse has worsened Arrington's illness.
"The video recording raises concern that the LAPD officers intentionally fabricated and, or withheld crucial evidence that may have resulted in the dismissal of criminal charges against Mr. Arrington," Haysbert stated. "The willful concealment of this evidence holds criminal implications for these officers."
This disgusting display of abuse MUST be investigated.
You can contact the Department of Justice via Twitter to demand justice for Samuel Arrington by including the Twitter handle @civilrights.