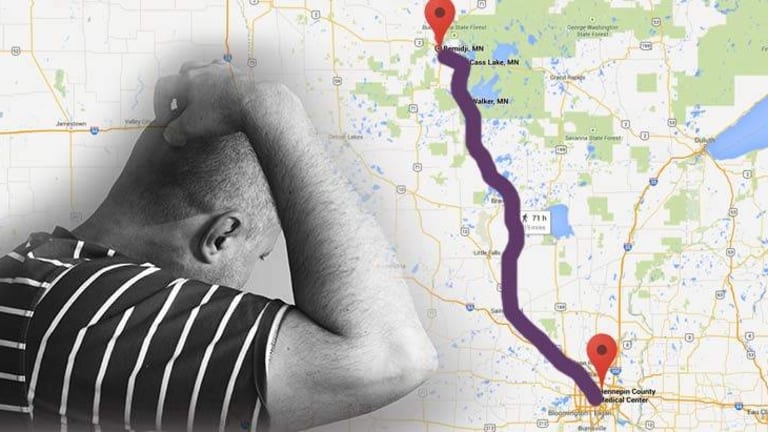 Mentally Ill Inmate Viciously Beaten, Left At Hospital By Cops Forced to Walk 188 Miles Back To Jail
He walked for six long days. He was found sitting on a couch in a trailer park with his jaw severely infected and bleeding feet.
Minneapolis, MN-- Beltrami County is facing a lawsuit of at least one million dollars after an incident of extreme negligence in the fall of 2013. Correctional officers brought a 45-year-old, mentally disabled man to a hospital for a month-long furlough after a severe prison beating, and forgot him there.
Theran Stai suffers from schizophrenia, psychosis, and drug and alcohol addictions. Despite his need for mental health treatment, the man was thrown into a prison cell at Beltrami County Jail for a short stint after allegedly violating a restraining order.
Stai reportedly "talked too much" and sometimes "didn't make sense." This behavior apparently annoyed his cell mates who brutally beat him to the point of needing to have his jaw reconstructed.
The man was granted a month-long furlough to obtain treatment. Stai's injuries were so severe that the Sanford Health hospital in Bemidji referred him to the Hennepin County Medical Center in Minneapolis for surgery, Minneapolis City Pages reports.
Stai ended up having a successful surgery and was released the very next day, yet no one arrived to pick him up. He was left nearly 200 miles away from the jail without any assistance or supervision what-so-ever, so he began the 188 mile journey on foot.
"He slept in the woods, he slept on the side of the road, he hitchhiked for a bit, but mostly he walked," his lawyer Bill Lubov told City Pages.
Stai walked for six long days and wasn't located for over a month. He was found sitting on a couch in a trailer park with his jaw severely infected. He had lost several toenails due to the bad blistering as well.
Thankfully, instead of being taken back to the jail who failed him not once, but twice- first by allowing the beating, and then secondly by leaving him stranded hundreds of miles from home, he was taken to a mental health care facility to receive proper treatment.
Stai is now beginning a civil trial where he is seeking at least $1 million in damages from the county.
In 2013, Bill Lubov, Stai's lawyer, won what is believed to be the largest settlement for medical neglect of an inmate in a Minnesota jail or prison, ever. Lubov secured a one million dollar settlement for his client who had a long history of mental illness and self-inflicted wounds and ended up stabbing himself in both eyes with a pencil after being held in the county jail for 40 days without proper psychiatric care.
The criminalization of mental illness is a massively widespread problem throughout the nation.
Studies suggest that approximately 218,000 individuals with severe psychiatric disorders are incarcerated in the nation's jails and prisons at any given time. This means that jails and prisons have become the nation's largest psychiatric hospitals.
There are now more severely mentally ill individuals in the Los Angeles County Jail, Chicago's Cook County Jail, or New York's Riker's Island Jail than there are in any single psychiatric hospital in the nation.
More than one in five jails provide no access to mental health services of any kind. Corrections officers in 84% of jails receive zero, or less than three hours of training in the special problems of people with severe mental illness, the National Alliance for the Mentally Ill reports.
For more information, or to request help or resources for a prisoner, please contact the NAMI Helpline at 1-800-950-NAMI (6264).