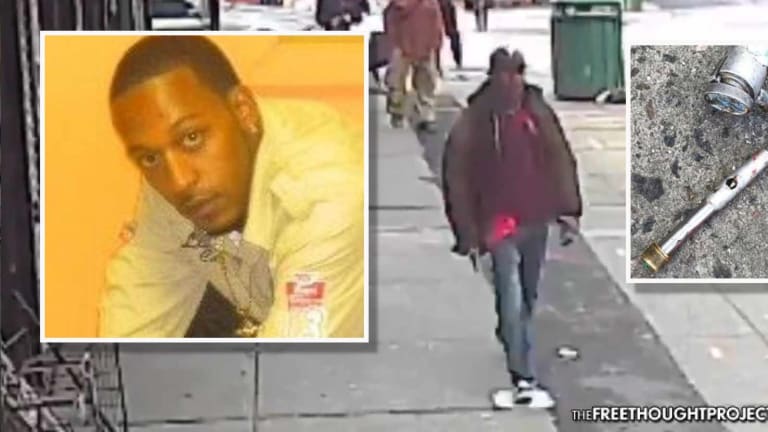 Police Release Video Leading Up to Killing of Mentally Ill Man for Pointing a Small Pipe
A mentally ill man in his 30's was shot and killed by NYPD police officers after he refused to put down the pipe he was holding.
New York – A mentally ill man was shot and killed by police Wednesday after officers claimed he failed to put down the object he was holding in his hand. An officer fired multiple rounds at the man who witnesses say was carrying something that looked like a showerhead.
The victim in the shooting has been identified as Saheed Vassell, 34, a father and Jamaica-born welder. Members of the Brooklyn community knew him said they knew Vassell had mental health problems and many are outraged over the fact that police would open fire on someone they claimed was no danger to anyone.
"I heard all these shots, I thought it was firecrackers at first," Chris J. told the New York Daily News. "I turned around and you just see the cops standing over the guy...It was at least five shots. First, it was one, then it was nonstop after that."
Witnesses said that after the shooting an officer in plainclothes handcuffed Vassell and placed him face down on the ground. They said the officers then attempted to perform chest compressions in a last-ditch effort to keep him alive but their efforts were to no avail. He was already dead, shot multiple times in the torso.
The shooting took place in broad daylight around 4:45 p.m. in the Crown Heights neighborhood. Andre Wilson told NY Daily News that he has known Vassell for 20 years, describing him as a strange individual.
"All he did was just walk around the neighborhood," Wilson said. "He speaks to himself. Usually, he has an orange bible or a rosary in his hand. He never had a problem with anyone."
Encounters between the mentally ill and law enforcement sometimes end in tragedy, much of which could be avoided. Several police departments around the country have specially trained police officers to deal with members of the community who may have mental or emotional issues. The National Alliance on Mental Illness estimates that "only 3,000 of the nation's 18,000 law enforcement agencies have mental health response teams."
Following the shooting in Brooklyn, members of the community were reportedly outraged, and they surrounding the scene of the shooting and screaming in an irate display of displeasure. Wilson said he believes the officer who shot Vassell simply did not know him.
"The officers from the neighborhood, they know him," Wilson said. "He has no issue with violence. Everybody just knows he's just mentally challenged. This shouldn't have happened at all."
Bullets shattered the storefront glass of a local retail store. The clerk, who wishes to remain anonymous described what he did during the shooting and what he saw immediately following the killing.
"There were gunshots, and I just ducked...A minute later, cops were everywhere. The whole community came outside...People were going crazy. It was a nightmare out there."
On Thursday, the NYPD released surveillance footage of Vassell pointing the shower head-like object at people on the street, showing what led to the 911 calls. Vassell's actions could indeed be interpreted as threatening as it was hard to determine what he had in his hand despite pointing it at people like a gun.
The video from the NYPD shows the moments just before police opened fire on him. In that moment Vassell pointed the object toward officers and they opened fire.
"Police had a choice. They always have a choice. They should not train them to kill. They should train them to protect life, to save life," Eric Vassell, the victim's father told WABC-TV.
Police kill an average of around 1,200 people per year, with many of those killed being mentally ill. As TFTP has reported, nearly 25 percent of officer-involved shootings that end with a citizen losing their lives, happen in cases where the target is mentally ill.