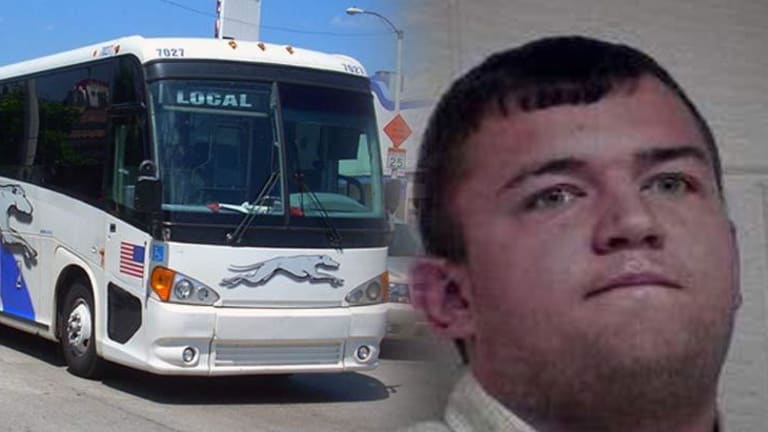 Ruthless Cops Put Mentally Ill Man on One-Way Bus Ride to Florida then Charged Him with Escape
Instead of obeying the court order to escort a mentally ill man to a hospital, insidious cops put him on a one-way bus ride to Florida.
Carrollton, KY -- On April 22, Adam Horine was ordered by a Kentucky court to undergo a mental evaluation at Eastern State Hospital in Lexington.
Horine had never harmed anyone. However, he had made alleged verbal threats. He had a history of mental illness, including hearing voices, having suicidal thoughts and insomnia. All of this was confirmed by a social worker's evaluation at the Carroll County Jail.
The court gave Carrollton police specific orders to transport Horine to the Eastern State Hospital the next day. However, the Carrollton police department would not obey that court order.
Instead of bringing him to the hospital to get him treatment, police purchase Horine a one-way ticket to West Florida, 900 miles away.
Kentucky Center for Investigative Reporting explains:
Officer Ron Dickow drove him 50 miles in a police cruiser to Louisville. Arriving at the Greyhound terminal downtown before dawn, Dickow bought Horine a one-way bus ticket to Florida with money provided by the chief.

Dickow forked over the change — about $18 — to Horine. Then he sent the emotionally troubled man on a 28-hour solitary bus ride to the Sunshine State's west coast.
"This just doesn't happen. It's not supposed to happen in our system," David Harris, associate dean and a professor of criminal law at the University of Pittsburgh School of Law, said of the actions taken against Horine.
"And to have a police officer come in and simply say, 'No, we're not having him get a mental-health evaluation, you're just getting out of here. You're too much trouble. We don't want you here. You're leaving.' I'm sorry, that's not allowed," Harris said. "They don't have the power to do that."
Carroll County Attorney Nick Marsh explained to KCIR the unethical actions of the Carrollton police.
"This was in direct violation of two court orders" by Chandler, directing that Horine be evaluated and then taken to Eastern State, Marsh said. He asked the attorney general to appoint a special prosecutor to oversee the investigation into "allegations of misconduct and other criminal violations of Chief Mike Willhoite and officer Ron Dickow."
As if disobeying a court order and putting a mentally ill man on a bus to a strange place wasn't enough, when Horine was eventually brought back to Kentucky he was charged with second-degree escape; a felony punishable by up to five years in prison.
The arrest warrant stated that Horine left the jail and fled Kentucky "by bus, with the full knowledge that he was under court order to be transported to Eastern State Hospital."
"The real question here is not whether or not Mr. Horine 'escaped,' because we know that he was in Florida because the police officer put him on a bus there, after getting Horine released," Harris said. "There's no way any jury would find him guilty of an escape in those circumstances."
"The important question is how and why the police got Mr. Horine released and sent him out of the jurisdiction, in the face of existing charges, obvious signs of mental distress and a court order for a mental health examination," said Harris.
Below is the surveillance video from the jail in which Dickow acts suspiciously as he's about to illegally deport a mentally ill man. Dickow, likely knowing that he is being recorded, motions with a finger over his lips, signaling Horine to be quiet. "Let's get out of here, then we'll talk," says Dickow.