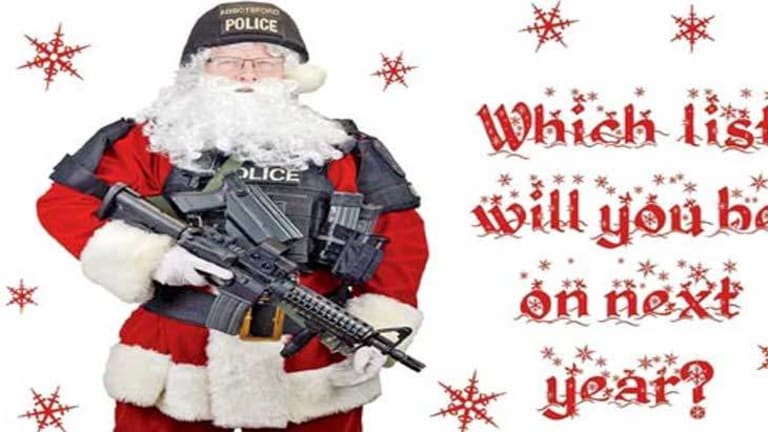 Merry Christmas from the Police State - Cops Have Now Killed Someone In All 50 States
They were cutting it close, but it looks like police departments across the nation managed to kill citizens in every single state.
On Tuesday, December 22nd, 56-year-old Kenneth Stephens was gunned down by law enforcement officers executing a no-knock raid at his Burlington, Vermont apartment.
Federal, State, and local authorities executed the warrant, reportedly looking for evidence of drug trafficking. "Officers executing the search warrant confronted a male subject inside the residence," according to a statement from State Police official Major Glenn Hall. He continued, "Officers discharged multiple rounds at the subject, resulting in his death. None of the officers involved were injured." According to the initial DEA complaint written by Agent Robert Estes, Stephens was suspected of having a gun in his home. Due to this information, police no doubt conducted this raid with the pretext of encountering an armed suspect.
Although police initially refused to say if Stephens was armed or had fired at officers, officials stated the following day that he had pointed a muzzle loading rifle at the band of armed gang members, but did not fire at them when they invaded his home. In response, DEA Special Agent Tim Hoffmann and Trooper Matthew Cannon fired 13 shots at the man, at least one of which missed the suspect and hit a neighbor's home, nearly striking a resident.
This prompted Burlington Mayor Miro Weinberger to request a federal investigation into the shooting. Weinberger, who was elected to a second term earlier this year, said in a statement, "I am very concerned that bullets from the law enforcement operation left Mr. Stephens' apartment and strayed into another home."
According to Weinberger, the DEA announced that they will vigorously investigate themselves, telling Burlington Police Chief Brandon del Pozo,
"The DEA's Office of Inspector General will perform a serious after-action review of this incident so that all agencies involved in protecting the public in this City can benefit from its lessons."
Kenneth Stephens was the 1174th person killed by police in 2015. His tragic death marks the first killing of a citizen, by police, in the state of Vermont this year. One day after Kenneth's murder, a candlelight vigil was held to commemorate his life and protest the tactics used by police.
Sadly, Stephen's death serves as yet another example of the human cost of the immoral war on drugs. While government officials investigate individual acts of police violence, little devotion is given to investigating the root cause of this violence. One need look no further than the failed social experiment known as alcohol prohibition to examine the far-reaching consequences of government "solutions."
It is a tragic irony that so many individuals in law enforcement support these failed policies, even though they drastically increase the level of danger officers face. In 1930, the number of officers killed on duty spiked to over 300 at the height of alcohol prohibition. After nearly three decades that saw on-duty officer fatalities fail to exceed 200, the number of officers killed in the line of duty increased to 219 in 1970 when Richard Nixon started the "War on Drugs."
Unfortunately, the increase in fatalities among law enforcement and civilians alike, is just the beginning of the dangers imposed upon society as a direct result of the "War on Drugs." As previously witnessed during alcohol prohibition, when government attempts to ban certain substances, black markets are created to fill the demand. This often leads to the creation of other, more dangerous substances that pose a far greater risk to human health. While alcohol prohibition gave way to the creation of "Bathtub Gin," the drug war has inspired the inception of "cutting agents" like Fentanyl, which is "40 to 50 times more potent than pharmaceutical grade (100% pure) heroin," as previously reported by The Free Thought Project's John Vibes.
During this holiday season, as people celebrate "peace on earth" and "goodwill towards men," let us remember that these platitudes that are so easily embraced this time of year, are in direct contradiction to policies that require the initiation of violence against otherwise peaceful people.
Johnny Liberty is a researcher and investigative journalist. You can follow him on Twitter @LibertyUnltd