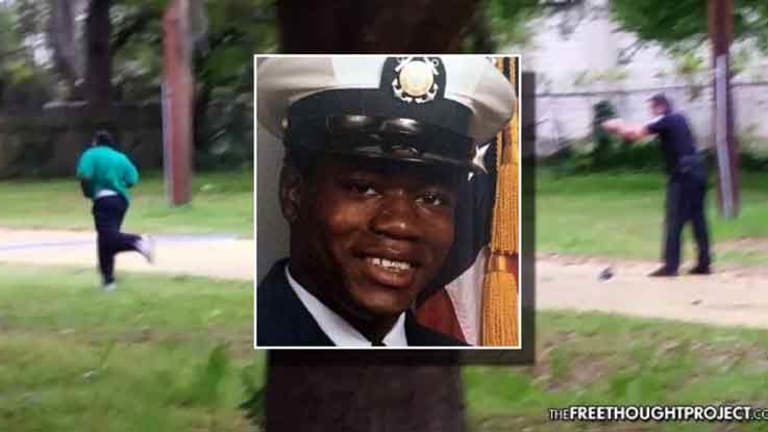 BREAKING: Cop to Plead Guilty in Murder of Walter Scott Caught on Video
The guilty plea will most likely end with a slap on the wrist for the officer, Michael Slager, who was seen on video murdering a man for running away.
Charleston, SC -- In December the trial of Michael Slager, who shot and killed Walter Scott in the back as he ran away — on video — tragically ended in a mistrial. Now, in what will likely be another travesty of justice, the officer has reached a plea deal and is expected to plead guilty in federal court on Tuesday.
Slager, who murdered a man over a tail light infraction, was facing both federal civil rights and state murder charges in connection with the killing of Walter Scott in April of 2015. Scott, 50, was unarmed and running away when he was killed.
According to NBC News, after the mistrial in December, state prosecutors in South Carolina said they would seek to try Michael Slager again, but no charges had yet been filed.
That means that if this plea goes as proposed, Slager's guilty plea on the remaining federal charges would be the end of all the criminal cases, and the state would not seek to try him again, NBC reports.
Had Slager gone to trial, he was facing a potential life sentence for violating Scott's civil rights. However, this plea, especially since criminal case ended in a hung jury, will likely be far less or could be even no jail time at all.
While the sentencing for the plea won't happen for several months, it appears that Michael Slager will get off with a slap on the wrist for murdering a man on video as he ran away.
Since he shot Walter Scott in the back in April of 2015, Slager has been free on bail. Slager has maintained that the video of him shooting Walter Scott in the back as he ran away does not show the entire picture and claims that he had justifiable reason to 'fear for my life.'
In an interview with Live5News, a juror from the mistrial last December, apparently sympathetic to cops shooting people in their back over a broken taillight, explained that they would never return a guilty verdict.
"I cannot and will not change my mind," one juror said in a note cited by Live5News. "I understand the position of the court, but I cannot in good conscience consider a guilty verdict.
I respect the position of my fellow jurors, some of which oppose my position […] as you stated, we must follow the instructions you have given us, and the law. At the same time, my heart does not want to have to tell the Scott family that the man that killed their son, brother and father is innocent. But with the choices, I cannot and will not change my mind."
In October of 2015, the North Charleston City Council unanimously voted to approve a $6.5 million settlement to the family of Walter Scott. His selfless family then quickly announced they would be donating a portion of the money to help with disaster relief efforts for the flooding taking place in South Carolina at the time.
At 9:33 a.m. on April 4, 2015, North Charleston Patrolman Michael Slager noticed 50-year-old Walter "Lamar" Scott driving with a broken brake light. According to his dash cam footage, Slager pulled Scott over and requested his driver's license. As Slager returned to his patrol car to run a check on Scott's license, Scott waited a few moments before suddenly exiting his vehicle and fleeing on foot.
Slager chased after him and reportedly fired his Taser at Scott in an attempt to subdue him. According to a statement released by North Charleston police spokesman Spencer Pryor, Scott managed to take Slager's Taser from his hands and tried to use the weapon against the officer. Slager claimed that he felt threatened, pulled out his Glock, and fired several rounds at Scott. But video of the shooting contradicted the officer's account.
While walking to work, a bystander named Feidin Santana witnessed the incident and recorded a video of the shooting on his cellphone. In the video, Scott appears to slap something out of the officer's hands before turning to flee. As Scott runs away from the officer, the prongs biting into his clothing begin to stretch the wires from Slager's Taser.
Instead of chasing after Scott, Slager drew his gun and fired eight shots at Scott. Four bullets hit Scott in the back and one struck him in the ear. Two of the shots were fatal.
Immediately after gunning down Scott, Slager glanced at Santana before speaking into his radio. According to the incident report, Slager stated into his radio, "Shots fired and the subject is down. He took my Taser."
After Slager cuffed Scott's hands behind his back, Officer Clarence Habersham arrived at the scene. Slager immediately rushed back to the spot where he fired his gun and picked up an object. Slager then returned to Scott's body and appeared to plant his Taser next to him.
In the video, the officers lift Scott's shirt to check on his wounds and feel his pulse, but they do not administer CPR. At the time of his death, Scott was wanted on a family court warrant.
On April 7, Slager was fired from the department and arrested for murder. Three days later, the National Bar Association issued a press release calling for the termination and indictment of Officer Habersham for his alleged involvement in covering up the murder. In his police report, Habersham failed to mention Slager planting evidence next to Scott's body and claimed to administer CPR when the video clearly shows otherwise.
A week after the shooting, on April 12, the Guardian was leaked an audio recording of Slager laughing about the adrenaline rush that he felt as he murdered Walter Scott.
On June 6, a grand jury decided to indict Slager for the murder of Walter Scott. We are now seeing the most difficult process of holding police accountable for killing unarmed people play out before us -- like the hundreds of times before.
As this case was so cut and dry, police accountability activists easily thought that it would be the one to put a cop away for murder -- it appears, for now, however, that we were wrong.