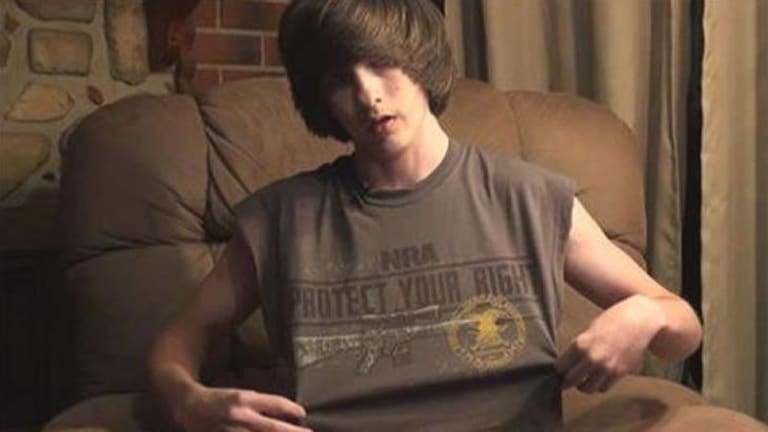 Family Suing After 14-Year-Old Son Was Arrested at School for Refusing to Take Off NRA Shirt
When a 14-year-old boy tried to flex his 1st Amendment rights, he was met with police force and charged with a crime.
Logan, W.Va. – The mother of a West Virginia middle school student has filed suit against the Logan County Board of education for allegedly violating her son's constitutional rights.
In 2013, 14-year-old Jared Marcum, an eighth-grade student at Logan Middle School, was suspended from school and charged with disrupting the educational process along with obstruction an officer. The charges stem from his refusal to turn a National Rifle Association shirt inside out when requested to do so, according to the Charleston Gazette.
Now Marcum's mother, Tanya Lardieri, has filed a lawsuit on behalf of her son, alleging that his 1st and 14th Amendment rights were violated.
The criminal charges against Marcum were eventually dropped, but the middle school student was suspended for a day for his refusal.
"The shirt was an un-alarming olive green tee shirt bearing the NRA logo, which is the letters 'NRA' in black, the words 'PROTECT YOUR RIGHT,' an image of a hunting rifle and the officials NRA logo which has an eagle and two cross firearms," according to the lawsuit.
According to the Logan Banner:
"Lardieri claims while waiting in the lunch line in the school's cafeteria (on April 18, 2013), Marcum was physically stopped by (school secretary Anita Gore), who placed her hand on Marcum's chest, stopping him from proceeding further, and advised him that his shirt violated school dress code and instructed him to turn the shirt inside our or face suspension from school."
Gore then requested the assistance of a teacher David Burroway, who concurred that the shirt was in violation of the school dress code and then escorted Marcum by the arm to the principal's office, the lawsuit contends.
Numerous school board members, the district superintendent, the principal, a teacher and several staffers are named in the lawsuit.
The charge of obstruction was alleged to have taken place when the student was told to stop talking by the officer and he continued.
"When the police came, I was still talking and telling them that this was wrong, that they cannot do this, it's not against any school policy. The officer, he told me to sit down and be quiet. I said, 'No, I'm exercising my right to free speech.' I said it calmly," Marcum told the Associated Press in 2013.
Marcum, a NRA member, is now a student at Logan High School.
The family is seeking $200,000 in compensatory damages and $250,000 in punitive damages for the alleged violations of his 1st and 14th Amendment rights. According to court documents, the shirt complied with county and school dress code policies against violent or threatening images
"I was surprised. It shocked me that the school didn't know their own dress code and their own policy. I figured they would have known not to call me out on that shirt because there was nothing wrong with it," Marcum told the AP.
He went on to say, "The only disturbance was caused by the teacher. He raised his voice."