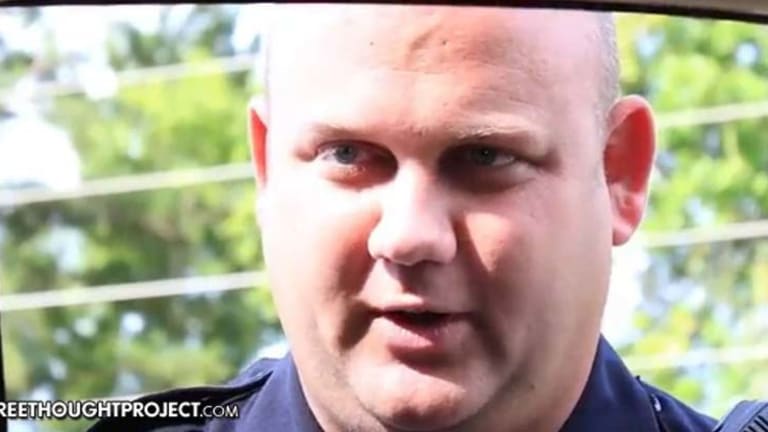 Might Not Get Too Many N***s' -- Cops Caught Plotting to Target Black Drivers
One Georgia cop has been fired and a second resigned after flagrantly racist messages over social media showed them targeting black motorists.
"It's supposed to rain tomorrow. Might not get too many niggs." -- said the raicst cop.
One Georgia sheriff's deputy has now been fired and a second resigned abruptly after an investigation disclosed a bevy of racist and sexist posts to social media and an apparent pattern of targeting African Americans for traffic stops.
McIntosh County Sheriff's Department deputies Brant Gaither and Jeremy Owens patrolled Interstate 95 between Savannah and Brunswick as part of a special traffic unit, reported the Atlanta Journal-Constitution.
A supervisor stumbled onto the two cops' Facebook Messenger exchanges, initiated an internal investigation, and terminated Gaither on July 25. Owens — responsible for the quote at the beginning of this article — resigned the following day.
Racial slurs peppered their messages, as did overtly racist stereotypes and denigrating comments about women, the Journal-Constitution found. In one example, renowned civil rights and peace activist Dr. Martin Luther King Jr.'s iconic "I Have a Dream" speech became the subject of abject mockery.
"I have a dream," Gaither wrote. "That one day my people will not act like animals."
Owens replied, "Lol. That'll never happen."
Other exchanges included quips about domestic violence and something unspecified concerning a black pregnancy test and fried chicken.
Sheriff Stephen D. Jessup told the Journal-Constitution the messages were discovered when an employee was issued Owens' old computer — but the now-former deputy was still logged in.
So deeply offensive were those messages, Jessup noted, they made him "want to throw up" — and he did not hesitate to terminate Gaither.
"The content was highly racist, misogynist, and offensive toward a fellow deputy," Chief Deputy George A. Trexler wrote in a memo to Gaither informing him of the termination, as cited by the media outlet.
"It was just a joke, we all do it," Gaither replied, according to the same memo, adding the exchange was a "stupid mistake."
"There is no joke about something like that. Period," Jessup stated. "It's total racism."
Trexler told the Journal-Constitution his staff followed up on Gaither's intimation the racism was more pervasive than it appeared, but said they were unable to find any credible leads.
"There was never any question of what I needed to do and I did it," the sheriff asserted. "I do not tolerate that in my department."
But Sarah Geraghty, an attorney with the Southern Center for Human Rights, might disagree.
Once the Center was alerted to the egregious communications and the intimation that racism spilled over into the two deputies' police work, Geraghty traveled to the sparsely populated area along the Georgia coast to interview their colleagues and anyone who might have witnessed the officers' interactions with the public.
"This case goes deeper than two officers caught using racist language on their personal social media pages," she asserted, as quoted by the Journal-Constitution. "The messages reference an explicit intent by these law enforcement officials to 'get' black motorists. Our investigation to date suggests that this may be the tip of the iceberg."
Jessup has already suggested he would agree to dismiss charges in appropriate cases involving the now-disgraced deputies and reiterated he was unaware of any profiling or targeting of black motorists by other officers in the department.
"There better not be and me find out about it," he said emphatically. "I wouldn't tolerate it. If I found out about it I would fire them and prosecute them."
Geraghty said a formal request the U.S. Department of Justice thoroughly investigate the allegations and possible underlying issues from the Southern Center for Human Rights will be forthcoming.
Jessup reiterated he has no tolerance for racism and bigotry in his department and said he has shown the messages in question to staff and local residents in an apparent effort to maintain trust, accountability, and transparency.
"They are my people," the sheriff said. "I'm there to protect and to serve. I'm there to represent all of them. I treat them all the same, everybody."