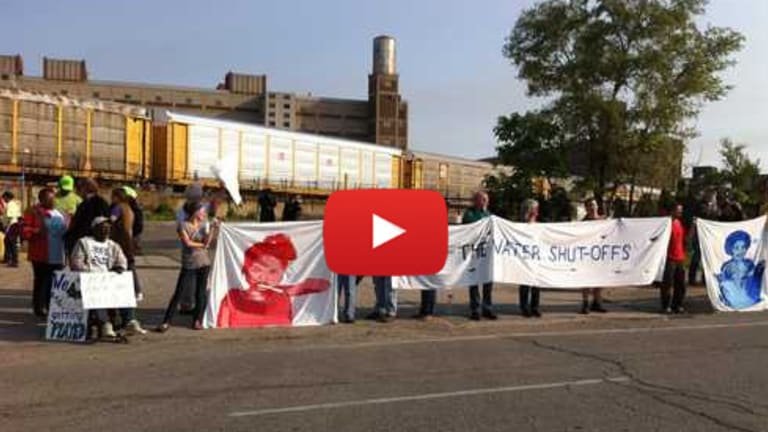 Military device used on Detroit protest against Water Shutoffs
July 22, 2014
Nine persons were arrested at the entrance to Homrich, a demolition contractor working on a $5.6 million deal to perform the water shutoffs on residents. The rally outside the gate started at 6:30am and went for seven hours before arrests were made. Police believed the group would disperse and head to the rally downtown at Hart Plaza. The group however showed their commitment holding the gate after that rally had started. This is the second week of arrests at the entrance and the second time in the last 10 years protesters were arrested in Detroit. Last week 10 persons were arrested and released on bail awaiting trial for disorderly conduct.
attribution: Stephen Boyle
The first arrested of the group was Baxter Jones, a former Detroit Public Schools teacher wrongfully dismissed is in a wheelchair. Baxter had put himself on the front line during last week's blockade which had 10 arrested as well, but the police chose not to arrest him and dragged his chair out of the way.The group doesn't appear to be letting up on the pressure. During the protest several televised interviews were shown. One of which was with Valerie who spoke of her household and her neighborhood going through mass shutoffs as Homrich moved through a three block area. She mobilized in the moment, saving her house from being shutoff and opened up a neighborhood water location. In our worst of times community becomes very essential in getting through.
Broadcast video from activist.
Military Weapon Deployment
A LRAD (Long Range Acoustic Device) was used to disperse a rally at Hart Plaza in downtown Detroit on Friday, July 18, 2014 at 2:43pm. There has been previous use of an LRAD in Detroit on May 1, 2012 when Occupy Detroit gathered on the public sidewalk outside Grand Circus Park after park closing hours of 10pm. The use in 2012 was as a public address. The use in 2014 was to cause distress to those hearing the sound.You can hear the sound emitted in the video footage at 50 minutes into this clip (the final minute of the clip). Those who were on the platform to speak felt vibration throughout their body and some clutched at their chest during the deployment which last about 2 minutes.
The sound dispersed the crowd which had a peaceful assembly with speakers discussing the human right to water, and the hypocrisy of Michigan's Emergency Manager Law (PA 436 of 2012), which was brought forth after the public voted down the Emergency Manager Law (PA 4) during the November elections. Rally speakers brought the position of Detroit is being ruled by an implanted dictator who is dismantling sections of local government. Those assembled resist the interest of Kevyn Orr, the EM of Detroit, in moving the public water to a privatized service. They also resist privatization of all public services placed in the trust of our local government to provide for the well-being of our citizens. Detroit has seen public lighting turned over to a new authority which has darkened major streets such as Gratiot, Grand River, and Woodward - streets where pedestrian deaths have occurred at night in the past year.

Advance 50 minutes into the video to hear the LRAD deployment
Background On Shutoffs
Volunteers with the Peoples Water Board Coalition have heard from residents of rental properties that were not notified by their landlords of high water bills that resulted in water being turned off. It is inappropriate for people to have water - a human need - removed without notice. Detroit Water & Sewerage Department (DWSD) have contracted Homrich (a demolition company) to perform up to 3,000 shutoffs per week. Addresses are listed with no information about occupants of the locations being shutoff. Elders and families with small children are all treated the same. If the property is on the list it gets shutoff and those affected are told to come to a water payment center to work out arrangements. Thousands of Detroiters have experienced their water being turned off for at least 24 hours. Hundreds have been found that have had no water service for months. Sanitation concerns around the city are increasing.
Several water stations and a number of neighborhood water friends have been setup through the Peoples Water Board Coalition (PWB) and Detroit Water Brigade. The demands of the PWB are to enable the Water Affordability Program proposed in 2006 by Michigan Welfare Rights Organization (MWRO). DWSD has opened up DRWAP (Detroit Residential Water Affordability Program) in the last month as a response after having shutoff thousands. One of the stipulations of DRWAP is 1/3 of outstanding balance must be provided to enter into the program, that is not present in MWRO's WAP.
If the city can demonstrate the ability to bring residential accounts current it will push the value behind privatization higher.
There are many complex angles to this story that deserve further discussion - the shutoffs themselves are a symptom of a greater problem that is being avoided by the press. Emergency Manager Law has placed the city under a State of Michigan appointed "dictator" able to dissect City of Detroit operations, dissolve union contracts, and cram changes in public services upon the people.The suburbs are opposed to the cram-down being pushed by the State of Michigan as well. Rate hikes have been coming each year - this year 4.3% for the suburbs and 8.7% for Detroit residents. Changes in Detroit are being felt by its neighbors. More than half of Michigan's municipalities controlled by Emergency Manager Law are in Metropolitan Detroit.
List of municipalities currently under Emergency Manager Law
From the State of Michigan Treasury Department site.
• City of Flint
• City of Inkster
• City of Pontiac
• City of Allen Park
• City of Hamtramck
• City of Benton Harbor
• City of Ecorse
• City of River Rouge
• City of Detroit
• Royal Oak Township
• City of Lincoln Park
• City of Highland Park
Snyder said the accelerated payments would result in an annual rate hike of $2.50 per household for the regional water system's 4 million customers, but save them $500 million in 30-year retiree legacy costs.It was the first time the Republican governor has acknowledged that suburban water ratepayers have to chip in to help get Detroit out of bankruptcy. Snyder said the water department payments help the city contain base cuts to retirees in the General Retirement System to 4.5 percent.

"Instead of paying your mortgage over 30 years, you pay it over 10 years, saving even more money," Snyder told The News. "It doesn't cost the ratepayers any more. It's just an acceleration of the payment schedule. It actually saves the ratepayers money in the long-term."

Patterson, of Oakland County, and Hackel, of Macomb County, are trying to get senators to amend Detroit bankruptcy legislation to block the city's accelerated payments. It's a condition they want lawmakers to attach to the state's contribution of $194.8 million to the so-called bankruptcy "grand bargain."

Detroit attorney Heather Lennox told Rhodes water rates need to be hiked in the city's debt-cutting plan to pay for capital improvements.

"We are predicting modest rate increases," she told Rhodes during a hearing.

Rhodes has said Detroit's bankruptcy "offers a unique opportunity" to give counties long-sought input into management of a utility that services 4 million customers across the region. Detroit has pushed for cash payments from suburban users to upgrade city services and pay legacy costs.

The department covers nearly 1,100 miles and serves about 40 percent of the state's population in 125 suburban communities. --- From The Detroit News
This acceleration plan on debt is part of the premise Detroit was subjected to Emergency Manager Law. Governor Snyder has been pushing municipalities toward short term positions, causing an erosion of trust in local governance.
Monday's Activities in Bankruptcy Court - Orr Demanded to Justify Shutoffs
The City of Detroit is currently in Municipal Bankruptcy court and Judge Steven Rhodes is requesting Detroit Emergency Manager Kevyn Orr to provide rationale for the water shutoff program on Monday July 21. Kevyn Orr has shown an interest in privatization of the water department. Considering this interest, if the city can demonstrate the ability to bring residential accounts current it will push the value behind privatization higher. Numerous studies have shown privatization of water leads to higher prices, lower quality, and poor service. Public water enables the voice of the people to check rate hikes and service requirements. The concern of fees and interest on bond swaps that have been carried out illegally needs to be brought into the bankruptcy proceedings.
The public is being encouraged to sit as observers in court and carry protest outside the federal courthouse (on Lafayette between Washington and Shelby) Monday regarding Kevyn Orr's interest in privatizing Detroit water and the ongoing shutoffs.
The ACLU Fund of Michigan and NAACP Legal Defense and Educational Fund have written a letter July 18, 2014 to Detroit Mayor Mike Duggan, Emergency Manager Kevyn Orr, and DWSD management - James Fausone (Chair) and Sue McCormick (CEO), with a courtesy copy to Judge Rhodes and Governor Rick Snyder. This letter details the problems with the practice of water shutoffs and related issues surrounding the bankruptcy.
Freedom Fridays Series of Events
Freedom Fridays are organized weekly in Detroit to protest various takeover and austerity activities that are ongoing. The usual time is 4:00pm outside the Water Board Building at 735 Randolph, Detroit.
The People's Water Board Coalition is in dire need of donations - use the link
https://bit.ly/... and enter "People's Water Board Coalition" in the designation field.
July 24 from 4-6pm the Canadian Water Convoy's arrival will be announced at the Spirit of Detroit with Maude Barlow (Council of Canadians and assisted in bringing UN Human Rights violation). The caravan will bring water delivered to the Peoples Water Station at St Peter's Church. Water Stations are being established across the city near communities in distress.