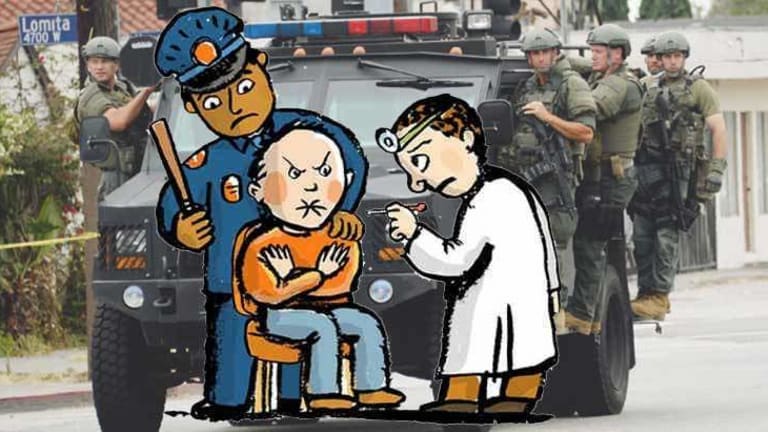 Military Vet Sought Treatment for 'Insomnia,' So Police Came Knocking, Confiscated His Guns
Long Island, NY -- A former Navy veteran and retired police officer, Donald Montgomery, is feeling the effects of living in police state USA. Montgomery has filed a lawsuit against Gov. Andrew Cuomo and other state officials because he was visited by police and his firearms confiscated after seeking treatment for insomnia.
In May of 2014, Montgomery went to his primary care physician and complained about his lack of sleep. Montgomery claimed to have been suffering from insomnia since he and his wife had moved from several hundred miles away in order to be closer to their adult child and grandchild. The move involved the purchase of a new home and the sale of an old one, Montgomery's complaint states.
Days later Montgomery was in the hospital again with the same problems and this time he was diagnosed with "Depression; Insomnia," by the hospital staff.
Just days after that he was back at the hospital yet again. This time he voluntarily stayed at the hospital for 48 hours for treatment.
In his lawsuit, Montgomery alleges that his visit was wrongly recorded as an involuntary stay.
Under New York's SAFE Act, mental health professionals are required to report patients who are determined to be threats to themselves or others, but that was not the case with Montgomery.
According to the lawsuit, Montgomery was cleared of being a threat to anyone.
"Patient has no thoughts of hurting himself. Patient has no thoughts of hurting others. Patient is not having suicidal thoughts. Patient is not having homicidal thoughts," the hospital notes from the visit allegedly said.
Montgomery was said to be "mildly depressed" by hospital officials, but they found "no evidence of any psychotic processes, mania, or OCD symptoms." The notes also asserted, "Insight, judgment, and impulse control are good."
Still, Montgomery's records were forwarded to Mental Hygiene Legal Service for further review.
The Daily Caller outlines what happened next:
Four days after leaving the hospital, New York State police sent a letter to the Suffolk County clerk's office stating Montgomery "has been adjudicated as a mental defective or has been involuntarily committed to a mental institution" and that he was prohibited from possessing any firearms.

The next day, Montgomery received a call from an officer at the Suffolk County Sheriff's Department informing him that his guns would have to be confiscated.

Montgomery says that on May 30, the Suffolk County Sheriff's Department showed up to his house and confiscated his pistol license and four handguns — Colt .38 revolver, Derringer .38, Glock 26 9mm, Smith & Wesson Bodyguard 380.
Montgomery is now seeking monetary damages, legal fees, and the "striking down and rendering void" of New York's "Mental Hygiene Law" on grounds that it represents an "unconstitutional violation of the Second, Fourth, Fifth and Fourteenth Amendments.
The full lawsuit is below: