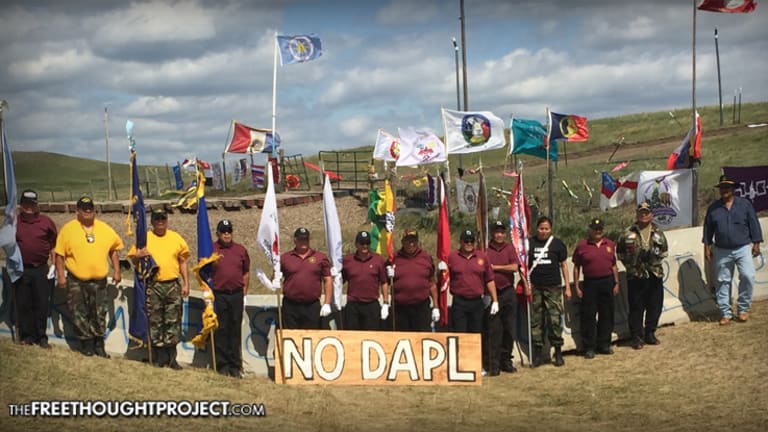 Military Vets and Water Protectors Unite For an Epic Veterans Day March at Standing Rock
Oceti Sakowin Camp, ND - In a sign of solidarity and reconciliation, Standing Rock Sioux veterans from all walks of life held a Veteran's Day march from the Standing Rock Sioux's Oceti Sakowin Camp, to the front line. Standing Rock Sioux veterans, their families and water protectors marched to stand in resistance to Dakota Access Pipeline that is to be drilled under the Missouri river.
While there are some veterans out there who would prefer that "veterans," as a group, not become involved at Standing Rock, there are increasingly more vets becoming involved as "veterans," while serving as water protectors. Likley, many of those on the militarized police forces in Morton County are veterans themselves, which undoubtedly creates an interesting paradigm regarding as to where ones loyalties lie for at least some of the police.
Below is a video of the march that was posted to Facebook:
At the same time the Veterans March was taking place in Standing Rock, a veterans solidarity march was also being held in Houston, Texas at the Houston Veterans Day Parade by veterans and their families. The amazing respect and solidarity shown by these Native Americans are the key to growing a large coalition that can stand against large crony driven corporate interests -- like the Dakota Access Pipeline -- and it's Wall Street backers.
A veteran narrating during the march footage makes a prescient point that will likely resonate will all veterans, when he states "veterans who see this message understand that when we enlisted we took an oath to defend American citizens from enemies both foreign and domestic, and right now there is a domestic enemy, there is a domestic terrorist that is in Standing Rock right now at the Missouri River. And it is terrorizing American people, it is terrorizing free peaceful people in prayer who just want clean water."
The courageous veteran goes on to say, "Veterans out there right now, we need to rise up -- we need to stand up for Standing Rock. We need to stand up and defend the people that are there from those terrorists. The same that we can cross thousands of miles of ocean to defend and fight for things back here at home -- we need to do it back here at home. Right now there are terrorist up there in North Dakota that are terrorizing peaceful people and veterans. If you're ok with that... you can't call yourself someone who stood up to defend the Constitution and people's right to freedom, people's right to be happy, people's right to live."
Please share this beautiful story of veterans standing with Standing Rock!