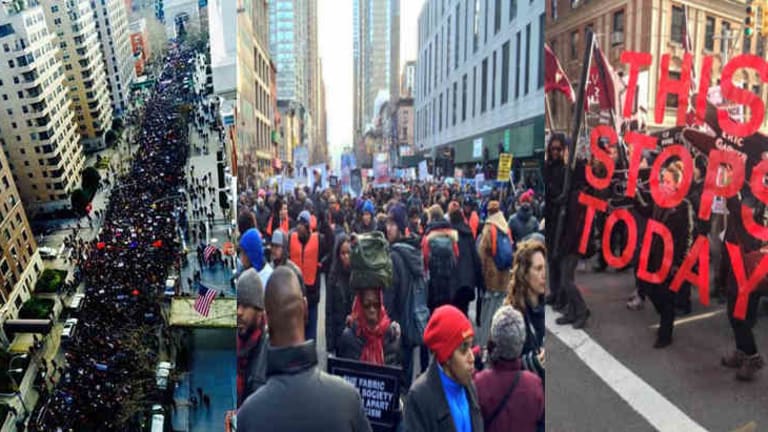 'Millions March' Across America Saturday Against Police Brutality
Protesters are taking to the streets by the thousands in cities across the US to protest grand juries' decisions not to indict the white officers responsible for the deaths of two unarmed black men, and demand police accountability.
Saturday, December 13
20:42 GMT: NYPD estimates number of protesters to be between 50,000 to 60,000.
20:34 GMT: Eric Garner's watch over the mass protests in New York.

20:30 GMT: RT correspondent Alexey Yaroshevsky reports that while there are large numbers of police on streets, the NYC protest is "peaceful and very organized."
20:16 GMT: DC's streets lined with people "as far as the eye can see."

20:13 GMT: Here's a bird's eye view of the NYC protest.

19:58 GMT: As Chicago crowds grow, at least three arrests have been reported.
19:53 GMT: Boston protesters report that riot police are being told to put their face guards on.

19:51 GMT: Thousands march through the streets of New York.
19:47 GMT: In DC Eric Garner's daughter called for 11 seconds of silence for the 11 times Garner said "I can't breathe" as he was being held down in a banned chokehold that killed him. 19:23 GMT: Demonstrators in NYC chant "hands up, don't shoot" and "shut it down, shut it down" as they march through the city.

Republished with permission from Russia Today