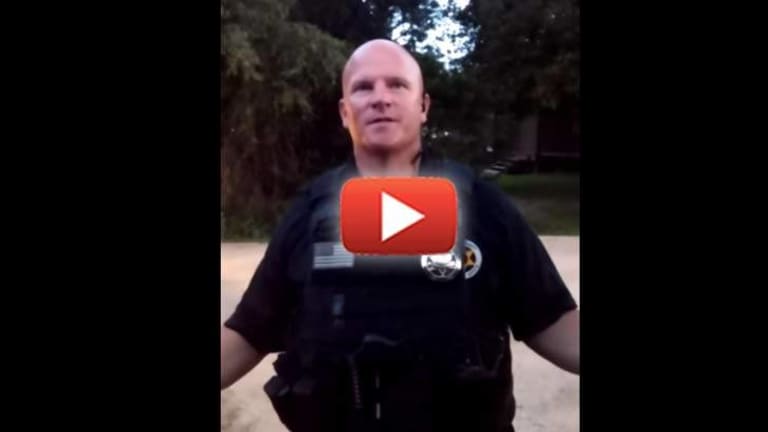 In Under a Minute, this Cop Shows Exactly Why People are Losing Faith in Police
A man asked a simple question, and for this he was threatened, harassed, and intimidated by this would-be tyrant with a badge.
Wichita, KS -- A deputy has been suspended after he was captured on video, in a sickening display of authoritarianism. Deputy Vance Williams is now apologizing to the community after this video was posted to YouTube.
According to KSN news, the deputy was called out to the town of Harper to investigate a dispute over property, between several people.
Jeff Jacobs, who recorded the video, simply tried to ask Williams a question, when Williams completely blew a fuse. Upon being asked a question the deputy begins a full on assault.
"I don't need anything from you. This is not my f**king jurisdiction. You understand that," said Williams.
Jacobs responds, "No, I don't. I don't have a clue. I don't know what is going on."
At this point, the public servant begins flexing his "authoritie" and demands Jacobs give him his ID. He then tells him to take off his sunglasses, his hat, and demands he sit down.
"Say something else to me, and we will see where this goes. Open your f**king mouth and say something else. This is not my, take your f**king sunglasses off now. Hat off. Give me your identification," said Williams.
"You want to spend your night in the f**king poke (jail) because you can't shut your f**king mouth. Walk! Enjoy your walk," barks this tyrant cop.
Both Jacobs and Williams say that this video does not show the entire picture, however, Williams admits that Jacobs never antagonized him.
"All I did was ask him a simple question. I expected an answer, or a 'hey man, it's really none of your business,'" said Jacobs.
frame>
The department is standing by their officer in regards to his mistreatment of Jacobs, but they are upset about Williams' choice of words.
"I believe the whole story wasn't aired for everybody to see," said Sheriff Tracy Chance. "As far as the language goes, yeah I don't agree with it and I've dealt with that."
Williams also issued the following canned apology for his actions.
"I unfortunately used language that I should never have used," said Deputy Williams. "I apologize to our community, to our county, commissioners, and to our sheriff. He would never condone that behavior."
Had this incident not been captured on video, you can rest assured that the apology and the suspension, would have never existed. This is why people are not happy with police in America today.