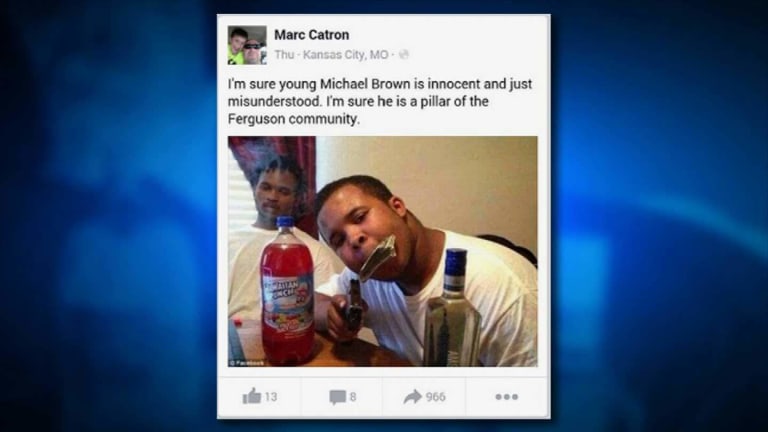 Missouri Officer Under Review For Not Hiding His Racism- Embarrassing Department
"Remember how white people rioted after OJ's acquittal? Me neither," Officer Catron wrote.
Kansas City police officer, Marc Catron, is currently under review for posting a photo of an accused killer from Oregon- claiming it was Mike Brown, followed by racially charged comments.
The photo has been making its rounds on social media by people attempting to character assassinate the 18-year-old who was unarmed when executed by Officer Darren Wilson. However, the photo is actually of Joda Cain, who has been charged with killing his great grandmother with a sledge hammer last year, in Oregon.
Catron didn't just stop there though, he continued, posting-
"Remember how white people rioted after OJ's acquittal? Me neither,"
The department's social media policy states that officers should not post images or make statements that "ridicule, malign, disparage or otherwise express bias against any race, any religion or other protected class of individuals." according to KCTV5.
Before anyone starts on the "Free speech" rant, here is what the first amendment really means.
Congress shall make no law respecting an establishment of religion, or prohibiting the free exercise thereof; or abridging the freedom of speech, or of the press; or the right of the people peaceably to assemble, and to petition the Government for a redress of grievances.
That means the government can't (shouldn't) come after you for expressing your opinion, it does NOT mean you can say whatever you want and not get fired from your job or be called out for being a jerk. This seems to be a common misconception.
Public statements like this from the boys in blue certainly do not help their case against claims of racism.
If there is one thing that can actually get you in trouble as a cop, its embarrassing your department (killing unarmed people is A-OK). It will be interesting to see if he faces a greater punishment than the killer cops we see back on the streets every day.