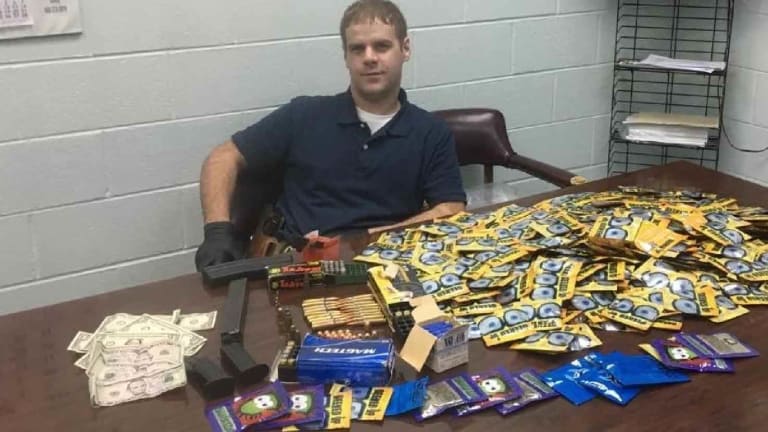 Sheriff Arrested for Assaulting Innocent 77yo Woman, Using Stingray to Spy on Judge — Still Sheriff
A Missouri sheriff has been arrested on a slew of felonies including assaulting an elderly woman, putting her in the hospital.
Mississippi County, MO — A Mississippi County, Missouri sheriff has been arrested following an investigation by the State Highway Patrol and the FBI. Attorney General Josh Hawley said the arrest of Corey Hutcheson, who authorities say is guilty of multiple felonies, is the result of two separate investigations.
According to KVFS News, "In the first complaint, Hutcheson faces seven counts of forgery, seven counts of tampering with computer data, and one count of notary misconduct. Hawley said Hutcheson is accused of using his position to illegally ping the cell phone of several members of the Missouri State Highway Patrol, former Mississippi County Sheriff Keith Moore, and Circuit Judge David Dolan."
But Hutcheson's crimes were not limited to spying on his colleagues. Apparently, the sheriff also used his position to bully other members of the community as retaliation for involving themselves with other members of his family.
KVFS writes, "In the second complaint, Hutcheson is charged with second-degree assault, first-degree robbery, and false declaration. Hutcheson is accused of handcuffing a 77-year-old woman with enough force that she had a heart attack. Hawley said that the victim was in the hospital for three days. Investigators said Hutcheson arrested the woman because she was in a civil dispute with one of his family members."
Bully cops, as The Free Thought Project has reported on numerous occasions, often take down senior citizens with the same use of force they would attempt to take down a 20-year-old. Many times the senior citizens are left with broken bones and bruises and treated with an overall lack of respect. It's conceivable if the elderly woman Hutcheson allegedly manhandled had passed away, he could potentially have been charged with manslaughter or murder as well.
As it stands, the now disgraced sheriff has been charged with: 2nd-degree assault, 1st-degree robbery, forgery, tampering with computer data, notary misconduct, and false declaration. He claimed the elderly woman had kidnapped one of his family members. He used those claims as the basis of his probable cause statement he later used to arrest the woman.
Hutcheson is out on bond, awaiting a trial which prosecutors say will continue. Oddly enough, he remains the sheriff of Mississippi County and will continue to carry said title until such time as the Attorney General makes any changes. In the meanwhile, the coroner briefly served as acting sheriff, until it was determined the Deputy Chief would assume the position.
Abuse of power is not uncommon within some sheriff's offices across the country. As The Free Thought Project reported in late 2016, a police union president, Dominick Izzo, blew the whistle on his boss, Chief George Filenko of Round Lake Park, Illinois, for allegedly and knowingly helping to send and keep an innocent woman in prison, among many other charges.
After the county coroner made an appearance on 48 Hours, where he emphatically declared Melissa Calusinski's innocence in the daycare death of a young child, the county arrested Coroner Thomas Rudd on forgery charges. Those charges are bogus, according to many sources close to the case.
It appears from our investigations into the case, anyone who dares to speak out against the authorities in Round Lake Park, Illinois immediately become the target of reprisals. In an April 2nd post, Izzo posted a picture of his former boss in an orange jumpsuit, shackled in chains. In the post, he said his motivations for doing so were, "to support good cops who are overshadowed by corrupt men who abuse their position and dishonor their oath to the pubic!" The Free Thought Project will continue to follow both cases closely and report on any new findings.