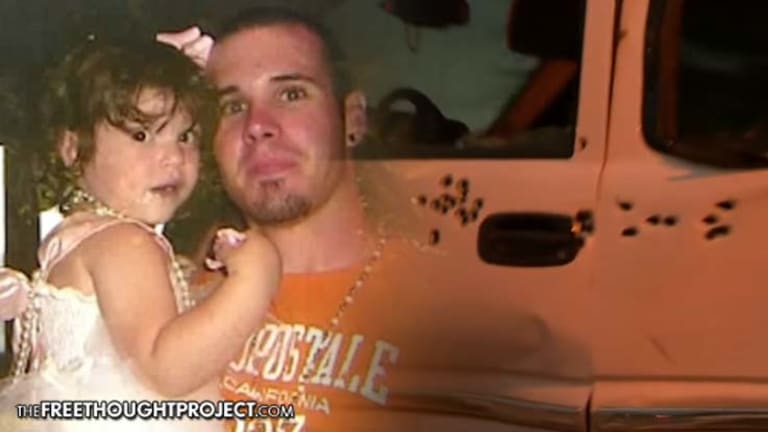 Police Testify Against Fellow Cop Who Killed Unarmed Father with 41 Shots, He Still May Get Job Back
A mistrial was declared in a case against a Garland, TX police officer, accused of the "reckless" killing of an unarmed father following a chase.
Garland, TX -- In a travesty of justice, a mistrial was declared Monday in the latest trial of an officer who shot and killed an unarmed father -- dumping 41 rounds into him, reloading twice.
Late on August 31, 2012, Michael "Mookie" Allen, 25 was running from the police while driving his white pickup truck. "Michael was terrified of the police, first of all," Randy Allen, Michael's father, said reflecting on his son's state of mind. Garland, Texas police officer Patrick Wayne Tuter was giving chase that night.
The pursuit ended in a Mesquite, TX cul-de-sac when police cruisers had boxed Allen in, but Tuter opened fire on Allen who was still sitting inside the truck. In a hail of bullets, 41 in all, Tuter killed Allen, who was unarmed. Investigators said the officer reloaded at least twice during the shooting. Two other officers were on-scene. They did not fire their weapons, only Tuter did. Witnesses said the officer gave no time for Allen to exit the vehicle, opening fire three seconds after being told to "get out" of the truck.
An investigation into the officer involved shooting revealed Tuter claimed he 'feared for his life.' But instead of getting a pass from the police department for murdering Allen, he was fired, and later a grand jury indicted him for Manslaughter. According to the Dallas News, it was the first time in 15 years a grand jury had indicted an officer involved in a fatal shooting.
"He didn't deserve the death sentence. Patrick Tuter was not judge and jury and that's what he made himself out to be," Stephanie Allen, Michael's mom told reporters after learning he was fired in 2013.
According to the Dallas News, "Tuter was later determined to have lied about the encounter, claiming Allen rammed his squad car twice, when in fact, Tuter had slammed into Allen's truck at the end of the chase."
During the trial, which concluded last week, Tuter took the stand at his own defense and said, "It's a very intense situation…Your adrenaline dumps, and you're shaking, and you have to remain calm." He defended his actions on the night in question saying, "Mr. Allen was being extremely reckless and showing no sign of pulling over…I believed based on what I saw, and experience, that he was going to injure or kill someone."
But fellow officers did not feel their lives were in danger and testified against him. "Tuter's fellow officers told jurors they were more scared of him (Tuter) than of the man they were chasing that night," the DN writes adding, "Prosecutors alleged that Tuter was a 'rogue cop' who 'acted recklessly' by firing 41 shots, three of which struck and killed Allen." Prosecutor Juan Sanchez admitted Allen may have committed a felony by evading police but said in closing arguments, "The question here is, was it reasonable to kill him? That's really what this case comes down to."
Toby Shook, Tuter's attorney, stated in his closing statement, "Anyone with an ounce of common sense, one small ounce of common sense, knows Michael Allen was a danger to anyone he might have encountered -- and he wasn't going to stop for anyone."
The defense's argument was enough to sway the jury. After deliberating five hours on Friday, and one hour Monday, the jury returned to inform the judge that they could not come to a unanimous decision as to whether or not they believed Tuter was guilty of manslaughter.
"Special prosecutor Juan Sanchez said five jurors told him they wanted to convict Tuter. He said the jurors who sided with Tuter thought he had used reasonable force, but the ones who wanted a conviction believed he had the intention to harm Allen when they reached the cul-de-sac," the DN reported. The prosecution will decide over the holidays whether or not to retry Tuter. If they decide not to conduct another trial, the former Garland, Texas police officer could conceivably be hired with another police department to continue his career in law enforcement.
Randy Allen said he was hoping for closure but told reporters a mistrial was better news than a jury verdict of not guilty. "It's been a nightmare for four and a half years...We were really hoping for some closure today...I wouldn't wish this on anybody," he said. Michael Allen's granddaughter is now 8-years-old, remembers her daddy and prays to him every night, Allen told reporters. Tuter is also a father and his wife is expecting.
America is quickly waking up to the reality their police force is not held to the same standards as the rest of the general population. While the populace cannot brandish weapons, point weapons at unarmed individuals' heads, and execute people when and if they feel threatened, the police most certainly can, will, and do. All too often, as The Free Thought Project faithfully reports, when a brave district attorney files charges against a peace officer for his/her actions in officer-involved shootings, the police officer is exonerated and allowed to go back to work.