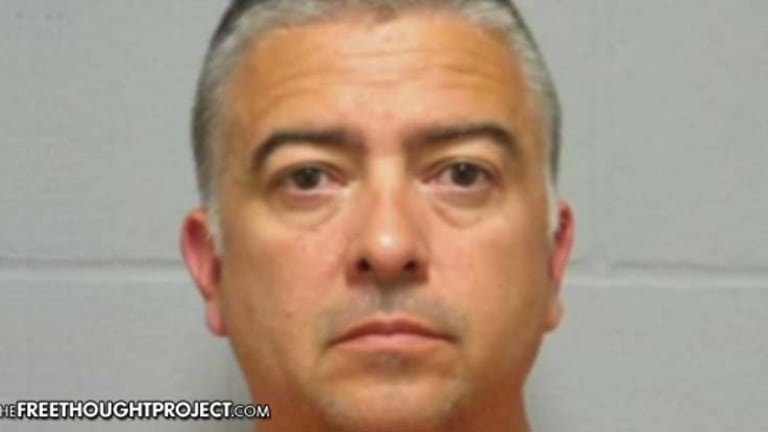 'It Hurt Real Bad' -- 'Model Cop' Arrested for Repeatedly Molesting a 12-yo Girl
An Oklahoma cop described as a model officer has been arrested for sexually molesting a girl, now 12, for three years.
Ponca City, OK — Former Perry, Oklahoma, Police Officer Matthew Lance Vassar had been called a model cop — as Perry City Manager Mary Rupp ">explained, "he's been a good officer, he's been productive and efficient … so, from our standpoint, he's been a good employee for the City of Perry."
But that description comes as Vassar, who abruptly resigned, has been arrested and charged for 'lewd acts with a child' — the ongoing molestation of girl, now 12 years old, who says she "had been touched inappropriately" by the cop multiple times over the last three years.
The unnamed victim "said during each incident she had her clothes on,"">according toNews 9, but when she spoke with investigators she "described it hurting real bad."
Court documents also describe how the child victim must have been absolutely terrified, and had ">told a friend about the abuse but was reluctant to come forward because she "had witnessed Vassar being violent [and] was scared of Vassar."
As News 9reports, the Ponca City Police Department — where Vassar resides — requested the Oklahoma State Bureau of Investigation (OSBI) begin and investigation of the cop on Tuesday for possible criminal activity.
OSBI records cited byFOX 25 say Vassar was arrested Thursday at a relative's residence for allegations of lewd molestation, but is now walking free after posting his $750,000 bond.
According to News 9, the young victim's family has filed an order of protection in Kay County against the sick cop, fearing possible reprisal.
Vassar came to the Perry Police Department in January 2015, and although reports say he was a cop throughout the duration he molested the young girl, it is unclear where he was previously employed.
"Other law enforcement agencies assisting OSBI with the arrest were the Bureau of Indian Affairs, Ponca Tribal Police, and the Kay County Sheriff's Office," reports News 9.
Court records cited byFOX 25 say Vassar may have been "grooming" his victim, though the station or the documents did not elaborate.
Rupp, the city manager, gushed over Vassar's record, saying he had not presented "any disciplinary problems or anything like that."
However the truncated time period from the launch of an investigation until the time Vassar was arrested speaks to the existence of damning evidence that will likely prove the allegations true.
Whether or not Vassar is ultimately found guilty of these indisputably disturbing charges, his arrest — and history of model officer behavior — shows how cops are no less likely to commit criminal acts than anyone else. Police should not be blindly trusted anymore than anyone else — that badge and gun don't exempt an officer from committing even the lewdest of crimes.
">