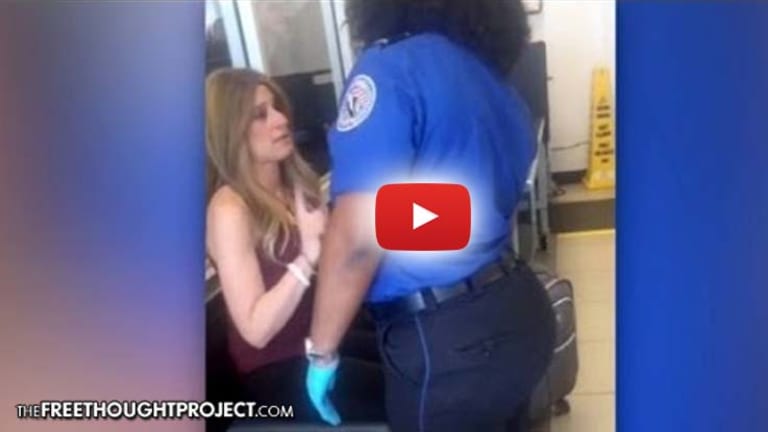 Mom Battling Breast Cancer Humiliated by TSA Attempting 'Aggressive Body Cavity Search in Public'
Co-host of the Sirius XM show, the Mom's, was humiliated and 'aggressively' molested at LAX because TSA thought her cancer medicine was suspicious.
Los Angeles, CA -- The TSA are notorious for sexual assaults, groping children, forcing the elderly to remove clothing, humiliating those with special needs, and outright brutality. And, this latest case from Los Angeles International Airport, in which a mom battling breast cancer was humiliated and assaulted, further proves that notion.
This time, however, the TSA would attack the wrong person who knew her rights and knew the power of filming. Denise Albert is co-host on the Sirius XM Stars program, The Mom's, who was traveling through LAX when she was targeted by TSA because her medical cream for her breast cancer treatment was 'suspicious.'
"I always let them know I have a medical port and that I am wearing a wig," says Albert, who is still undergoing chemotherapy. Albert told Mom Battling Breast Cancer Says She Was 'Violated and Humiliated' During TSA Search at LAX">KTLA that she frequently flies with this cream without question. However, this time, TSA told her that if she wanted to bring her medicine on the flight, she'd need to undergo a full pat-down with pressure.
Albert later posted the video of the incident to her Facebook page, noting that the two TSA agents were "aggressively attempt[ing] to do a body cavity search in public." She also noted that the TSA told her they would need to conduct a full body search using "as much pressure" as they needed to.
Albert protested the aggressive groping of her chest area because of the medical port and due to the fact that she had recently undergone a lumpectomy, in which doctors operated on her breast to remove parts of the tumors.
The TSA also told Albert that she would need to remove her shoes. However, Albert has been battling an infection on her feet, a side effect of her treatment and chemotherapy. So, Albert was told to sit down and hold up her feet.
"After at least 20 minutes of sitting there because they were debating how to proceed, I told them my feet were freezing," Albert's post reads. "Also a side effect from chemo. They refused to help me."
According toMom Battling Breast Cancer Says She Was 'Violated and Humiliated' During TSA Search at LAX"> KTLA, after a female TSA agent "forceabl[y] and aggressively" put her hands down the back of Albert's jeans, the agents explained they would have to "apply pressure from head to toe" which presented another set of problems for Albert. She wears a wig and did not want them to remove it, and has a lumpectomy medical port in her chest, which she did not want agents to touch.
"I started crying," said Albert. "It was overwhelming and horrific. I could not believe what was happening."
As if the humiliation couldn't get any worse, Albert's bags were dumped out in front of everyone as one agent joked about the fake eyelashes that fell out.
"I told her, it's because I don't have real ones from my cancer treatment," Albert's post reads. "I would have thought at that point, the humiliation would have ended. The 2 TSA agents in my video went too far. I hope no one ever experiences this."
Ironically, Albert is enrolled in the TSA PreCheck program in which passengers get screened beforehand and are able to travel through security with less molestation than the non-PreCheck fliers. That didn't turn out so well for this mom on the go.
After humiliating the woman for over 20 minutes, Albert finally got to speak to a supervisor who let her through. In response to Albert's complaint to the TSA, the agency released the following canned statement:
Thank you for contacting the Transportation Security Administration (TSA) Contact Center.

We regret that you had a negative screening experience. While every person and item must be screened before entering a secured area, the manner in which the screening is conducted is important. Our policies and procedures focus on ensuring that all passengers, regardless of their personal situations and needs, are treated with dignity, respect, and courtesy.

Since your complaint concerns the conduct of Transportation Security Officers (TSOs) at a specific airport, we have forwarded a copy to the Customer Support Manager at that location. TSA monitors the number and nature of complaints we receive in order to track trends and spot areas of concern that may require special attention. This ongoing process enables us to ensure prompt, corrective action when we determine that screening policies need modification or specific employees or teams are the subjects of repeated complaints.

If you have concerns about your screening experience during future travel, you may ask to speak with a Supervisory TSO while at the checkpoint.

For more information regarding pat down procedures, please visit TSA's Web site at https://www.tsa.gov.
Sadly enough, this is the second time in just a short period that the TSA has been caught on video assaulting and harassing cancer patients.
In June, Hannah Cohen, a St. Jude Children's Research Hospital cancer patient, was attempting to travel back home to Chatanooga with her mother when she was told by TSA she needed additional screening. Only minutes later, Cohen, who is blind in one eye and deaf, would be in handcuffs on the ground with blood pouring from her head thanks to airport police and the TSA.
Cohen has since filed a lawsuit.
[author title="" image="https://tftpstagingstg.wpengine.com/wp-content/uploads/2016/03/magorist-e1456948757204.jpg"]Matt Agorist is an honorably discharged veteran of the USMC and former intelligence operator directly tasked by the NSA. This prior experience gives him unique insight into the world of government corruption and the American police state. Agorist has been an independent journalist for over a decade and has been featured on mainstream networks around the world. Follow @MattAgorist on Twitter and now on Steemit[/author]