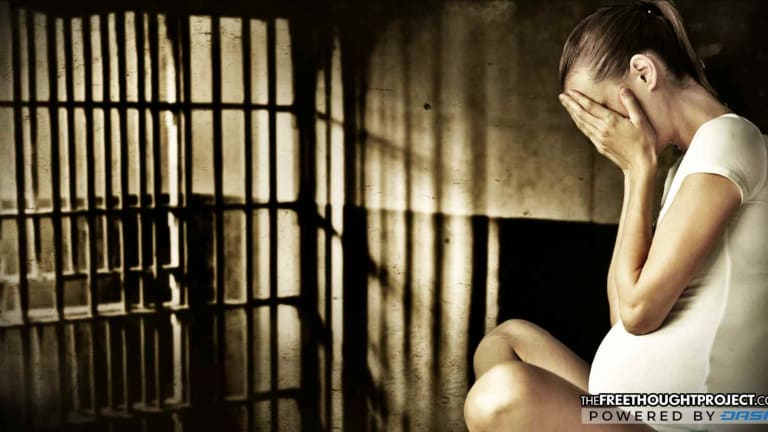 Mom Gives Birth Alone in Jail Cell As Guards Ignore Her, Claim She Induced Her Own Labor
A mother said she was forced to give birth to her premature baby alone, on the floor of her jail cell, after guards accused her of faking her labor.
Waxahachie, TX – A mother who has spent the last two months in jail after she was arrested for possessing less than one gram of a controlled substance, is now claiming jail guards ignored her cries for help and denied her medical treatment. During this time, she says she was forced to give birth to her son alone in her jail cell.
Shaye Bear, 25, was only five months pregnant when she gave birth to her son, Cashh, in her jail cell last week. She told WFAA News that she was forced to give birth alone with no medical aid, even though she repeatedly cried for help and told guards she was in labor.
"I delivered a one-pound, two-ounce baby in that single cell screaming for hours, begging them to come and help me," Bear said. "The guards would walk by and tell me they wouldn't do nothing for me until I had that baby in that cell."
The defense attorney representing Bear, Melinda Peel, said she spoke to a friend of another inmate who said that the guards refused to give Bear medical attention for two days, all while she screamed and cried in pain. The friend said the other inmates could not sleep for two nights because of the noise, and they considered filing a complaint against the jail but were scared of the repercussions.
"There's not a person who couldn't tell me they didn't hear me screaming, begging, praying," Bear said.
The mother said she experienced hours of painful contractions before her premature baby was born in her hands, and several terrifying minutes passed before guards responded—in which she was scared her baby would die in her hands. When the guards finally took notice, they transported Bear and Baby Cashh to a local hospital, and Cashh was later taken to Cook's Hospital by an emergency helicopter for extensive medical care.
While Bear was taken back to the jail where she has been since she was arrested on March 10, she has received little sympathy from the Ellis County Jail officials who refused to give her the proper medical treatment. Sheriff Charles Edge insisted that records show Bear "was treated the entire time she was in here due to her pregnancy."
Bear claimed that guards at the jail accused her of faking her contractions at the time. After they finally acknowledged that she had just given birth and needed to be taken to the hospital, one guard actually asked her if she reached inside of herself and pulled the baby out.
The same sentiment was shared by an unnamed law enforcement official, who told WFAA that "investigators believe that she induced herself to give birth," and that Bear "made no secret to other inmates in the jail that she didn't want that baby."
While the accusation that Bear intentionally induced her own labor raises a number of questions, she insisted that the opposite was true. "Hell no. I was trying to force them to take me to the hospital, so they could stop my labor," she said.
Bear has been in and out of jail on drug charges over the last four years, and Cashh is not her first child, or the first baby she has given birth to in jail. She also has an 8-year-old son and a 2-year-old son who she gave birth to in the Dallas County Jail.
Baby Cashh is now fighting for his life. Bear told WFAA she worries that if he survives, he will face medical problems for the rest of his life. "I need to be there with my baby. He needs me. I'm thankful to God he's alive," she said. "Pray for him."
While Bear's admitted meth addiction has created problems for her children, it is clear that the prison industrial complex and the War on Drugs are only making those problems worse. After she was caught with less than one gram of an illegal drug, she has spent the last two months in jail because her bail was set at $5,000 and she could not afford to pay it.
A similar case happened in Detroit when Jessica Preston was arrested for driving with a suspended license in March 2016. Despite the fact that it was her first time committing the offense and she was eight months pregnant, the judge used previous drug charges against her, and Preston was ordered to pay a $10,000 cash bond to get out of jail, which she could not afford.
The jail guards and medical staff also accused Preston of faking her contractions, and they even threatened to add additional charges to her record if she continued to complain. After multiple check-ups by medical staff, including one in which she was bleeding and her medical history indicated that she should have been taken to the hospital immediately, Preston was forced to give birth on the floor of her jail cell, and her baby was delivered by inexperienced jail staff.
In the case of Shaye Bear, a concerned resident reached out to The Free Thought Project after he said he paid the bond to get her out of jail, and Ellis County Jail was refusing to cooperate. Joshua Howard said he was told Monday night that the jail would not release Bear and he then received a call on Tuesday morning from a jail employee who said Bear was "being held because of a hold out of Dallas County."
As of 12 p.m. central time on Tuesday, Shaye Bear's name is no longer listed in the Ellis County Sherriff's Office's inmate database. If you would like to contact the department to voice your opinion on Bear's case, call (972) 825-4901 or visit the department's Facebook page.