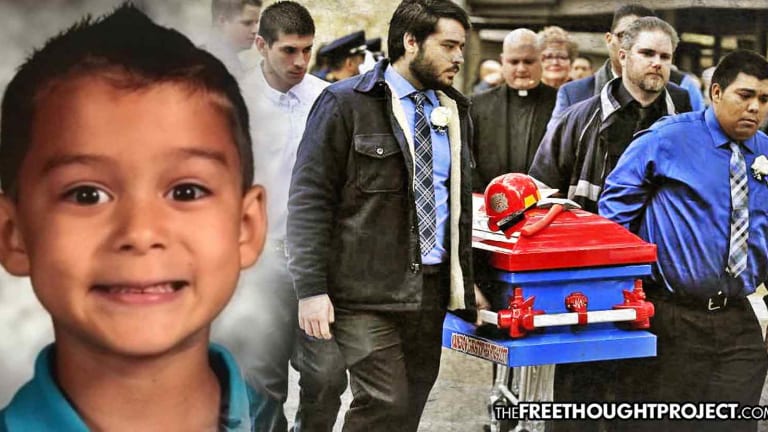 Mom Horrified After Finding Out on TV Cops Who Killed Her 6yo Boy All Back on Job
While shooting and killing an unarmed woman, police killed a 6-year-old boy and now the mom has just found out that they are all back on the job.
Bexar County, TX — In December, the Free Thought Project reported on the tragic death of 6-year-old Kameron Prescott whose life was stolen from him when police opened fire on an unarmed woman suspected of stealing a car. Now, the mother of the little boy who was gunned down by police has found out that the cops who killed her son are going back to work.
Last week, the Bexar County District Attorney provided the department with clearance letters, allowing the deputies to report to full duty after being on administrative leave during the investigation. After a six month paid vacation for killing a child, the cops will be going back to work.
"I'm livid," said Rubi Prescott, Kameron's mother. 
In December, the incident received widespread coverage as the mainstream media reported that Kameron was hit with a "stray bullet." However, this bullet was anything but "stray." The shot that killed young Kameron was deliberately fired at an unarmed woman.
The officer's gun did not accidentally go off. All of these police officers deliberately shot at an unarmed woman and their fear, poor judgment, and carelessness led to the death of an innocent child.
For six months, the family has been asking for justice to be served. And now, it looks like that may never come.
Adding insult to death, Rubi had to find out in the media that the cops who killed her son when they shot and killed an unarmed woman, would be returning to work.
"I just wish they would've had compassion, that they would've had the courtesy to tell me what is going on before they told the rest of the world. I gave birth to my child you would think that I'd be able to get told something like this first before the media or anyone else," Prescott said.
Although Kameron didn't live in the home in which he was gunned down by police, it was his father's house and he was visiting him after getting out of school early on that fateful Thursday for Christmas break.
"He was saying to his grandpa that he didn't want to be there," his uncle said at the time. "All day, he was saying he didn't have a good feeling. He was telling his dad he wanted to call his mom and didn't want to be there. He just kind of knew it wasn't going to be a good day."
"If it is the police, we hope that you hold your people accountable," Gonzales said. "I am sorry that it comes to this, but y'all are people just like us at the end of the day. Y'all deserve to be held accountable. It is a Constitutional right. Y'all just killed a little boy, it was y'all. There's no weapon, so it wasn't that lady."
Had a regular citizen opened fire on an unarmed woman and killed an innocent child in the process, rest assured that they would be sitting in a jail cell right this moment. However, because the people who killed this unarmed woman and child are police officers, there will be no justice for Kameron.
Naturally, the sheriff's department claimed the officers acted appropriately—by opening fire on an unarmed woman—and killing her and a child in the process. They are claiming to have seen the now deceased suspect—30-year-old Amanda Jones—carrying a pistol prior to finding her breaking into Kameron's father's house. However, no such pistol was found.
"In my opinion, it's a tragic accident that led to the death of this young man," Sheriff Javier Salazar said at a news conference at the time. "But again preliminarily it appears that policies and procedures (on use of force) were complied with."
According to Salazar, it is apparently proper procedure to open fire on an unarmed woman as she flees police and not care about the mobile home behind her in a neighborhood full of children out for Christmas break.
Although they didn't originally report it, police then claimed that Jones was holding a "dark pipe," which caused the multiple armed officers to all open fire on her with complete disregard for everyone's life who happened to be near her—including 6-year-old Kameron Prescott.
The officers returning to work after killing a little boy should come as no surprise especially given the fact that there have been 10 Bexar County Sheriff's deputies arrested so far in 2018. One of those deputies was Jose Nunez, whose arrest on charges of child sex assault shocked the nation. The 10-year veteran is accused of sexually assaulting a 4-year-old girl and threatening to have her mother, who is undocumented, deported if authorities learned of the abuse.
Kameron Prescott was the 1,152nd person to be killed by police in 2017. He was also the youngest..