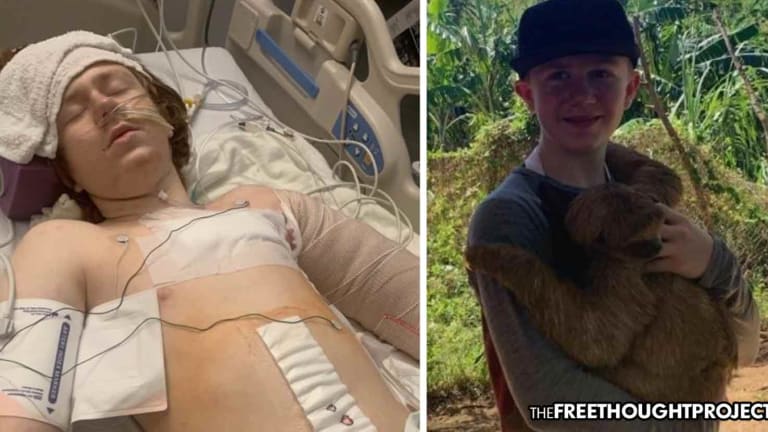 Mother Calls 911 for 13yo Autistic Boy's Tantrum, Cops Show Up and Fill Him With Holes
The mother of a 13-year-old boy with autism called police for help with her unarmed son's mental crisis but when police showed up, they filled him with holes.
Salt Lake City, UT — As TFTP reported three years ago, Salt Lake City Police Chief Michael Brown decided his town had seen enough officer-involved shootings and retrained his officers in de-escalation of force techniques. It actually worked — albeit temporarily — and officer involved shootings in Salt Lake plummeted. But it is now 2020 and tensions between police and the policed are at an extreme. Apparently, they are so high that even unarmed little autistic boys are considered a threat and fair game to fill with holes.
Linden Cameron, a 13-year-old little boy with autism was having a bad day last week after his mother returned to work for the first time in a year. Cameron suffers from severe separation anxiety and when his mother left, he went into a crisis.
Linden's mother, Golda Bartonsaid she called police that evening and requested a crisis intervention team (CIT). She told them her son was not armed and was in the midst of a mental breakdown and she needed help to get him to the hospital.
"I said, he's unarmed, he doesn't have anything, he just gets mad and he starts yelling and screaming," she said. "He's a kid he's trying to get attention, he doesn't know how to regulate."
"This is how to deal with people with mental health issues. So, you call them, and they're supposed to come out and be able to deescalate a situation using the most minimal force possible," she said.
Unfortunately, that is not what happened and when cops showed up, one of them opened fire on her son less than five minutes after they arrived.
Police entered her home and moments later, Barton says she heard, "get down on the ground" and several gunshots rang out. Police would later claim that Cameron ran from them.
"During a short foot pursuit, an officer discharged his firearm and hit the subject," Sgt. Kieth Horrocks said.
Her son was riddled with bullet holes from top to bottom. Barton says cops then handcuffed the child's unconscious body as one of the officers on the scene apparently scolded his fellow cop.
As KUTV reports, she thought her son was dead and the officers didn't immediately say if he was or was not dead. They handcuffed him, according to Barton. Additionally, she said she heard from someone that the other officer could be seen grabbing his own head in disbelief for what had happened. He said out loud, according to what the mother was told, "He's just a child, what are you doing?"
Since the shooting on Friday, police have released no information other than a vague statement about an alleged call about Cameron being armed — a statement contrary to what the boy's mother told them.
SLCPD said police were called to the area for a report of a "violent psych issue" involving the juvenile "having a mental episode" and "making threats to some folks with a weapon."
Where this information came from is unknown as the boy's mother says she was the one who called police and she specifically told them he was not armed.
Even if he did have a weapon, two grown men in body armor should have been able to take down a small child without filling him with holes. If Cameron would have had a weapon, rest assured, this would have been the first thing mentioned. But police actually said the opposite.
Sgt. Kieth Horrocks said he knew of no indication that there was a weapon found but didn't know for sure. According to police policy, the shooting will be investigated by an Officer-Involved Critical Incident protocol team. Salt Lake City Mayor Erin Mendenhall released a statement on Sunday saying there will be "swift" justice in this shooting.
"While the full details of this incident are yet to be released as an investigation takes place, I will say that I am thankful this young boy is alive and no one else was injured," Mendenhall said in her statement. "No matter the circumstances, what happened on Friday night is a tragedy, and I expect this investigation to be handled swiftly and transparently for the sake of everyone involved."
According to a GoFundMe page launched to help pay for the boy's medical bills, Linden Cameron suffered injuries to his shoulder, both ankles, intestines and bladder. "Linden is 13 years old. He loves video games, four-wheeling, and longboarding with his older brother, and building things. He is always looking for ways to help people out. Linden is very important to his family, and his mother and brother are supporting him through his recovery."
Cameron is now in critical condition in a Salt Lake City hospital.
"He's a small child. Why didn't you just tackle him? He's a baby. He has mental issues," his mother said. We agree. When police open fire on a small child in a mental health crisis, it is high time we reexamine the role of law enforcement in America. This has gotten way out of hand.