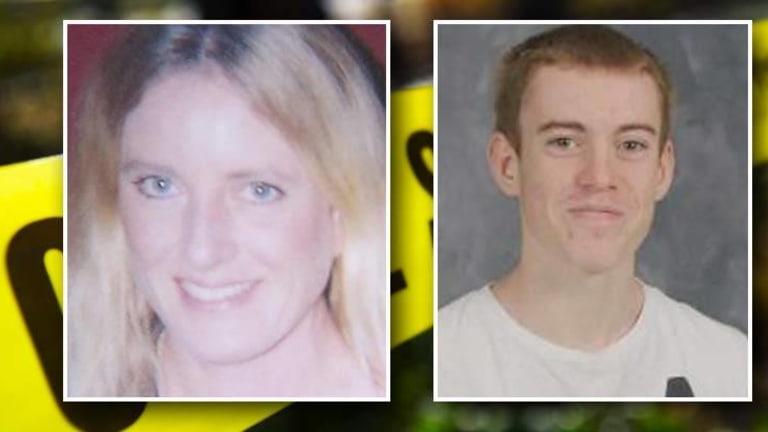 Mother and Child Murdered by Rapist Because Cops Go After Drug Dealers Instead of Criminals
Missouri police cited a lack of resources for the reason behind a sadistic murder, meanwhile SWAT teams are kicking in doors looking for a plant.
Some 30 miles south of the Missouri River lies the sleepy town of Sedalia, Missouri. With a population under 22,000, Sedalia usually doesn't generate headlines until the Missouri State Fair rolls into town.
In the last month, the quaint town has been the focal point for two criminal cases. Although the cases differ, parallel timing and location have set the stage for a debate about crime and punishment. When it comes to sentencing violent and non-violent offenders, resources are severely depleted. And in Missouri, a lack of resources lead to murder. Yet, as this case will show, many non-violent offenders serve lifetime jail sentences without parole. Can we afford to continue the war on drugs? And if so, at what cost?
A Nail In The Coffin
It began on Thursday April 30th, 2015. Emergency responders received a frantic call from a hysterical woman, now identified as Sandra Sutton. Sutton told police that for four months, she had been held captive inside a 4ft by 8ft wooden box. Finally she managed to escape, and ran to a neighbor's home for help. Sedalia Police made the following statement a few days after her dramatic escape:
"Upon responding to her residence, officers did observe a large wooden box consistent with what the female described," Detective Sgt. Joshua Howell said. "The suspect had fled the residence."
Police reportedly found sleeping bags and a bucket filled with human excrement inside the tomb-like box.
Sandra Sutton told authorities that her relationship with the suspect, James Barton Horn Jr., began as consensual. But as time went by he began to exhibit frightening sociopathic traits. Eventually Horn Jr. forbade her from leaving. This, she said, is when he built the box.
It has emerged that James Barton Horn Jr. had a long and disturbing criminal history. The 48-year-old had previously served 12 years and 11 months in federal prison. Before locking Sutton in a coffin, three other women had accused him of kidnap, torture, and rape.
A History Of Violence
In 1991, Horn's first marriage dissolved. Three weeks after his first wife served him divorce papers, he broke into her home. He allegedly raped and tortured her for 24 hours before she escaped. His ex-wife refused to file charges, and he was free to go.
In 1992, Horn struck again. The victim was 22-years-old, who he had dated briefly. After the girl ended the relationship, Horn drove to her home and kidnapped her while she slept. He bound her hands, gagged her, and raped her for seven hours. According to court records, Horn had also tortured the girl.
Horn plead guilty to kidnapping and sexual battery. His sentence was four years in prison, but he was released early in 1995.
In 1996, Horn's second wife filed for divorce. At the time she was several months pregnant and had a 9-year-old daughter from a previous marriage. One night, Horn climbed a ladder into his estranged wife's attic, suddenly ambushing her and her child. Horn locked the hysterical 9-year-old daughter in a bathroom, then kidnapped his pregnant ex. An FBI SWAT team tracked down Horn and his victim to a motel in Springfield, Missouri. When the SWAT team raided the room, Horn had a knife to his pregnant ex-wife's throat. He pleaded guilty to kidnapping.
Despite his brutal and sadistic history, the Judge sentenced James Barton Horn to 12 years and 11 months in federal prison. Once released in 2011, prosecutors begged U.S. District Judge, W. Earl Britt, to place Horn in a mental health facility. Those who knew Horn's background feared that he would strike again. Britt told prosecutors that they had not provided "clear and convincing proof" that Horn Jr. posed a risk to society. He would further blame the rapist's past crimes on 'failed relationships.'
"The court finds that Horn will not have serious difficulty in controlling his behavior because his sexual offense history has been confined to very specific circumstances related to the unwanted end of an intimate relationship," Britt wrote. "It is uncertain that such a situation may ever arise in the future."
Although Britt was lackadaisical about brutal sex crimes, he was much tougher on non-violent offenders.
John Anthony Peterson, only 27, was sentenced to 35 years in jail for drug related offenses.
Torrey Devon Williams, 31, was sentenced to 15 years for intention to distribute marijuana.
In fact, Judge W. Earl Britt has angered the public for a perceived 'pro-sex offender' agenda. In 2007 he disapproved of a law appealing to keep sex offenders and pedophiles in mental health facilities.
"There is serious question as to whether the federal government could ever prove beyond a reasonable doubt that an individual is both suffering from a mental illness or abnormality such as pedophilia and unlikely to refrain from sexually violent conduct in the future as a result of that illness." he said.
Sadly, Judge W. Earl Britt was wrong. After escaping her dungeon, Sandra Sutton and her 17-year-old son fled to stay with relatives in a neighboring town. Nearly a month passed, and James Barton Horn Jr. had not been caught by police.
Horn Jr. broke into the home while Sutton's relatives were at work, and brutally murdered both Sandra Sutton and her 17-year-old son in cold blood. This fueled police to make his arrest a priority. Two days later, James Barton Horn Jr. was fatally shot by officers in a stand off.
A Lack Of Resources
Probation officers were supposed to monitor James Barton Horn after his release. However, the location Sutton escaped from did not match Horn's address on the sex offender registry.
As a convicted sex offender, Horn had to inform probation officers about his whereabouts. His new address was close to a school, which violated the terms of his probation since sex offenders can't live near schools or parks. When asked about the whereabouts of Horn's probation officer, Commander Larry Ward with the Sedalia Police Department responded:
"There's only so many people that can follow up on those positions for probation and parole and sometimes things slip through the cracks. You have a tremendous amount of people to monitor and he was able to reside somewhere else."
On the same day that Horn's prisoner escaped her dungeon, another struggle for freedom was underway in the small town of Sedalia.
Life Without Parole For Pot
Jeff Mizanskey
As James Barton Horn evaded the police, Sedalia resident, Chris Mizanskey delivered over 390,000 signatures to Missouri Governor, Jay Nixon. Chris is fighting for the release of his father, Jeff Mizanskey.
In the same county where James Barton Horn's probation officers were stationed, Jeff Mizanskey is serving his 21st year of a lifetime prison sentence. As Horn was released, and free to commit a double homicide, Mizanskey sat in a small cell. He has watched rapists, murderers, and pedophiles drift in and out of Jefferson City Correctional Center, but Jeff wasn't eligible for parole. His crime?
Smoking pot.
The 61-year-old grandfather was expected to die behind bars for smoking marijuana, before public uproar forced the Governor to commute his sentence.
Chris Mizanskey wrote the following statement on a change.org petition to free his father:
"My dad is, and always has been, a good man. He taught my brother and I all about construction and a good work ethic. He has never been violent and he is a model prisoner. And over the 20 years he has been in that little cell, he has watched as violent criminals, rapists, and murderers have "paid their debts" and left – sometimes just to return a few months later."
Jeff Mizanskey has missed out on the lives of his beloved kids and grandkids. His son, Chris, was only 14 when his father was sent away.
"I just want my dad back." Chris pleads. "It breaks my heart every time we go up there to see him. We have to leave and he has to stay. I can only hope he'll be able to walk out of there one day, we'll be able to enjoy our lives together. What's left of his and what's left of mine."
"It's been pure agony." Jeff says on his experience inside prison. "My kids have grown up, my parents have passed away. I have some hope left for myself, but I don't have many years left."
A Miscarriage Of Justice?
Public sentiment strongly backed the release of Jeff Mizanskey. A recent poll revealed that 53% of Americans support the legalization of marijuana. Over 390,000 people have signed a petition, begging Governor Jay Nixon to grant clemency to Mizanskey. After Nixon received the signatures, he agreed to allow Mizanskey to go before a parole committee, but he is still not free.
The sentencing has been confusing to the Missouri public, where several other heinous criminals have also received lenient sentences, just like James Barton Horn Jr. There was public outrage when a Kansas man, convicted of raping an 11-year-old child, received just three years probation and no prison time. The victim's furious foster father described it as "a miscarriage of justice."
Meanwhile Jeff, who has never committed a violent crime, has spent more time behind bars than James Barton Horn Jr. ever did.
A focal talking point is resources and costs. If there aren't enough resources to watch a violent sex offender like James Barton Horn Jr. after release, why is Missouri wasting taxpayer dollars keeping a pot smoking grandpa in prison?
"Do taxpayers really need to be putting out 10 to 20 thousand dollars a year to incarcerate people that smoked pot 20 years ago?" asks Missouri representative Kevin Engler.
Jeff Mizanskey agrees. "It costs $57 a day to keep me here. That money could be used for schools."
Jeff Mizanskey is described as soft spoken, calm, and articulate. He spends his time behind bars mentoring other prisoners.
"Most of them come in there, never worked before, never had an idea how to work. So I teach them how to stain and spray and what it means to have a job and things that are expected of them," he says.
The Cost On Society
There's one question taxpayers might be asking themselves. Who would you rather have living next door? An old-timer smoking a plant that is considered medicinally legal in 23 states, or a convicted torturer and rapist?
Jeff Mizanskey is one of 3,278 Americans who faced life without parole for nonviolent crimes. A staggering 65% of the 3,278 are African-American. Many of these convicts are also first time offenders.
Many others beside Jeff are serving life without parole for marijuana-related crimes. These are just some of them:
Dale Wayne Green, 54, Louisiana: Serving life without parole for his role as the middleman in the sale of $20 dollar's worth of marijuana to an undercover cop. He could not afford a lawyer during his trial and is serving his thirteenth year behind bars
Terrance L. Mosley, 36, Louisiana: Serving his 7th year of a life sentence for possession of marijuana with the intention to distribute
Fate Vincent Winslow, 46, Louisiana: Fate was homeless when he was charged with selling $10 worth of marijuana to a cop. He also could not afford legal representation and has no friends or family on the outside to help him
Travis Bourda, 29, Louisiana: No marijuana was found in his possession, but he had previously distributed marijuana at 19. As part of the three-strike rule he was sentenced to life behind bars
Anthony Kelly, 39, Louisiana: In his thirteenth year of a life sentence for possession of $5 worth of marijuana at 21
William Dekle, 63, Florida: The former Marine is on his 22nd year of a life sentence for smuggling marijuana
Charles Manson, the notorious cult leader, has been up for parole 12 times. He was charged for directing his followers to murder nine people. Notoriously, he was responsible for the torture and murder of actress Sharon Tate, who was eight months pregnant at the time of her death.
The men listed above serving life sentences for marijuana have never been up for parole.
Marijuana is currently legal for medicinal purposes in 23 states. In Louisiana, it costs taxpayers  $17,486 each year to keep one prisoner locked up.
Across 15 states in one year, 4,300 child molesters are set free. Out of these 4,300, 3.3% will return to prison within three years for a sexually assaulting a child.
There are not enough resources to keep child molesters and violent sex offenders monitored upon release, yet thousands of non-violent offenders sit in jail. There are not even enough resources, it would appear, to apprehend a man with a dangerous past who locked his former girlfriend in a box.
It poses an uncomfortable question about how we regard sex crimes. Why are violent sex offenders considered less of a public risk than those with drug related offenses? We can hope that the events stemming from Sedalia pave the way to sterner laws regarding sex crimes. Or at the very least, convince legal authorities like Judge W. Earl Britt that men like James Barton Horn Jr. are dangerous to the public.
Amy Lane is a blogger and writer based out of San Diego, California. Currently she works as a writer for Crimewire. Follow her on Twitter @amyroselane