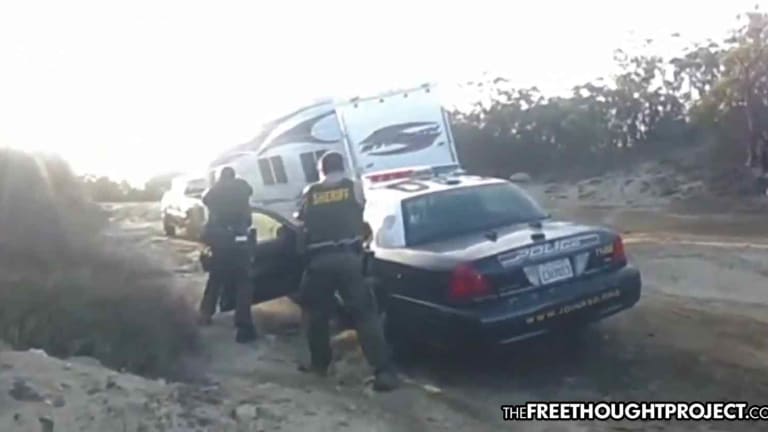 Mother Finds Son Dead in the Desert, 2 Days After Cops Shot Him, Left Him to Die
The man's mother eventually found her son two days later, dead in the desert, having suffered his last moments alive bleeding out from police bullet holes.
San Jacinto, CA — According to his mother, who found him two days later, Rico Robles spent his last moments 'alone in the desert in agonizing pain' after cops opened fire on him as he fled. Robles' mother, Laura Scott has since filed a wrongful death lawsuit, claiming her son did not have to die.
According to police, In April of this year, Robles was involved in a police chase in a stolen pickup truck and a travel trailer. When the chase came to the end in a rural canyon east of Temecula, Robles and another man got out and ran.
Body camera footage would later be released, showing that the truck and trailer were stuck in the sand and unable to pose a danger to the offices. When a female deputy identified only as Zaborowski got out of her patrol car and yelled, "Driver, show me your hands! Turn off the vehicle and show me your hands!" Robles and his passenger, did not immediately obey and instead tried to get themselves unstuck.
After realizing they couldn't drive away, they exited the truck with Zaborowski firing two rounds and her partner deputy Hansen firing a single shot. Both men were unarmed and posed no threat to the officers.
After the sheriff's deputies both fired their weapons, Robles and another man disappeared into the brush.
Police claimed to have subsequently launched a manhunt — using police dogs, a helicopter, drones and deputies on foot — for the next 36 hours before giving up and calling it off.
After not hearing from Robles, Scott and her daughter went to the area where the shooting occurred. Scott says she and her daughter found Robles' body just a couple hundred yards from where he fled the officers.
"Within about 30-45 minutes of arriving to that location, plaintiff and her daughter found (Robles) laying on his right side, deceased from gunshot wounds, approximately 200 yards down the road and slightly to the right of the location of the shooting," states the lawsuit, filed Dec. 3 on behalf of Scott in U.S. District Court in Riverside.
Adding to the suspicious nature of the incident is the fact that according to the Press-Enterprise, Sgt. Albert Martinez, a department spokesman, said Friday that the man with Robles on April 1 has been identified, but was not arrested and is not a suspect.
"We did identify a passenger which was interviewed and we documented his statement," Martinez in an email Friday.
Scott's attorney, Jeremy Jass, said Robles was unarmed and was not trying to ram the deputies' patrol vehicle with the toybox-style travel trailer. The vehicle just rolled backward briefly after becoming dislodged from the dirt, before Robles could stop.
This is clear in the video as the brake lights are seen lighting up just as the officer opens fire. Robles was never really given a chance to comply with all the orders.
"To me, it doesn't seem there was an imminent threat to life that would justify the use of deadly force," Jass said. "You can't just shoot someone and leave them out in the desert for two days. They should have been able to locate Mr. Robles and should have probably been providing medical aid to him."
Robles, according to the lawsuit, was unarmed and suffered "unreasonable, unnecessary, and excessive force."
"The defendants' brutal treatment of (Robles) caused him to fear for his life and caused plaintiff serious physical injury, lack of medical care, and to suffer his last moments alone in the desert in agonizing pain," the lawsuit said.
Since the shooting, both Hansen and Zaborowski were placed on paid administrative leave. An internal investigation is still underway.
As to why they claimed to have searched for 36 hours and failed to find Robles, the Sheriff's Department has declined to comment.