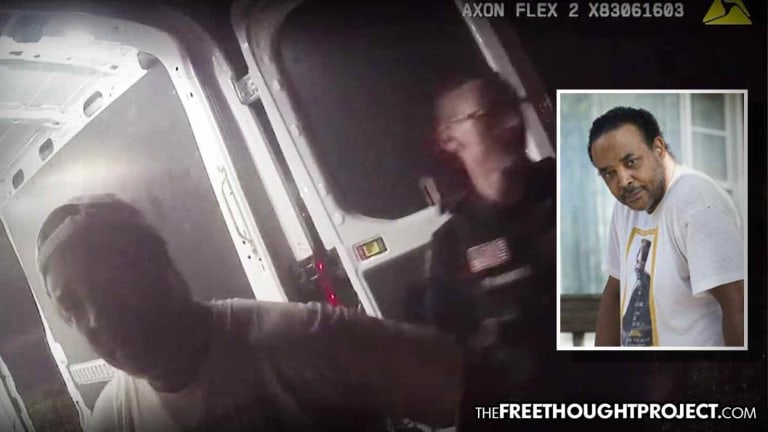 ACLU Steps In After Video Showed What 'Moving While Black' Looks Like
An innocent 61-year-old black Navy veteran was harassed by police, handcuffed and treated like a criminal for moving into his house while black.
Fi1tting the description—in the land of the free—or, as the case below illustrates, simply being a man of color, can and will end with you being detained, harassed, kidnapped, or killed, even when you are entirely innocent. Karle Robinson, 61, recently found out the hard way what moving a TV into your new house looks like while being black in a police state. Now, after police have refused to take action, the ACLU is stepping in to demand accountability.
According to the report, the American Civil Liberties of Kansas has asked for a state investigation after a black man was detained by local police while moving into his own home.
The ACLU said Thursday that Karle Robinson was held at gunpoint and handcuffed as he moved into a home he had purchased in Tonganoxie, about 30 miles west of Kansas City.
"Each of these incidents would be concerning had they been alleged independently," the ACLU said in a statement. "Together, they suggest a pervasive culture of racial bias."
Police Chief Greg Lawson told the AP that the ACLU's letter to the attorney general "contains multiple accusations that are inaccurate" but didn't elaborate. He did say that his department has cooperated with the ACLU and Robinson and would cooperate with a state investigation.
According to recent census figures, 97% of Tonganoxie residents are white which may explain why police thought a black man moving into his own house at night was robbing it. "I'd like to see those cops and that chief lose their jobs, because this was uncalled for," Robinson tells the AP. "This is strictly racial profiling."
As TFTP reported last year, Robinson was moving into his new home last August and was resting his body on the top of his big-screen TV when a police car's headlights lit up his driveway. Knowing he did absolutely nothing wrong, Robinson thought he'd talk to the cop and then be on his way. But that's not what happened.
Robinson told the Kansas City Star that he's sure things would've gone much different if he weren't black.
Robinson was wrapping up a 12-hour long moving day and it was 2:30 in the morning. All he had left to do was move the TV inside and he could finally get some rest. Trusting that the cop would be empathetic to his situation, Robinson even asked him for help to get it inside.
"I could use a hand with this," Robinson said to the officer who shined a flashlight on him. But help was the last thing on this cop's mind. Instead, this officer thought he'd landed him a genuine robber who apparently didn't try to run or otherwise resist in any way.
Instead of helping Robinson lift the TV, the officer handcuffed the innocent retired military veteran and forced him onto the ground all the while treating him like a burglar.
"Is this all necessary?" Robinson asked the officer as he sat, cuffed, while backup officers arrived.
As the Star reported at the time:
The 61-year-old retired military veteran told his story to The Star Wednesday in his home as he watched body camera video from the first Tonganoxie police officer he encountered on August 19.

The fact that the officer was curious, even a little suspicious, made sense to Robinson. The hour of day was odd. And Robinson was standing over a large TV in front of a house.

But Robinson told the officer that he was a new homeowner, moving in. He had identification and there was paperwork proving his new ownership inside. They could go in together and look, and maybe hoist this TV inside on the way.

"I need you to put your hands on the side of the house . . ."

The police officer's voice came through on the body camera as Robinson watched. He watched himself wearily complying with the white police officer's commands, submitting to handcuffs in front of the new home — his first as a homeowner — a city guy finally living out in the country as he'd dreamed of for so long.

"Place your hands on top of your head for me . . ."

Then his arms were drawn down and back one at a time and the cuffs snapped closed.
Robinson is convinced that he was treated as a criminal because of his skin color.
"If I'd been a white man, you know that wouldn't happen," Robinson said as he watched the video. "I'm being handcuffed right here on my own damn property."
At the time, Lawson stated that he thinks the officer handled the situation just fine while protecting himself and Robinson. The chief says the handcuffs were so the officer could determine if Robinson's story was true and helped to assure that the situation remained calm.
"If I were on that call, by myself, no matter the race of the person, they would have been handcuffed," he said.
Apparently, police want citizens to be entirely okay with being detained and handcuffed—as in treated like a criminal—while they investigate whether or not you actually are one. That sounds an awful lot like being presumed guilty until proven innocent.
"You're guilty until proven innocent," Robinson said of being black.
"They're thinking I'm stealing," he said. "I've been hearing this for 40 years — getting pulled over, being searched. I'm not going to let this go."
The officer claimed — as so many officers are heard claiming on video after video — that there had "been a lot of break-ins lately." But Robinson disagrees.
"That's a lie," Robinson said. He talked with his new neighbors, he said. No one knew of any problems with break-ins, according to the Star.
Robinson subsequently filed a complaint but explained that it went nowhere. He says Lawson told him that they would've treated anyone regardless of race the same way. But Robinson is not buying it.
If he'd been white, Robinson said, he would have been able to show his identification and go and retrieve the papers to the house — all without such suspicion and without handcuffs.
"Anyone who thinks we're in a post-racial world," he said, nodding to the screen that showed the video of his handcuffing, "should refer to that."